Along with its exuberant beaches and paradisiacal landscapes, the Dominican Republic offers many possibilities to delight your palate . In this Caribbean country, you can find so many dishes that you will not be able to choose a favorite.
Do you prefer fried sandwiches or a Creole sancocho? Do you want a Moorish pigeon peas or locrio rice?
Get to know with us the different culinary options that are waiting for you in the DR. The first step is to go over the history and popular dishes to immerse yourself in their unique ingredients and traditions.
Dominican food varies depending on the region you visit . The country's customs are many and decisive for its gastronomic tradition.
In this guide we will talk about the typical dishes, we will recommend the best restaurants and we will give a brief tour of their influences. By the time you get to the end, you'll be sure you know what the best options are.
Read on to get started on the flavors of the Caribbean that the Dominican Republic offers.
Culinary customs of the Dominican Republic
To understand the culinary customs of the Dominican country , we will go back to its beginnings, just before the conquest. The Moors brought flavors of spices such as saffron, cumin, cinnamon and oregano, as well as the use of vegetables implemented for a long time.
With the arrival of the Spanish, meat is included in Dominican dishes with cooking methods learned from the European country.
Mediterranean flavors were established with animal protein, dried salted fish such as cod and herring being an example. With the presence of the slaves in the Dominican territory, the broths and spices would be added together with the plantain. Fried foods appeared at that time, leading to the stir-fries that we know are still present in homes in the country.
The arrival of natives from Asia and Italy generated dishes that were seasoned with the aforementioned influences. The inclusion of grains and cereals was more of Asian heritage and would result in rice with cod and herring. The dish that we know as "poor man's meat" was generated by the influence of the Italians who included pasta.
When talking about the flavors of the Dominican Republic, we must not forget the so-called "sazón" or " sofrito " of each dish. The flavors are constituted from this characteristic seasoning of the Caribbean country.
When we say "seasoning", we mean a preparation of sautéed herbs, vegetables and spices , the idea is that each component releases its flavors. There is no single recipe for this stir-fry, the base is generally garlic, onion and common household seasonings .
It can also be called "sofrito", although this name is more used for another Caribbean island, Puerto Rico. Each dish has a stir-fry that stimulates and exalts meat and seafood recipes. Also, thanks to it, the flavors released by its ingredients are the basis of the preparations.The constitution of Dominican gastronomy is based on the participation of other countries, but today it is consolidated and autochthonous. Its seasoning has transcended conquering the hearts of other regions and their cities.
Dominican food in its different regions
After the brief tour of its tradition and history, it is time for you to discover the result in contemporary flavors of the island. To continue, we must take a tour of its different regions and thus know its typical dishes and what makes them special.
Dominican food: North-Cibao region
In the north of the Dominican Republic, El Cibao has extensive Spanish heritage and is one of the most prosperous areas . The word Cibao means "place where rocks abound", in native words.
This territory limits to the west with Haiti, to the east with the Atlantic Ocean and to the south with the Central Cordillera. And that rock formation is what separates El Cibao from the other regions of the Dominican Republic. The most important city in this region is Santiago de los Caballeros, one of the centers of economic and social life.
Meal
Dominican food owes a lot to the gastronomy of El Cibao . Dishes such as mangú or roast pork come from there. Being a territory with fertile soil, corn and cassava are essential elements in any dish from this region.
It is worth noting that it provides many products for domestic consumption and export. The diversity of dishes and ingredients used is due to the variety of its agricultural production.
You can find the moro de guandules, a typical dish that will leave you wanting to do it at home ; Also, the spicy stewed goat, a common dish in the provinces of Dajabón and Montecristi , there they prepare it with oregano and other flavors.
Other dishes that stand out are the chambre, a stew with beans and meat, from the north of the Dominican Republic. Locrio, a delicious combination of meat, rice and vegetables, is a dish typical of the province of Santiago, a heritage of the cuisine of Chinese settlements.
The chambre also has its origin in El Cibao, which has the name of sambumbio in the southern part of the country. This dish is made with beans or pigeon peas, rice, food and a bit of meat.
Desserts
Coconut is one of the most used ingredients in sweet dishes , an important legacy left by African culture on the island. From there comes the dessert known as jalao, a sweet made with grated coconut, which is mixed with flaxseed.
Drink
Being a region where agriculture predominates, it can be easy to get non-alcoholic fruit drinks . You have at your disposal very popular smoothies of different fruits such as: the milky, the sapodilla, the medlar, the mango and the chinola.
If you want an infusion, lemongrass, ginger, or lemon teas with mint and honey are popular. If you want more tropical drinks, you will find smoothies with cherry, tamarind or soursop.
Coffee and its derivative liquors are also widely consumed in the region, as well as other hot drinks such as chocolate or oatmeal.
The best restaurants
If you are in El Cibao then visit these restaurants:
There Bar : located in the city of Santiago de los Caballeros, on Calle Restauración, corner CR Tolentino. Tolentino Corner, Monumental area. This place offers a selection of drinks and appetizers that mix the typical with the best of international cocktails.
Rancho Chito Restaurant : It is also located in Santiago de los Caballeros. His address is Aut. Duarte. Km 121/2, Ortega. The menu offered by this site focuses on providing typical breakfasts, dinners, brunches, and drinks.
Jarro Pichao : one of the oldest towns in the El Cibao region. It is located on the Juan Pablo Duarte Highway km 89, Bonao. Its menu has a wide variety of typical dishes for breakfast, lunch or dinner.
Dominican Food: Southwest Region
This territory borders the Caribbean Sea, Haiti and the Atlantic Ocean. There, a large part of the cultural, economic and culinary life of the area takes place. The grains are an important ingredient in their typical dishes , the town of San Juan is known as "The granary of the South". There, beans, pigeon peas, corn and rice are produced.
Barahona and Pedernales are towns where shellfish and fish take over the typical dishes. Most of them come from rivers or lagoons that extend throughout the region.
Meal
You will find dishes where crab, shrimp and lobster are the main ingredients . These crustaceans are prepared with garlic, with lemon or stewed, accompanied by plantain, either fried or cooked.
In Barahona, the fish are eaten with a moro of pigeon peas with coconut. This dish is typical on the beaches. You can also enjoy guabinas, tilapias and water hens in areas such as the Cabral lagoon.
In San Juan there is no shortage of beans, stewed or accompanying the chechén, cornmeal and stews of various types of meat. The latter are accompanied with grains and vegetables.
Desserts
Coconut sticks are one of the most consumed desserts by the inhabitants of this region. This is a sweet with a mild flavor, tends to melt in the mouth and is originally from San Juan.
Chacá is also another typical sweet. This one is made with cracked yellow corn, evaporated milk, coconut, and sweet spices. It has a more robust flavor than the sticks and is commonly eaten throughout the year.
Drink
Once you arrive at the beaches, you can enjoy a refreshing mango, milky or soursop smoothie, as this region is rich in tropical fruits.
If you want something more invigorating, you can get cocktails and alcoholic drinks like the mamajuana . An indigenous liquor that includes rum, red wine and honey. Its flavor is similar to port wine and its color is deep red.
Another type of liquor is the Guavaberry, which is made with ripened and distilled myrtle fruits.
The best restaurants
Here we present three of the best restaurants in this region:
Typical ranch Cueva de las Águilas : In this restaurant you will be just a few steps from the sea while you enjoy your meal. It is special to go with family or with your partner. It has a wide variety of dishes but the most recommended are seafood. It is located in Pedernales.
Eco del mar : It is also found in the province of Pedernales. It provides an eco-friendly service in addition to making you feel closer to nature. It only offers service during lunch hours.
Restaurant Vista Linda : To get there you must take the Río Bejuco Highway, Alambre Vista Linda, Rio San Juan. We recommend the pastas and seafood dishes in this place. Here you can have breakfast, lunch, dinner or have brunch.
Dominican Food: Southeast Region
This territory is separated by the Yamasá mountain range from the north-Cibao region and within it is Santo Domingo, the capital of the country. The area, full of extensive savannahs and extensive mountainous areas, has a high level of livestock activity.The southern gastronomy is varied, in many of its dishes the influence of African cuisine is perceived. Fish is essential in this cuisine and fruits such as mango and lemongrass are used in many drinks and dishes in the region.
Meal
This gastronomy has rural flavors that are mixed with African and Taino heritage . Corn is included in many dishes, as well as beans. Stewed pigeon peas and sancocho are characteristic dishes of the area. The arepa de mano is famous in the province of Peravia, it is made with corn and cooked in banana leaves.
In towns like San Cristóbal it is common to come across dishes such as sheet cakes or the famous dumplings. Chechén is also a food with a lot of southern identity, this dish is made with crushed corn, boiled with spices and cow's or coconut milk. Sometimes it is accompanied by stewed goat meat or red beans.
Being areas close to the sea, it is normal for it to be a kitchen where what the waters bring predominates. Coconut is also another ingredient that is used throughout this territory, all due to its flavor and what is derived from it.
Desserts
Some of the most representative desserts of this region are the sweet banilejos, which are made with mango. Other typical desserts are raspadura, beans with sweet and coconut sticks. Sweet potato fritters and jelly are also known. Chacá is another sweet dish made with corn, which is eaten during Lent.
Drink
Mango and coconut are the favorite fruits for non-alcoholic cold drinks and juices. The chinola and mango milkshake is typical on the beaches of the southeast region.
Fruit punch and champola are drinks that take advantage of the flavors of the region. Among the most common hot drinks we have milk chocolate and chocolate with corn.
The best restaurants
These are some of the most popular restaurants in this region of the Dominican Republic.
Nacan Restaurant : it is located on Calle Isabel la Católica, 65 corner, Calle Las Mercedes, Santo Domingo. Its menu offers a wide variety of typical meats, as well as international and contemporary food. It is worth noting that it also has vegan alternatives for alternative palates.
Robby Mar : This place offers you Latin food, typical seafood from the area and Spanish food. Here you can have breakfast, dinner or have brunch.
Chic Cabaret and Restaurant : This is an ideal place for people who want to enjoy good shows while tasting their dishes. The type of cuisine they offer is a mix of regional tastes with international dishes. It is a place for dinner only.
The national dish of the Dominican Republic
The dish known as La Bandera is considered by many to be representative of the Dominican Republic. The recipe calls for rice, beans and meat and its name is no coincidence, as it represents the identity of the Dominicans.
The flag of the Dominican Republic is a tricolor, with red and blue quarters and a white cross that divides them. In the case of La Bandera, the association is interesting. If we look closely, red is in beans, white is represented in rice, and meat is associated with blue.
The garnish or accompaniment varies, sometimes it is a Dominican salad and at other times a plantain, fried or cooked.
The preparation of this dish is complex, because it is the union of several meals that are made separately.
The preparation time is long, the first step is to boil the beans, it is recommended to leave them to soak the day before. The second step is to prepare the meat, it is also advisable to season it the night before. Cooking time begins about two hours before serving, depending on the type of meat. Rice is always the last to be prepared, because it only takes about 30 minutes to cook.
The salad or the banana are made at the end, because they do not have such a complicated process. Sometimes they are made ahead of time and left in the refrigerator until everything is ready to be served.
Other popular dishes
La Bandera is not the only dish known in the Dominican Republic. Within its varied gastronomy there are some sweet and other savory dishes, however, they are all part of its culinary identity. Here we present them to you:
The sancocho (Stew)
A dish that is prepared in any region of the Dominican Republic. This is a broth made from meat and various types of tubers such as cassava. In many Caribbean countries this dish is also prepared. There is the Colombian sancocho, the Venezuelan and the Puerto Rican.
The Dominican sancocho is served with white rice, avocado and some spicy or sour orange sauce. It does not have potatoes, tomato sauce or pasta. What it does carry are seven types of meat, depending on the budget of the kitchen. In addition to plantain, auyama and cassava.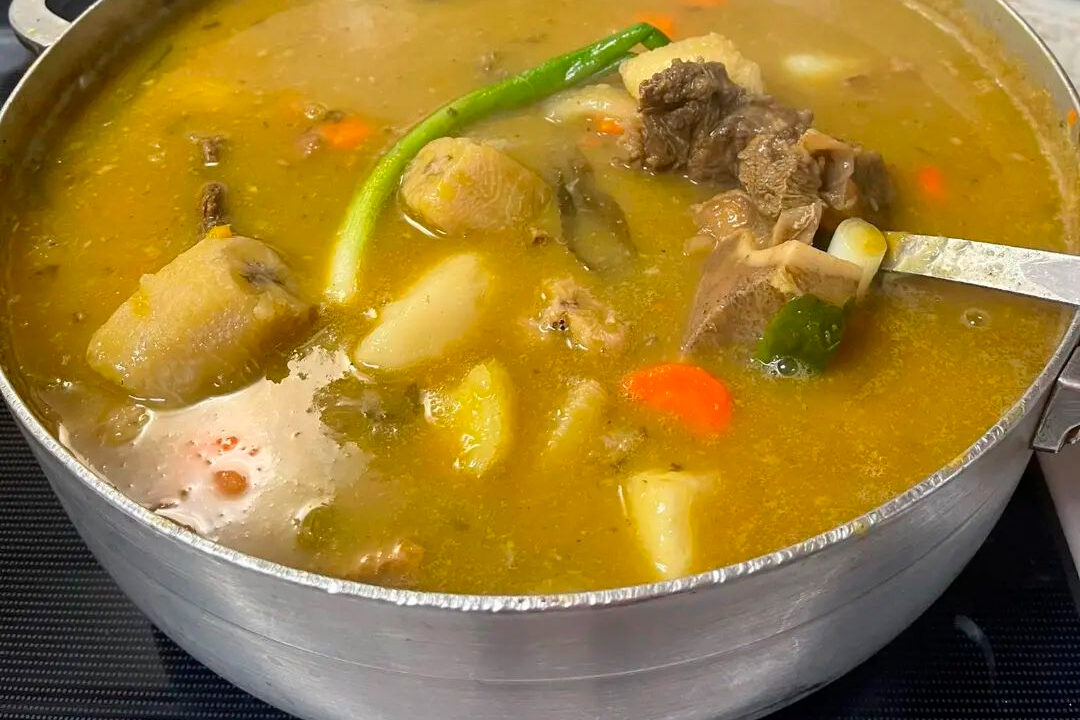 Mangú with three blows
A dish eaten for breakfast. The necessary ingredients to prepare it are: green plantains, eggs, fried Dominican salami and fried cheese.
Each of these components is found in any kitchen and is quick to prepare. It also works for dinner or brunch with your friends.
mofongo
The flavor of plantains and fried pork are the base of this delicacy with African roots. Fried plantains are pounded in a mortar and mixed with garlic and pork rinds. Then, a mass is formed with which a ball is made that can vary greatly in size.
It can be served as a side dish or side dish, but traditionally a large portion is served as a main course. The presentations and the employee can vary, in some cases it is accompanied with avocado, shrimp or meat broth.
Pigeon pea moor
This dish is a type of rice that is accompanied with pigeon peas, a legume native to India. It is known as pigeon peas in English and is very popular in the countries of the Caribbean Sea.
To prepare it you must have rice, pigeon peas and sometimes coconut, depending on the region you are in. At Christmas time it is common for it to be part of dinner, because it is a dish with various flavors and is easily prepared.
Sweet beans
This is one of the most popular desserts. If you want to prepare it at home , the first thing is to have the beans sweetened, then milk and spices are added. This dish is widely consumed during Holy Week and Lent, it is a unique sweet that is much loved.
Yaniqueques
If you want to eat something fast and delicious, Yaniqueques are the solution. It is a kind of fried dough chicharrón. They can be as big as a plate or small to serve with hot drinks.
There are variations that include fillings of all kinds: ham, eggs, cheese, vegetables or chicken. They are very popular, you can get them at any time and place to satisfy your palate whenever you want.
Tostones
The tostones are prepared from green plantains. This is sliced and fried, then pounded into a flattened, irregular shape. Then it is fried again to obtain a crispy snack with a very good flavor.
It is a salty dish that serves as a garnish for any meal, the green plantain has a consistency and flavor very different from the ripe one. It is much less sweet and a little harder, which makes possible its particular crunchy texture.
It is one of the garnishes that is most prepared in the homes of Dominican families.
Bean moor
This dish is an icon of Caribbean food, each country its own version with slight variations. El Moro de habichuelas is a rice with beans that can be eaten as a side dish or as a main dish.
While not as exotic, Dominicans pride themselves on seasoning when preparing rice and have developed many great-tasting variations. Once again, we find ourselves with a food that is part of the daily life of the entire population.
Empanadas
Empanadas are a delicious sandwich made from fried corn dough with a wide variety of fillings. They can be filled with cheese, chicken, ham and cheese, seafood, and some more elaborate combinations, such as pizza empanadas.
They are usually eaten for breakfast, but can be eaten at any time of the day. They enjoy a very good reputation thanks to the crunchy and soft texture of their crust.
Traits that differentiate Dominican food
As with any other country, gastronomy is a mixture of social and cultural influences and values . A Dominican chef does not make the same food as a Japanese chef, because they have lived and eaten totally different things. All due to historical processes such as the Spanish Conquest or the independence Revolution.
Dominican food presents features that differentiate it from other Spanish-speaking countries. For example, many of their typical dishes use herbs such as oregano, legumes, fried cheeses, and chicken, goat, or beef. Another irreplaceable ingredient is rice, as well as banana and coconut.
The gastronomy varies according to the region, in some territories the presence of shellfish and fish is more important. However, rice and coconut continue to be protagonists.
Culinary influences in the Dominican Republic
Dominican cuisine owes a lot to people from other cultures who settled in the country. This is where the influences come in, the traditions that leave their mark on a certain dish. Below you can see the different cultural roots of the island's gastronomy.
Spanish influence
All the countries that were conquered by Spain preserve many customs of the European country. The kitchen is not exempt from this, to this day the Spanish influence is still in force . Dishes like sancocho and La Bandera Dominicana are heirs to foods that came with the Spanish.
The same goes for desserts like quesillo and flan, which need milk, eggs, vanilla, sugar and raisins.
Middle Eastern influence
Dominican gastronomy owes a lot to the culture of the Middle East , this influence was received through the Spanish.
Also, in the Dominican Republic you can find foods like kipe, a fried wheat sandwich stuffed with meat comes from Lebanese. Dishes with rice and noodles or the same wrapped child also have Arab roots.
Taíno influence
The indigenous ancestors are also present in the typical dishes of the Dominican Republic. For example, cassava is a food that has lasted since the pre-Columbian era. This is a thin bread made with unleavened cassava or cassava and serves as a side to soup or as a spread on peanut butter. Roast pork is also another dish that comes from the Tainos.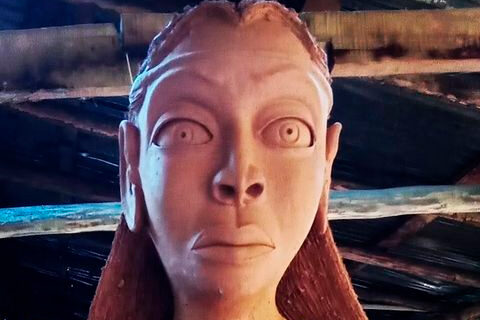 African influence
As proof of the heritage that the Dominican Republic received, we find the mangú, a dish that comes from the Congo. The name dates from a West African expression, which is "mangusi". This term refers to a type of puree made with ground vegetables.
Plantains did not exist on the island until the arrival of the Spanish. However, this crop was already common throughout the African continent.
Chinese influence
The chofan is a dish that reveals the influence of Chinese cuisine in the country. To prepare it you only need fried rice and chicken, two important ingredients in both countries. It is believed that the Asian influence reached the island thanks to illegal workers from this country in sugar plantations.
In Santo Domingo there is a Chinatown, the fruit of generations of children of immigrants.
Conclusion
Dominican food is a mixture of different influences, but also lifestyles specific to each region. In El Cibao they eat dishes that are not common in the south of the island, because different foods are used there. An inhabitant of Santo Domingo does not have the same lunch as someone in San Juan.
However, this does not mean that there is a big difference, in the country there are popular dishes that everyone enjoys. The Dominican Flag is a sample of this union , a culinary identity trait that unites each citizen.
The sea, agriculture and agricultural activity generated dishes such as mengú, sancocho and coconut sticks. If you want to visit the Dominican Republic and try the typical dishes of each region, do not hesitate to do so. Taste is also another way of getting to know a country. Share your experiences and tell us your culinary anecdotes.
Meta description:
The best guide on Dominican food. Everything you need to know about its typical dishes in each region and the best restaurants to try this gastronomy.