The Dominican Republic is an exotic Caribbean country and the main tourist destination in the Caribbean. It is located in the Antilles, where it shares territory with Haiti. It has an invaluable natural wealth endowed with extraordinary charms, with its strategic geographical location, as it is located to the north with the Atlantic Ocean and to the south with the Caribbean Sea.
This country offers impressive diversity, where you can enjoy countless beaches, desert sands, natural pools, freshwater lagoons, and the beautiful Cordillera de los Alpes Dominicanos.
Christopher Columbus discovered the Earthly Paradise in 1492, and today, more than 500 years later, it continues to amaze more than 7 million visitors every year. In addition to its exuberant natural beauty, this country proudly guards a priceless historic center that has been declared a UNESCO World Cultural Heritage Site.
Here you find the best environment to practice ecotourism and venture out to enjoy hiking, paragliding, rafting, snorkeling, and glamping. While exploring the enchanting flora and fauna of the region, you can see whales in Samana, take incredible photos in Round Montain, go horseback riding, ziplining through the jungle and interact with colorful fish and starfish.
We invite you to visit our article about Snorkeling in the Dominican Republic if you want to know more about this activity.
If your interest is to relax and rest in a paradisiacal place, we have more than 537 hotels throughout the country. Some are immersed in the exotic natural landscape, others have a colonial style and there are also incredible resorts with all-inclusive packages. Don't forget to wear apropiate dress for the tropical weather.
Let's start this tour knowing everything about the cities of the Dominican Republic that you can't miss:
Table of Contents
Barahona
Known as "The Pearl of the South", this beautiful province has more than 55 km of coastline and is located in the southwest of the island. The province of Barahona is surrounded by desert, has beautiful rivers and blue beaches and is characterized by its imposing mountains.
The tourist destinations in this province are located 184 km/3 hr from Santo Domingo, the capital of the Dominican Republic. It is accessible by air through the María Montes International Airport (AIMM).
Attractions in Barahona
Enjoy the charming places you can find in Barahona and discover the things to do in this peninsula. On the coast of Barahona you can practice adventure sports such as paragliding, canopy, surfing, zipline, kite surfing, or bike tours ("biciruta"), these services can be hired in the hotels in the area.
Excursion through the Plaza and the Cave
It consists of a hike divided in two parts, during a whole day will take you to know the beautiful peninsula of Barahona. It is done through a unique virgin trail through the jungle, where you will visit crystal clear natural pools.
Both parts of the excursion, the Plaza and the Cave, offer an extraordinary experience. It is a demanding hike, as it is sometimes necessary to improvise the way, ideal for those who love hiking and ecotourism.
The Dominican Republic has one of the rarest gemstones in the world, the Larimar stone. Being an exclusive gemstone, the Larimar Mines have become one of the main tourist attractions of this Caribbean country. This blue pectolite is extracted from the only mine in the world. 
The visit takes place in a 4×4 vehicle where you will be able to contemplate one of the most emblematic natural resources of the region. You will learn about the extraction process of this precious stone in a guided tour surrounded by a mystical and majestic landscape. You will also be able to buy handicrafts made by local people and small local companies.
Los Patos
In the town of Los Patos you can enjoy the Balneario de los Patos, which is characterized by several natural pools. These are formed by the shortest river in the Antilles, the Río de los Patos. These wonderful pools are adjacent to Los Patos Beach.
This river rises from the foothills of the Paraíso Mountain, so the water is crystal clear and cold. There you can dive surrounded by fish and stroll between both water currents. In the surroundings you will be able to taste an exquisite gastronomy, such as the famous seafood. You can park for a price of approximately 50 Dominican pesos.
Sierra de Bahoruco National Park
This National Park of immeasurable beauty is located between the provinces of Barahona, Pedernales and Independencia, in the southwest of the Dominican Republic. The Sierra de Bahoruco is the second highest mountain system, "Loma Alto del Toro" with 2367 meters above sea level. Although, at the same time, it is the shortest of the Dominican mountain system.
It is home to the largest collection of orchids in the country. It is home to 52% of the orchid species. Among them you will find 32 species exclusive to this enchanting land.
The park has a variety of vegetation, large areas populated with pine trees, areas of dry forest and rainforest. During your visit to the Sierra de Bahoruco you will be able to observe different species of birds, such as the bobo bird, the rolita and the kestrel. It is home to 49 different species, among which 19 are endemic.
Also, during the excursion you can find a diversity of mammals such as the solenodonte and reptiles such as snakes and lizards. In addition to its great natural wealth, it has a great historical value. In this place was where the Cacique Enriquillo revolted against the Spaniards, known as the first cry of freedom in America.
Restaurants in Barahona
We have made a research for you to know the best restaurants where you can taste delicious dishes in Barahona:
Located inside the Hotel Playa Azul, it offers breakfast, lunch and dinner service. Its cuisine stands out for having national and international dishes. It is an exclusive environment where you can enjoy a tasty Dominican dish on a terrace overlooking the stunning Caribbean Sea. The opening hours are until 10:00 pm.
This restaurant offers drinks, lunch and dinner. The cuisine stands out for its churrascaria, grill, Caribbean food and fast food. It is located at José Francisco Peña Gómez, 119, Barahona 81000 Dominican Republic. The price range is $2 to $22 per plate. Its hours of operation are from 11:00 am – 11:00 pm.
It is located on Enriquillo Avenue in front of Barahona Boulevard. For 4 decades it has been offering Creole food, fish and seafood, drinks, lunches and dinners. Its cuisine stands out in seafood, Caribbean, Cajun and Creole food. The price range is $7 to $28 per plate. It is dog friendly, has free Wi-fi and stays open late.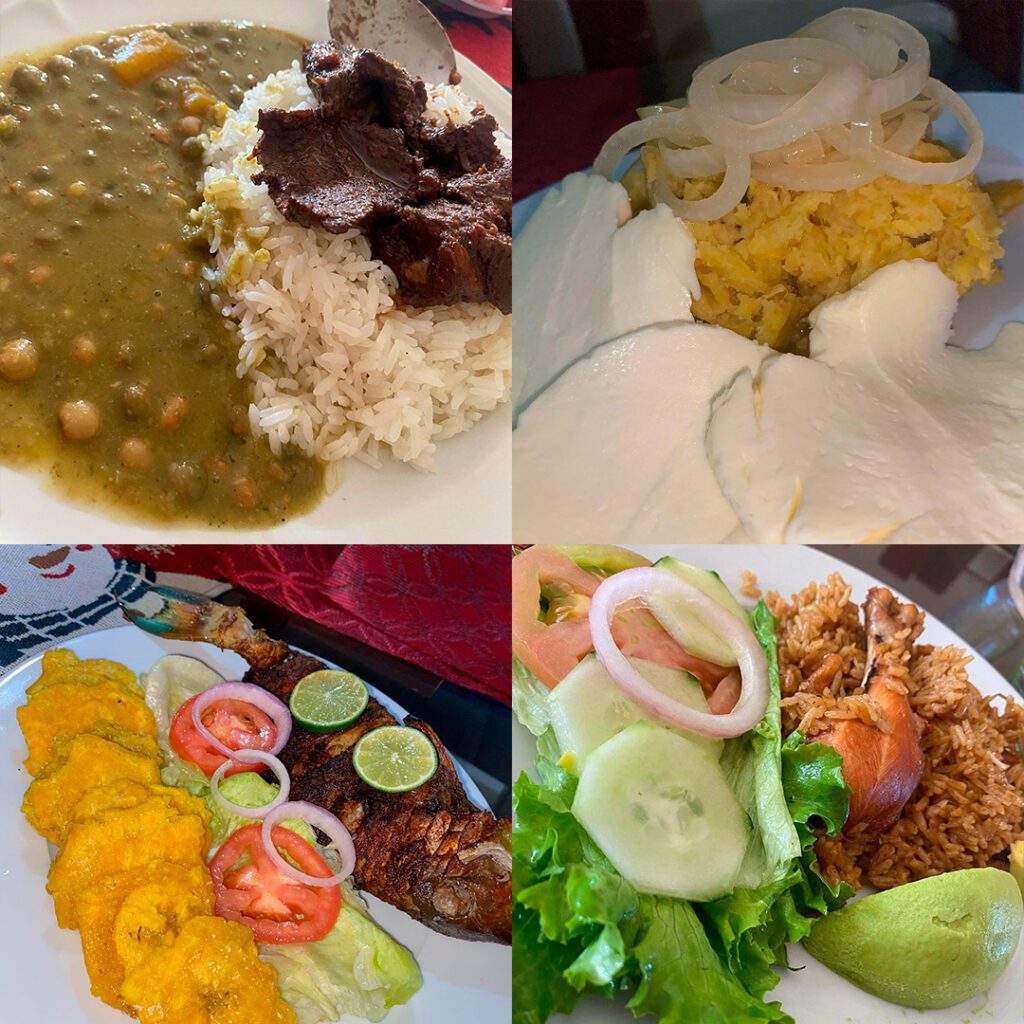 In a cozy atmosphere this restaurant offers Creole dishes made up of fish and seafood. With a good quality/price ratio. Located at Carretera Paralzo #109, El Arroyo, after El Quemaito Beach, Barahona. Hours of operation from 9:00am – 11:00pm.
Centrally located restaurant a couple of minutes from the Malecón in Barahona, on José Francisco Peña Gomez street, in front of the Children's Park. Its cuisine offers Seafood, Caribbean food and Churrasco. The price range is from $6 to $37. On Saturdays they offer live music.
Lodging in Barahona
After a great tour of the beautiful Barahona peninsula and delight your palate with the characteristic Caribbean cuisine, you deserve a great rest in one of the best hotels:
It is located a few steps from "El Quemaíto", 9.4 km from downtown, with 24-hour reception. Due to its location, it is one of the favorite lodgings for couples. The nearest airport is 206 km away, Isabela International Airport.
There are several sites of tourist interest near the Hotel, such as El Arroyo, Las Balizas and Juan Esteban.
Services: accommodation with outdoor swimming pool, bar, satellite TV, air conditioning and the establishment has a garden and common lounge for guests. Among its advantages, it is located in front of the beach, allows pets and has totally free private parking.
It is located in Santa Cruz de Barahona, it is a very recent establishment, it was built in 2021 and is located in front of the sea. La Ciénaga is 1 km from the house, and Bahoruco is 1.7 km away. Toussaint Louverture International Airport is 164 km from the property.
Services: 15 m² house with 2 comfortable bedrooms, 2 bathrooms, towels, bed linen, flat screen TV, free wifi, dining area and fully equipped kitchen. It has a balcony, garden and patio with sea view, and pets are allowed.
Located on Enriquillo Avenue, on the corner of Duarte Street, 100 km from Punta Inglesa Beach, on the seafront of Barahona. The Hotel Caribe is located 15 minutes by car from the Maria Montez International Airport and 30 minutes by car from the Sierra de Bahoruco National Park.
Due to its excellent location, only 10 minutes away you have access to restaurants and bars. However, the hotel offers room service and provides breakfast and dinner. It has a 24-hour reception, safe and tour guide service.
Services: comfortable rooms with daily maid service, air conditioning, free Wifi, cable TV, telephone, private bathroom with shower, free parking, the rate includes breakfast and dinner, the hotel also offers Jacuzzi.
It has a backyard terrace and bar service. It offers a seating area for up to 16 people, as well as a game room and meeting facilities. Each floor of the hotel has a balcony overlooking the jacuzzi and terrace.
It is located in Santa Cruz de Barahona, on Carretera de la Costa km 7, only 3.3 km from Juan Esteban and the same distance from Arroyo Seco. Saladillas is 4.4 km away and Cañada del Agua is 4.8 km away. The nearest airport is Toussaint Louverture International Airport, 153 km away. The hotel offers shuttle service to and from the airport.
Amenities: outdoor pool and bar, rooms have a safe, desk, air conditioning, flat screen TV, free wi-fi, private bathroom with shower or bathtub.
The hotel has a terrace. It has a 24-hour front desk, room service, currency exchange and free private parking. This lodging has a restaurant and offers continental breakfast.
It is located at Juan Esteban km 10, 15 minutes by car from Neiba Bay and 24 minutes by car from Maria Montez International Airport. Only 14 minutes away is the center of Barahona, where you can find restaurants and a variety of establishments.
Services: the hotel has a restaurant serving Dominican and Italian cuisine and is located in front of Santa Cruz de Barahona beach. The rooms offer a view of the pool and the sea, air conditioning, private bathroom with shower, free Wi-Fi. Pets are allowed in the establishment.
Pedernales
The province of Pedernales is located in the southwest of the island, named after the Pedernales River, which geographically is the border between the Dominican Republic and Haiti. It was founded in 1957, as it was previously part of the Barahona province. Seventy percent of this territory is a protected area.
Its main attractions are its beautiful beaches and the charming Jaragua National Park. This is all the information you should know before going to Pedernales:
Attractions in Pedernales
In this quiet village surrounded by sands you can enjoy countless activities immersed in the enchanting natural landscapes.
The Bay of Eagles
It is considered the most beautiful beach in Santo Domingo and the best beach in the world because of its crystalline waters of an extraordinary blue. The length of the beach is 8 km, its crystalline waters are shallow and the fine sand on the ground is due to coral reefs. It is possible to access the Bahia de las Aguilas by car or public transportation.
Gampling at Pedernales Beach
It is a unique experience, ideal for beach lovers. This wonderful experience is similar to camping but with greater comfort. You can be immersed in nature on a starry night next to a bonfire, while you let yourself be seduced by the singing of the sea waves.
At dawn you can take a boat ride on the Bahía de las Águilas. Here you can find Glamping establishments:
Romeo's ecological wells
It is a natural set of three wells located in the beautiful southern part of the Dominican Republic, on the Pedernales-Barahona highway. It is easy to access, as it is located a few steps from the road and is completely free.
This is a place of magical charm where there is a natural pool of crystal clear waters with colorful fish. The pools are nestled among rocks and surrounded by an emblematic fauna with beautiful cactus.
It is the ideal place to cool off in the transition to the beach, with a bath of fresh and crystalline water.
Jaragua National Park
It is located in the southwestern region of the Dominican Republic and was founded on August 11, 1983. The park covers an area of 1,374 km², of which 950 km² are marine. Jaragua National Park is part of UNESCO's first "Biosphere Reserve".
Its ecosystem is made up of islands and lagoons, the virgin Bahía de las Águilas is part of the park, as well as the Beata and Alto Velo islands. This incredible natural refuge hosts a wide diversity of species.
Here you can contemplate more than 350 species of flora, tropical forests, mangroves, cactus, manatees, rhinoceros iguana (endangered), turtles, green sea turtles, loggerhead, leatherback, and more than 130 species of birds. Among them are the beautiful flocks of flamingos, ospreys, white-crowned doves, blue and grey herons, among others.
Oviedo Lagoon
The Oviedo Lagoon is actually a saltwater lake. It is located in the province of Pedernales, in the Jaragua National Park. You can take a boat tour by hiring a guide who will take you around the islands while you contemplate the extraordinary natural beauty surrounded by hundreds of birds.
You can also enjoy a natural mud bath, which is an ecological therapy with multiple health benefits.
Arroyo Salado
It is a natural pool located 10 minutes from the Laguna de Oviedo. It is ideal to dive and remove the excess mud left by the therapeutic bath or the salt water of the lagoon. This charming freshwater pool is surrounded by mangroves, where you will find many small fish that inhabit its waters.
Restaurants in Pedernales
The cuisine of Pedernales stands out for its seafood and Caribbean style, also offers special diets suitable for vegans. All this at the best price. Discover the best restaurants:
This restaurant located in front of the sea in the Poblado de la Cueva de los Pescadores, offers Caribbean food and seafood. You can enjoy breakfast, lunch, dinner or brunch with the best service. This restaurant has a good quality/price ratio.
Located in the Poblado de la Cueva de los Pescadores, the restaurant offers Caribbean food and seafood with a price range from $5 to $20. It has special diets suitable for vegetarians. This restaurant has a good quality/price ratio, in addition to providing excellent service and friendly treatment.
Located in Bahía de las Águilas, this restaurant offers a variety of Caribbean, Latin and seafood dishes. The price range is from $10 to $100.
It offers Latin food with a varied menu of seafood and meats. Groups include buffet lunch, boat transportation to Bahia and the entrance fee to the National Park. The restaurant's price range is from $5 to $9. It offers breakfast, lunch and dinner with excellent seasoning.
Located on Libertad Street 30, in front of the Sol Caribe Hotel. This restaurant only offers seafood and fish. Although the menu is not very varied, the food is very tasty and the staff provides excellent service. The price range is $3 to $9 per plate.
Lodging in Pedernales
Pedernales offers hotel establishments for all tastes, eco-style, beachfront glamping tents, entire villas for groups and hotels with excellent locations for the enjoyment of guests.
Hostal Doña Chava is an eco-style hostel, located in the south of the Dominican Republic, in the center of the town of Pedernales. It was born as a family initiative and offers a homey atmosphere to its guests. The structure is traditional, in a simple atmosphere that offers warmth and careful attention.
Services: air-conditioned rooms, hot and cold water, cable TV, free Wi-Fi. In addition, Hostal Doña Chava offers tours to the different natural attractions in Pedernales.
With an excellent location in Cabo Rojo, this establishment offers tent rentals for a spectacular Glamping experience in front of the sea. Activities such as fishing and hiking are available nearby.
In addition, Glamping Ecolodge Cueva de las Águilas organizes excursions to Beata Island and Bahía de las Águilas.
Services: bar, continental or American breakfast included, ocean view, free private parking, currency exchange, offers excursions to natural attractions.
This lodging is located at 17 Las Flores 16 de Agosto Street, in Pedernales. At a distance of 46 km from Enriquillo Lake and 84 km from Toussaint Louverture International Airport. It has a 24-hour front desk.
Services: the rooms have private bathroom, cable TV, free wi-fi. Breakfast buffet, American or continental breakfast included. Free private parking, swimming pool, ocean view. Pets are allowed.
It is located 3.6 km from Pedernales and 1.5 km from Anse-a-Pitres. Hotel Pedernales Italia is 154 km from Toussaint Louverture International Airport. The property has a 24-hour front desk.
Services: air-conditioned rooms with closet, private bathroom, desk and terrace, room service, free wi-fi in all facilities. Includes Continental breakfast, bar and restaurant with Italian and Continental cuisine. Free private parking. Airport shuttle service.
It is 1.7 km from Pedernales and is close to two parks: 1.2 km from Dr. José Francisco Peña Gómez Park and 1.9 km from Pedernales Central Park. It is also 1.1 km from the town of Anse-a-Pitres.
The hotel has a 24-hour front desk. The nearest airport is Toussaint Louverture International Airport, 161 km away.
Services: air conditioning, rooms with terrace, the lodging has a garden and offers counseling service. Free private parking is available.
This establishment offers the rental of the entire villa, it has 16 m² distributed in 3 comfortable rooms with capacity for 8 people. It is an excellent establishment for family vacations. The villa is located 2 km from Pedernales and 2.4 km from Anse-a-Pitres. It is 153 km from Toussaint Louverture International Airport.
Amenities: 3 independent bedrooms, flat screen TV, air conditioning, equipped kitchen, living room, 2 bathrooms. The accommodation has a balcony, garden views, terrace and private pool. It also offers free private parking. Pets are allowed at no additional cost.
Yoko's Villa is located just 5 minutes from the local beach and 2.7 km from Pedernales. The nearby towns are Anse-a-Pitres located 3.7 km away and Barbe Pangol is 13 km from the Villa. The property is rented as a whole, has 3 independent bedrooms and 3 bathrooms, and can accommodate up to 6 people.
Toussaint Louverture International Airport is 163 km from the Villa.
Amenities: 3 independent bedrooms, air conditioning, en-suite bathroom, fully equipped kitchen, living room, terrace, free wi-fi, private pool and free private parking.
Punta Cana
It is located in the eastern part of the Dominican Republic, in the province of Altagracia. With an area of 420,000 m², it is the main tourist destination of the Caribbean Island, known for its paradisiacal beaches and its impressive resorts.
Costa del Coco is the location that hosts more than 30 km of beautiful beaches with soft and fine white sands and has the most elegant and extraordinary resorts with all-inclusive packages.
30 km inland is the country's main airport, Punta Cana International Airport (PUJ), which receives 64% of the country's total flights.
Punta Cana Attractions
In Punta Cana you can enjoy water activities such as snorkeling, windsurfing, kayaking and even surfing. You can opt for boat rides and excursions with horseback riding experiences. Another option is to enjoy the incredible resorts that offer the best comfort within the resort facilities.
We invite you to consult our article: Top 6 all-inclusive resorts with water parks in Punta Cana.
Ojos Indígenas Ecological Reserve
It is a natural park that is protected, since it has 12 freshwater lagoons and more than 600 hectares of tropical forest. The jungle is home to many iguanas and more than 100 species of birds. Through it there is a marked trail that leads to beautiful springs and mangroves.
Among the things to do in the Ojos Indigenas Reserve, you can swim in the freshwater lagoons, go horseback riding around the beaches or take a catamaran ride. The tour can be done on your own or you can hire local guides for a guided excursion to get the most out of your visit to this fantastic Ecological Reserve.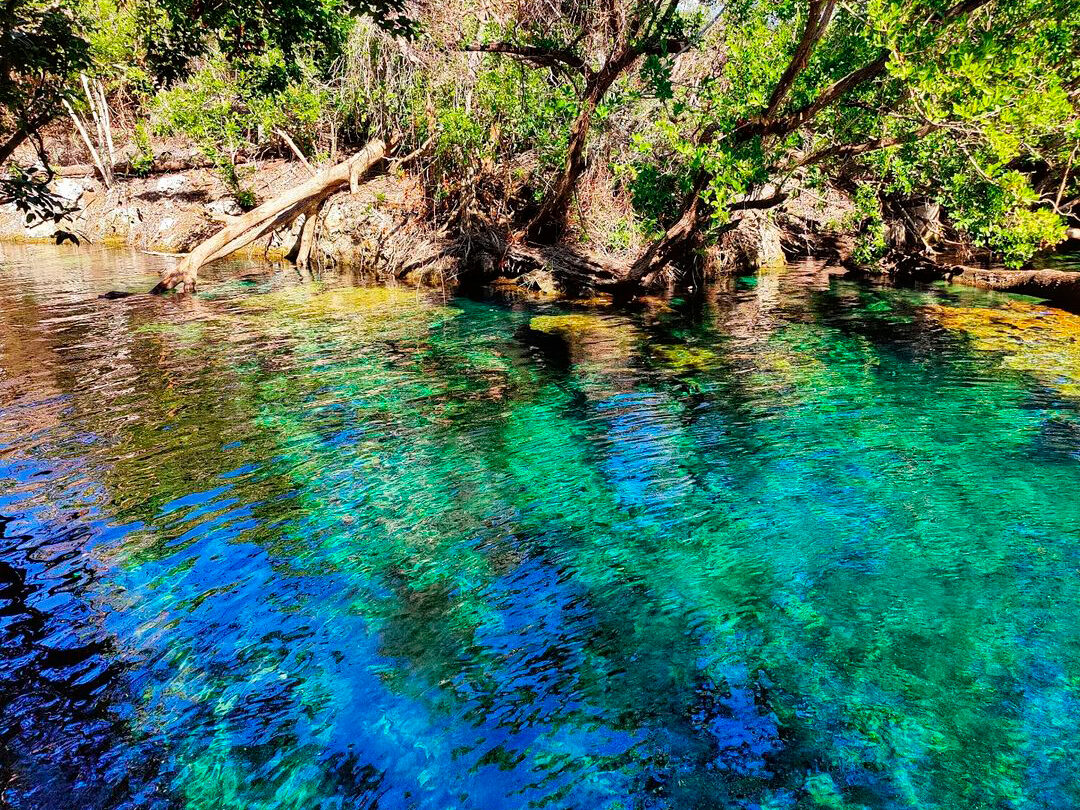 It is an incredible natural park with fun attractions where it is worth spending the whole day. This tourist attraction offers a pleasant educational experience and also an extraordinary range of adrenaline-filled activities.
Among the things to do in Hoyo Azul Scape Park we recommend the following:
Exploring ancient caves
Performing a zip-line jump over a cliff
Bathing in the waters of subway caves
Enjoy jumping on the aquatic zip lines.
This beautiful island, known by the Tainos as Adamanay, is located south of Punta Cana. It is part of the Cotubanamá National Park and has 110 km². Discovered by Christopher Columbus during his second voyage in 1494, it is a sparsely inhabited territory. Although it is one of the main tourist destinations, being practically uninhabited, its nature remains untouched.
Saona Island is a precious natural treasure where you can appreciate the beautiful coral formations in its waters. It is also the cradle of the most important turtle nesting in the country.
It is an excellent place for snorkeling, if you want to go on an excursion to this enchanting earthly paradise where you can visit one of the largest reserves of turtles and see starfish at sunset, do not hesitate to hire a guided tour in Saona Island to live an unforgettable experience.
Visit Punta Cana's unparalleled beaches
Undoubtedly, some of the best beaches of turquoise blue waters, surrounded by towering palm trees and with soft white sands of the Dominican Republic can be found in Punta Cana.
These are the best beaches in the area:
It is an impressive tourist attraction located in La Romana. The infrastructure of the Villa recreates the appearance of a Mediterranean village of the XVI century. It houses the National Archaeological Museum, a Cultural Center, the Greek-style Amphitheater and the well-known City of Artists.
It is home to a School of Design where classes in Fashion Design, Fine Arts and Illustration, and Graphic and Digital Design are taught.
This important tourist attraction is a representative sample of the refined artistic and cultural spirit of the Dominicans. Apart from the great cultural value that this spectacular visit offers you, you can eat and shop there.
If you want to know even more activities, we invite you to read our article The best places to visit and things to do in Punta Cana.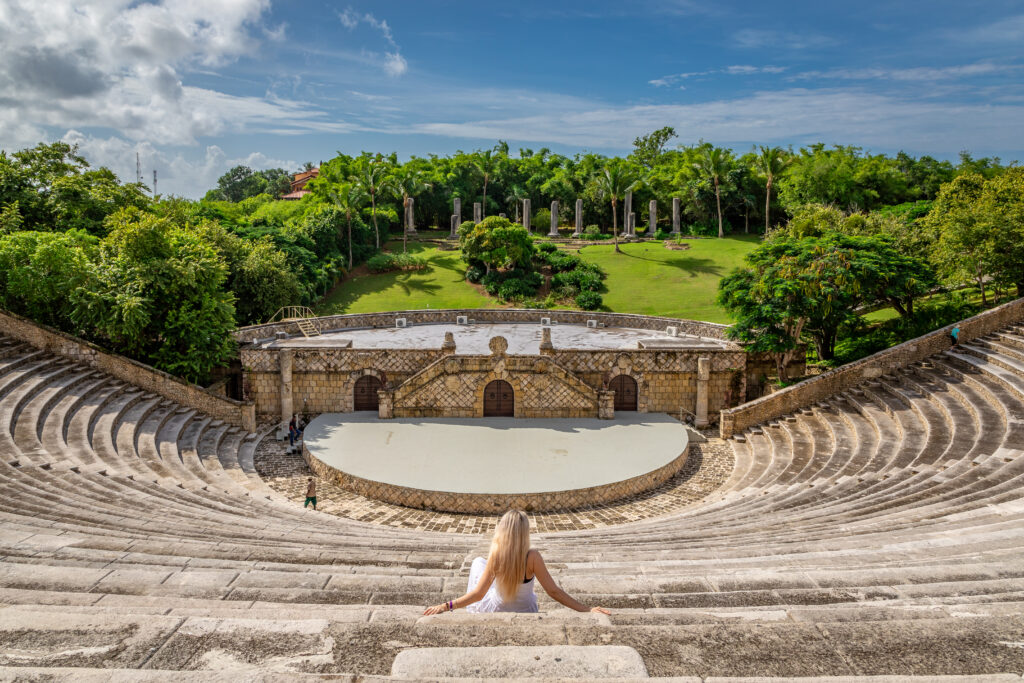 Restaurants in Punta Cana
After visiting the paradisiacal beaches of Punta Cana and exploring its countless attractions, you can taste the exquisite Caribbean cuisine in the best restaurants.
Located at Boulevard Turístico del Este km 28 #24 Macao, Punta Cana. It is a first class restaurant offering contemporary food and special diets suitable for vegetarians, with vegan and gluten-free options. The price range is $40 to $120. It has been awarded the Travellers' Choice: 2022.
Located in Uvero Alto, Punta Cana. Its cuisine offers a diversity of Caribbean, Contemporary, Bahamian and Seafood dishes. It includes special dietary options for vegans. The price range is from $5 to $22. Opening hours are from 11:00am – 11:00pm.
Located in the Puntacana Resort & Club Marina, it has been awarded AAA Three Diamond and Travellers' Choice: 2022 awards for its excellent Mediterranean cuisine and exquisite seafood.
Optionally, it offers dishes suitable for vegetarians, gluten-free and vegan food. It is an elegant restaurant with the style of a fishing boat with a spectacular view of the crystal clear turquoise waters and live music. Opening hours are Monday to Sunday from 6:30 pm – 10:30 pm.
Located in the "La Cana Golf & Beach Club", it is a Caribbean style establishment with a stupendous view of the Caribbean Sea and the La Cana Golf Course. Its cuisine is Caribbean and Mediterranean, offering excellent grilled meat.
The price range is $10 – $50. Hours of operation are Monday through Sunday from 11:30 am – 5:00 pm. Exquisite dinners are available Wednesday through Saturday from 7:00 pm – 10:30 pm.
You can also dine high in the air in a fascinating experience. See our article Dinner in the sky Dominican Republic to learn more.
Lodging in Punta Cana
Being one of the most visited tourist areas of the Caribbean island, it has many hotels and resorts. This makes it an ideal destination to stay for a few days, close to the famous beaches. The most important hotels and resorts in Punta Cana are the following:
It is located in Playa Blanca, another of the many present in Punta Cana. It is only 1 km from the nearest airport. This makes it a frequent choice for travelers who want to stay close to the beach.
Amenities: free internet for guests, swimming pool, fitness center, free breakfast, snorkeling and a nursery. Each room at the resort has air conditioning, balcony and private beaches, flat screen TV and room service available 24 hours a day.
Located on the Boulevard Turístico del Este, specifically at Km 28. No. 74, in Macao, Bávaro. Nearby there are tourist attractions and fine dining restaurants, all within a radius of 1 km. It has 1,787 rooms equipped to receive any tourist in the world.
Amenities: family-friendly suites and rooms, free parking, free internet, swimming pool, fitness center, complimentary breakfast, beach access, bowling alley and childcare. Rooms are hypoallergenic and equipped with air purifiers, plus air conditioning, additional bathroom, a minibar and satellite TV.
It is located on the Boulevard Hotel Zone Playa Juanillo, Cap Cana. A quiet area, close to the beach with some tourist attractions around. It is located 10km from the nearest airport, Punta Cana. A resort with 457 luxury suites to satisfy all your relaxation needs.
Amenities: free breakfast, parking and free internet, along with the right to the pool, gym, beach and a special shuttle to the airport. Offering windsurfing, the suites feature bathrobes, blackout curtains, air conditioning, extra bathroom, flat-screen TV and a coffee maker.
Located on Alemania Avenue S/N, in El Cortecito, Bávaro, only 23 minutes from Punta Cana International Airport. The area where it is located is characterized by many recreational and consumption sites for tourists. The kitchen works 24 hours a day and the establishment has 373 rooms and suites.
Services: offers breakfast, free parking and internet, access to the beach, swimming pool, gym and casino. It has bridal rooms, suites or rooms for the whole family. Each room is hypoallergenic, has air conditioning, cable TV and blackout curtains.
Monte Plata
Monte Plata is one of the 32 provinces of the Dominican Republic, the capital of this region also bears the same name. It has an area of 2,601.6 km² and is surrounded by the Sierra de Yamasá, its main rivers are the Ozama and Yabacao. It is one of the most important ecotourism destinations in the country, because it is home to the Haitises National Park.
One of the main traditions of Monte Plata is its patron saint festivities in honor of the Virgin of Altagracia. These festivities are held from January 11 to 22. Its origin dates back to the 18th century. The dances of sticks are also typical festivities of the region.
Restaurants in Monte Plata
Cuisine is very important in this agricultural region of the Dominican Republic. Its rural farms are ideal attractions for people who want to learn more about the typical gastronomy. These are some of the most prestigious restaurants in the area:
A restaurant located on the Carretera de Guerra, 100 meters from the Zona Franca of Bayaguana. It offers the best of Spanish, Caribbean, Latin gastronomy and special dishes with seafood. In this place you can have breakfast, dinner, brunch or drinks. It has parking and playgrounds, its style is familiar.
A restaurant focused on Mediterranean cuisine, with a reservation system for better service. It has a clean and pleasant atmosphere, which makes it a special place for dinners or meetings. It also offers hotel service.
This place specializes in international, Mediterranean and Spanish cuisine. Here you can have breakfast or dinner, it offers a great quality/price ratio. It is managed by reservations, this means that you must call to reserve your table. Its atmosphere is cozy, ideal for the whole family.
Lodging in Monte Plata
Now that you know where to eat, here are the best places to stay in Monte Plata:
This hotel is located in Los Haitises, Carretera Caño Hondo, Sabana de la mar, Hato mayor 2500. It offers 11 outdoor pools and a free water park for you and your family. It is 37.2 km from El Carey Airport.
Services: free internet, transfer to and from the nearest airport, swimming pool, free parking and also accepts pets. It offers different types of rooms: standard double, superior rooms with bay view, deluxe room and rooms with garden view.
Located at Calle Loma Pan de Azúcar #7, Comatillo, Bayaguana. An establishment that is 80 minutes away from two airports: Las Americas International Airport and La Isabela International Airport. It offers 12 rooms to its visitors and is an environmentally friendly space.
Services: parking, free breakfast and internet, outdoor swimming pool and exclusive bar, no pet restrictions.
To get here you must follow the Hato Mayor-Vicentillo Highway, 1km to the left at the fence, Hato Mayor del Rey. The nearest airport is Punta Cana, which is 99 minutes away by car.
Services: it has executive, double and single rooms, it also offers triples and premium cabins with garden view. Parking and internet are free, it also has a swimming pool, bathtub, air conditioning, bar and an exclusive restaurant.
Attractions in Monte Plata
Monte Plata is a famous location known for its natural settings. Here are the 3 best attractions of this place that you can't miss:
Salto de Socoa Natural Monument
One of the best kept secrets of the Dominican Republic: a natural spa ideal for the whole family. This is one of the bastions of ecotourism in the Caribbean country. It is located near Los Haitises National Park, to get there you only have to follow the Samaná Highway.
The waterfall of Salto de Socoa is 20 meters high, the jet falls into a well of crystalline water. All the vegetation in the area is typical of a rainforest. To enter this monument you must pay an entrance fee, since it is located on private property.
Salto Alto de Bayaguana
Another natural spa where you can enjoy all the sounds of nature. This is an ecological pool located a few kilometers from the municipality of Bayaguana. Its name comes from the three waterfalls of more than 10 meters that fall there. Access to the site is complicated, it is recommended to travel in 4×4 vehicles.
The entrance fee is paid, because the money is used to cover the conservation of the area for future visitors. The Bayaguana police are in charge of guarding the entire area.
Church of Santo Cristo de los Milagros of Bayaguana
A religious space that is only 50 km from Santo Domingo, it is located in the municipality of Bayaguana. This is a temple dedicated to San Juan Bautista, the legends say that an image of Christ carved in wood appeared on the shores of Yaguana in 1606.
The woman who found that piece of wood obtained the miracle that her daughter recovered her sight, according to many stories. That image was taken to Bayaguana, where a chapel was built in 1608. It underwent several remodeling works over the centuries, the last of which took place in 1928 after being declared a national heritage site by the government of the time.
In the year 2000 it received the category of Pilgrimage Center by decree of Pope Benedict XVI. From that moment on it became a place of worship and of value for tourists and believers from all over the world.
Santo Domingo
Santo Domingo is the capital of the Dominican Republic and the most populous city in the Caribbean. It is a UNESCO World Heritage Site thanks to its rich culture and architecture. Santo Domingo mixes the picturesque houses and structures of the colonial era with the typical culture of the Caribbean.
Your fun is guaranteed as you enjoy its natural beauties, colonial houses, art in all its expressions, a fascinating nightlife and many attractions. Whether you are traveling alone, as a couple or as a family, you will have unforgettable experiences to live at all times. Santo Domingo is the largest cultural, tourist and commercial center of the Dominican Republic.
You can arrive by plane at one of the three airports or by cruise ship, boats and yachts at the Port of Santo Domingo. To get around the city you can use public transportation, metro, cabs and even a special train for the colonial area.
The city is located on the southern coast of the country, at the mouth of the Ozama River. It is visited by more than 1,000,000 tourists a year. Do you want to be part of the people who enjoy this Caribbean paradise? Read on to discover the best attractions, restaurants and lodging in Santo Domingo.
Do you want to know more about the nightlife in this city? We invite you to consult our article Nightlife in the Dominican Republic of Santo Domingo.
Restaurants in Santo Domingo
The gastronomic culture of Santo Domingo has been awarded by the Ibero-American Academy of Gastronomy. Its food is the fusion of European, Indian and African culture thanks to the mixture of nationalities in colonial times. The restaurants that you cannot miss on your visit to Santo Domingo are the following:
It offers Caribbean, Latin, Mediterranean, Spanish and fusion food with a price range of $6-18. It has dishes suitable for vegans, vegetarians and gluten-free. It is located at 53 Sarasota Avenue, Santo Domingo. Its good prices are accompanied by good service and the characteristic flavor of its food. Its hours are Monday through Friday 6:30am-12:00am and weekends 7:00am-12:00am.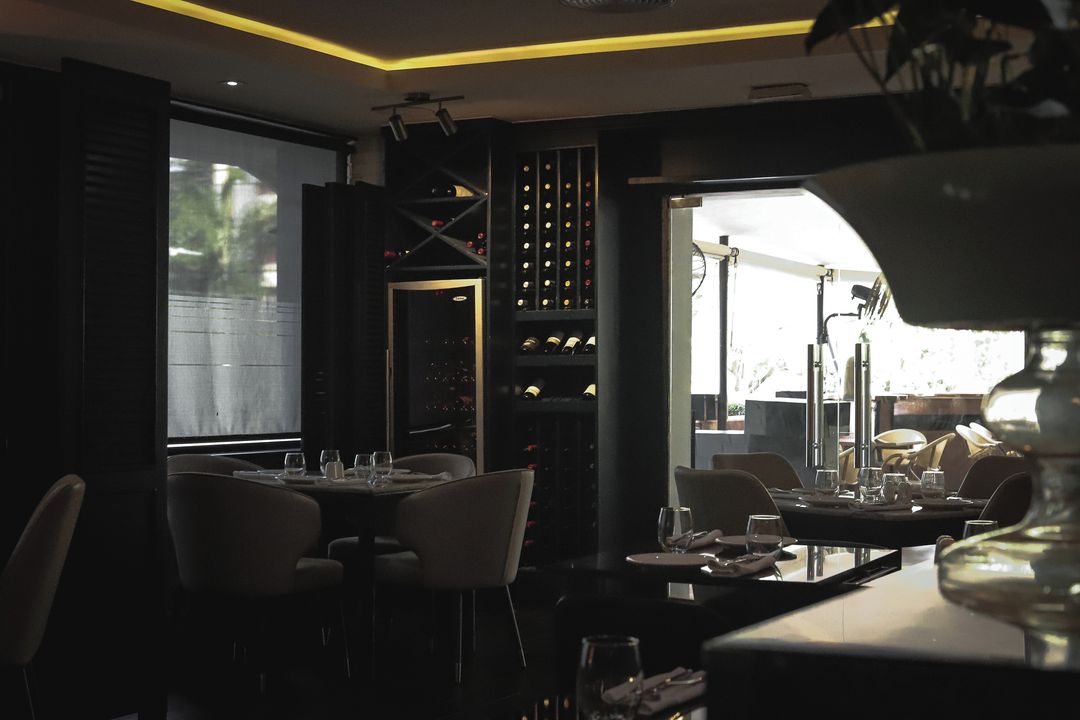 Here you get the best seafood and steak dishes in Santo Domingo. They are located on Winston Churchill Avenue in Santo Domingo. If you are vegetarian there are exquisite dishes for you. They are open every day from 11:00 am to 11:00 pm.
It offers select national and international cuisine in a chic, trendy and contemporary atmosphere. There are delicious gluten-free options for vegans and vegetarians. You can find them at 500 George Washington Avenue. The cost of their dishes range from $9 to $35. They are open all week from 12:00 pm to 11:00 pm.
With a price range of $10-$30 it offers delicious fast food, deli, contemporary, fusion and international. It is located on Winston Churchill Avenue in Santo Domingo. You will have no problem eating here if you are vegan or vegetarian, there are options for you. It is open every day from 7:00am to 10:00pm.
If you want to go with your partner or meet people in a good bar you can do it here. They serve Caribbean food and the best service of cocktails and alcoholic drinks. Their price range is $10-30$ and they are located on Winston Churchill Avenue.
Lodging in Santo Domingo
Enjoy the best lodging after enjoying the delicious gastronomy of Santo Domingo and strolling through its colonial streets.
Sheraton Santo Domingo Hotel.
It is located at #365 George Washington Avenue in Santo Domingo. It is close to the best restaurants in the city and tourist sites such as the Alcazar de Colon and Calle de Las Damas.
Services: it offers parking, breakfast and free internet for its guests. It is a good family option because of its ambiance and because children have free accommodation. It has its own swimming pool, gym and patio.
The rooms are soundproofed for privacy. They have air conditioning, satellite TV, desk, coffee/tea maker, sofa bed and an additional bathroom with shower and bathtub. Bridal suite and rooms with ocean and pool views are available.
Hodelpa Nicolas de Ovando Hotel
This hotel offers a luxurious experience close to Santo Domingo's main attractions such as Colon Park and the Chu Chu Colonial. You can walk from the hotel to Italian restaurants such as Pat'e Palo European Brasserie, Cappuccino Restaurant and Il Bacareto.
Services: All hotel staff speak English, Spanish and French. All rooms have a minibar, air conditioning, a safe, flat screen TV and private balcony.
The hotel offers shuttle service and babysitting if needed. Guests have access to free high-speed internet and parking. They have their own bar, swimming pool and business center with internet access.
Renaissance Santo Domingo Jaragua Hotel & Casino
It is located 2km from the Colonial Zone and the Primada de America Cathedral. The address is #367 George Washington Avenue in Santo Domingo. It has a luxury service and is one of the best options to stay in the city.
Services: Its rooms have minibar, flat screen TV, air conditioning and bathrooms with shower / bathtub. In all the hotel facilities you can access free wifi for guests. Its special feature is that it has a casino for you to have fun and hopefully win a few dollars.
The hotel offers tennis courts, gym, training room and swimming pool. It also has its own bar and function room. You can speak to the staff in English, Spanish, French and Italian.
Hotel El Embajador
El Embajador offers you a quiet and relaxing atmosphere to make your stay in Santo Domingo as pleasant as possible. It is located at 65 Sarasota Avenue, Ensanche Bella Vista. It is very close to La Puerta del Conde (2.2 km) and George Washington Avenue (2.5 km).
Amenities: it has its own casino, swimming pool, workout room and gym. All guests have high speed internet and free parking. Rooms have private balcony, air conditioning, room service, safe and minibar. The hotel has special rooms for non-smokers.
Houses of the XVI century
If you want an experience different from the modern multi-story hotel, Casas del XVI offers a luxury experience with its structure inspired by colonial houses. Thanks to its location on Calle Padre Billini #252, guests can walk to El Chu Chu Colonial and Parque Colón, which are 0.4 km from the hotel.
Services: It offers valet parking, free internet, bicycle service and pets are allowed so you can vacation with your little furry friend. Facilities include a casino, gambling room, event room, bar and swimming pool.
The suites are deluxe and have a view of the Colonial City. Smoking and non-smoking rooms are available. Rooms feature bathrobes, flat-screen TV, iPod docking station, dining area and a walk-in shower.
Attractions in Santo Domingo
The capital of the Dominican Republic is full of unforgettable experiences and incredible places to visit. You can delight in the art and culture of the Colonial City and connect with nature in Santo Domingo's parks and coastline.
Santo Domingo is a city where it is impossible to get bored. You can go biking through the colonial streets of the historic center, hike in the natural parks or party in the nightclubs. Delight yourself with its rich gastronomy and relive the interesting history of the city in its museums.
If you stay for a few days in Santo Domingo, we recommend the following experiences: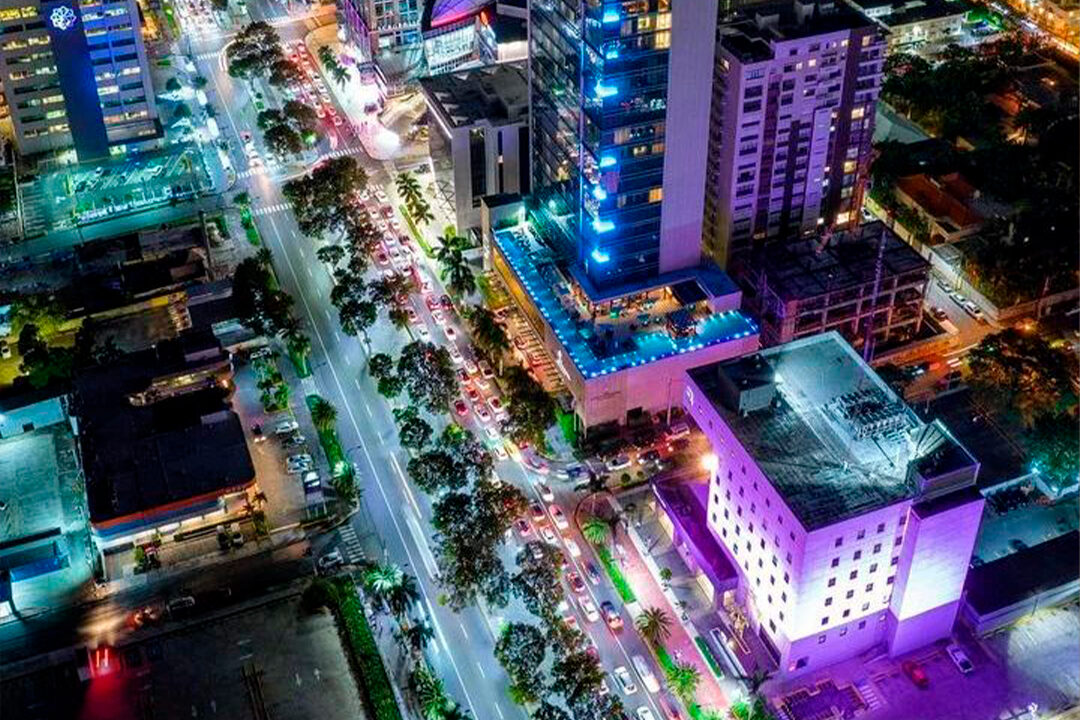 Touring the Colonial City neighborhood by bicycle
Explore the Colonial City and its architecture while you relax and exercise on a bike ride. See the landmarks and let them tell you about the history of the land where you walk. Not only will they tell you about the past, you will also discover the best bars, restaurants and clubs to get to know the modern side of Ciudad Colonial.
In two hours you can walk the streets by the sea to see the whole city and feel the Caribbean breeze. Remember to always wear sunscreen and breathable clothing for your comfort.
Visit the Ozama Fortress
It is the first military construction of the colony and is located in front of the mouth of the Ozama River. It is one of the architectural treasures that received the designation of World Heritage Site by UNESCO. Learn about the military past of the Fortaleza Ozama and how it has remained standing until today.
Visiting the National Botanical Garden
There are 2,000,000 square meters of pure nature. Enjoy walking through the trails surrounded by gardens, outdoor areas and pavilions. There are more than 69 thousand species of plants to discover and you can enjoy the 8 ecosystems that the Dominican Republic has. Surround yourself with nature for a few hours to make your stay more peaceful.
It has a pavilion with orchids, exotic plants and aquatic plants. You can see a Japanese garden, a garden of endemic plants and a beautiful floral clock.
One of the emblematic natural beauties of Santo Domingo is Los Tres Ojos Lagoon. It consists of a cavern with a freshwater lake that split thousands of years ago to form four beautiful caves. It is one of the unique landscapes that can be found in the Dominican Republic.
Its name comes from the shape or structure seen in the three lakes that are inside the caves. Only one of the 4 lakes can be seen from the outside.
2 itineraries for travel in Dominican Republic
Your trip is not complete without a plan, in Dominican Republic there are so many things to see and do that it is natural to have a hard time deciding. Don't worry about that, we have prepared the best plans and itineraries in Dominican Republic for you.
The proposed itineraries have been planned to be done in a private vehicle. If you go by uber, it is possible that the times will be different. The purpose of these routes is to propose some activities, but you decide which are the best places to visit in this extraordinary microcontinent. Let's get to it!
Itinerary 1| Tour Santo Domingo in 3 days
Day 1: We arrive in Santo Domingo and check into one of these great hotels: El Beatario Casa Museo, Gran Hotel Europa, Hotel Villa Colonial, Casas del XVI Boutique Hotel). After check-in, we stroll around the city for a while to familiarize ourselves with the Caribbean atmosphere.
Day 2: We dedicate the whole day to visit the Colonial Zone, steeped in history. You can take a tour in the Colonial City of Santo Domingo, where you can follow in the footsteps of the first discoverers of this Earthly Paradise. In the Columbus Lighthouse it is said that the remains of Christopher Columbus rest.
Day 3: The last day of this itinerary is an invitation to live a fabulous adventure, we make an excursion from the city of Santo Domingo to Saona Island by catamaran, to dive into the crystal clear waters.
Itinerary 2 : Explore Punta Cana in 3 days
Day 1: Arriving in Punta Cana, we choose among these excellent lodging options: Villas Chiara Punta Cana, Sweet Home Punta Cana Guest House. Among the best resorts you can opt for any of these: Sanctuary Cap Cana, Hyatt Ziva Cap Cana, Barceló Bávaro Beach. After checking in, you can enjoy the beautiful beaches of Bávaro.
Day 2: Visit the Ojos Indígenas Ecological Reserve, and enjoy the Esmeralda Beach, 100% virgin territory.
Day 3: To complete the visit to one of the best tourist destinations in the Dominican Republic and the world, enjoy a wonderful tour of the beaches of Saona Island.
You can also visit the most exotic places with the countless tourist excursions that the DR has to offer. To learn more, we invite you to check out our article Looking for Dominican Republic tours? Here's what to see and do.
Transfers in Dominican Republic
The ways to move within the DR are very diverse, you can travel by helicopter, in an electric carriage, on horseback, by cab, on boats, in short. Few tourist sites have so many possibilities at your disposal. In addition, all transportation systems are safe, including public systems.
To give you a quick idea of the costs, here is a table where you can find out how much it costs to travel in the DR:
| | | |
| --- | --- | --- |
| Type of transport | US$ | RD$ |
| Public transportation ticket | $0.64 | RD$34.70 |
| 1 month ticket for public transportation | $39.00 | RD$2,100.00 |
| Cab (1km) | $2.80 | RD$150.00 |
| Cab (1 hour) | $6.00 | RD$300.00 |
| Rent a car | starting at $6.00 per day. | from RD$300.00 per day. |
| Gasoline (1 liter) | $1.24 | RD$67.00 |
Minivan buses
Buses, also called Guaguas, are white units where the drivers carry many more passengers than they seem to fit.
It is one of the most uncomfortable means of transportation in the DR, but it allows tourists to mingle with the daily life of the population. Another point in favor is that it is very economical, the average trip has a cost of $0.73 or, what is the same, RD$40.00.
Cabs
There are numerous cab lines ready to take you wherever you need to go. You can consult the yellow pages cab list to find the cab line you trust the most. Make sure that it has a good reputation among its customers and that it has an operator from whom you can request information about the unit.
All major hotels, airports and ports have surrounding cab lines that can get you to your destination quickly and conveniently.
Rent a car
Renting a car allows you to easily reach any beach and search for the best spots on the coast. If you plan to make the most of a city's attractions, renting a car can be more economical than taking a cab everywhere.
Prices vary depending on the type of vehicle, the city or company you hire them from, but you can get deals as low as $6 per day.
Intercity buses
Intercity buses are the most economical and comfortable way to move between cities and major stops in the DR. These modern units are usually equipped with WiFi services, air conditioning, TVs with movies and comfortable reclining seats.
There are 2 main lines that connect the cities of Santo Domingo, Santiago, Puerto Plata and Sosua. But they also visit other destinations such as:
Caribbean Tours: Barahona, Cabrera, Jarabacoa, La Vega, Montecristi, Samaná, among other destinations.
Metro Buses: La Romana/Casa de Campo, Port-au-Prince, Haiti, among others.
Boats
In the DR there are endless anchorages, marinas and ports where boats, yachts and fishing boats transit. You can rent a boat to navigate the sea freely and visit the islands of your choice, at a cost of between $200 and $3,500 per day. You can also travel from one city to another by boat or pay for a snorkeling excursion to Catalina Island for $80.
There are many possibilities, do not miss the opportunity to go into the sea. It is an experience that will leave a mark in your memory.
Helicopters
Perhaps the best way to take in the breathtaking scenery of the DR is by helicopter. Although moving from one city to another can be expensive, there are helicopter rides in Punta Cana starting at $139. There are also companies that provide this service in Santo Domingo.
Many hotels and resorts have heliports where they can pick you up and bring you back. Although the average price per ride is around $150, the price varies according to the duration of the ride and the number of people. Children under 5 years old are not allowed.
Horse-drawn carriages
One of the most particular and striking ways to ride through the DR is on horseback. There are carriages that will make you feel like you are in a fairy tale.
You can also hire a tour on the back of a horse along the beach at sunset. This memorable experience costs $69 to $80 with dinner included in some cases.
Many horse-drawn carriages have been replaced by modern environmentally friendly electric carriages.
Organizing your trip to the Dominican Republic: what you should consider
If you are organizing a trip to the Dominican Republic for the first time, it is important that you know the most relevant information regarding the climate of the region, flights and transfers, if there is a risk of witnessing a hurricane and the best time to avoid them.
Surely you are wondering, is it safe to travel to the Dominican Republic? Below we answer all these questions and offer you the best recommendations to make your trip the best experience of your life.
Climate of the Dominican Republic
The Dominican Republic is characterized by its tropical climate and two dominant seasons. The first is rainy (May-October) and the second is dry (December-April). The temperature in the rainy season ranges between 23 °C and 32 °C, while in the dry season the temperature is cooler, ranging between 20 °C and 30 °C.
We recommend you to organize your trip to the Dominican Republic during the less rainy season, around the months of December – April, come and enjoy the best tropical weather in this paradisiacal destination.
Hurricanes in the Dominican Republic
The Caribbean countries are prone to hurricanes, however, in the Dominican Republic they only occur occasionally . Two important points to consider:
The populations most prone to this natural phenomenon are Cibao and Yuma.
In the Dominican Republic , the hurricane season covers the months of June-November .
Is it safe to travel to the Dominican Republic?
The Ministries of foreign affairs, especially European ones, consider the Dominican Republic as "a relatively safe country." Naturally, security will vary from one place to another, for example, you have to be a little more careful in the capital.
The latest reports (August 2022) indicate that armed robberies have increased, due to this, a minimum of prudence must be exercised as an elementary rule.
The basic recommendations to take into account are to avoid traveling through isolated and dark areas. If you need to cover long distances, use transport that is duly identified . When you need cash, try to use ATMs installed in banking areas and try not to withdraw too much.
The best travel insurance to go to the Dominican Republic
As far as possible, it is advisable to travel with health insurance, since health care in private hospitals is often expensive. These are some of the most recommended medical insurance to travel to the Dominican Republic.
In general terms, traveling to the Dominican Republic is a good experience , corroborated by the almost 6 million people who visit it every year. If you pay a little attention to basic safety and health instructions, you're going to have a great time.
If you have a spirit of adventure and want to travel alone to the Dominican Republic, you can do it, it's safe. Just take into account the aforementioned recommendations and if you want to go out at night, look for companions in the accommodation. Another alternative that is in vogue is to search for Dominicans with references on platforms such as Couchsurfing .
Other considerations to take into account
It is advisable to go to a vaccination center at least three weeks before the trip. Make sure that the doctor is aware of the type of trip you are going to make and, if necessary, that he administers the dose against typhoid and hepatitis A. Surely you will have to have the COVID 19 vaccine up to date.
Once settled in the Dominican Republic, avoid mosquito bites by using branded repellents and clothing that covers you, especially at sunrise and sunset.
Eat a lot of peeled fruit the first few days and always choose to drink purified or bottled water.
Wear cotton clothing so that the skin perspires more easily and continuous hydration is very important.
In this part of the world, sunstroke is common , avoid it by using a good sunscreen and don't forget to cover your head with some clothing if you are outdoors.
Conclusion
The Dominican Republic is one of the largest countries in the Caribbean, with an incredible tropical diversity brimming with natural wealth and an impressive historical legacy. Surrounded by the immensity of the Caribbean Sea and the Atlantic Ocean, this large island brings together all the elements that you may have imagined when dreaming of an earthly paradise.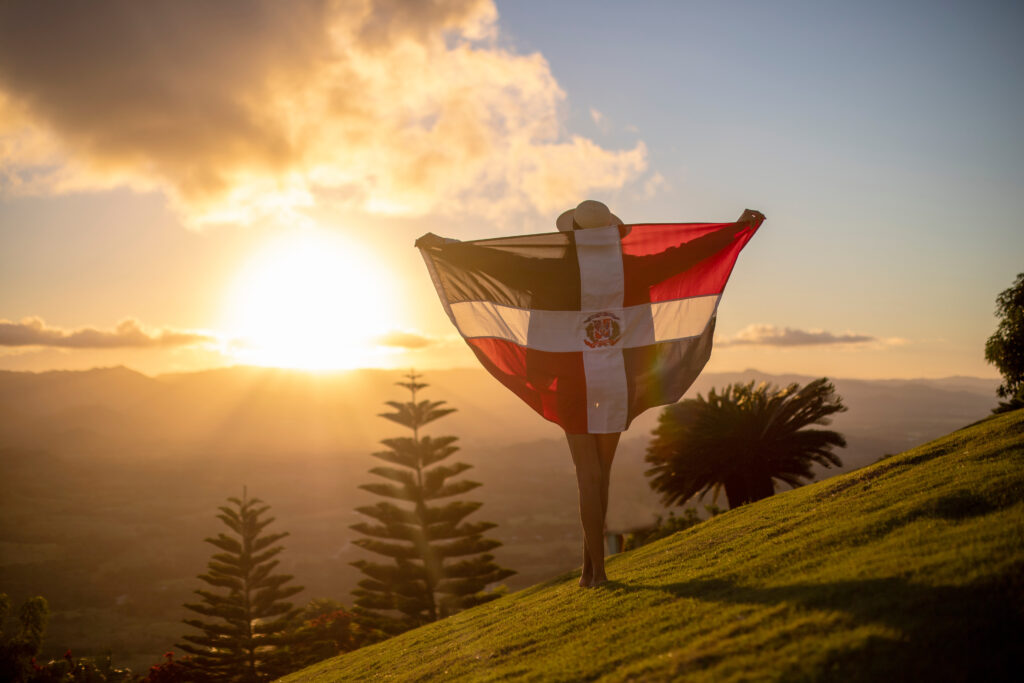 In its immensity, beautiful mountains covered with pine trees rise and the crystalline waters of waterfalls descend. Countless natural freshwater pools sprout from the ground that are home to an endless number of brightly colored fish.
On the coast we appreciate the best white sand beaches with their coral reefs and starfish. Without forgetting the salt mines, the desert soil, and the amazing Larimar Mine, from where a unique and exclusive precious stone is extracted. Thanks to these amazing attributes, this Caribbean country full of joy and color has been classified as a microcontinent.
Undoubtedly, being such a large country and rich in its natural and cultural diversity, it is difficult to get to know it in a single visit. This makes it one of the main tourist destinations worldwide.
If this guide has been useful, let us know in the comments, and tell us about your experience in this extraordinary tropical paradise.