Punta Cana is a breathtakingly beautiful tropical paradise, with miles of white sandy beaches and turquoise waters filled with marine life.
Whether you're looking for a quiet spot to escape the crowds, or a lively beach where you can enjoy some water sports and soak up the sun, Punta Cana has something to offer everyone. In this post, we're going to be talking about some of the best beaches in Punta Cana, where you can soak up the sun, swim in warm waters, and relax under swaying palm trees as you take in the stunning natural beauty of this Caribbean paradise.
In this post, we're going to be taking a closer look at 10 of the best beaches in the Punta Cana area that you can visit and some of the most fun things you can do in Punta Cana while you're there!
Top 10 Beaches in Punta Cana You Need to Visit
While you could just drive up to any beach in Punta Cana and have a great day, there are so many different types of beaches in the area that the experience is much better if you go into it prepared.
Below is a list of the top 10 beaches in Punta Cana that will get you one step closer to making sure that you end up at the perfect beach for you and your family!
If you want to explore more unexpected beaches, there are many natural sanctuaries where you can enjoy, swim and bath far from the city. One of the most importants is Pedernales.
Macao Beach
Macao Beach in Punta Cana is one of the most beautiful beaches in the world. The water is crystal clear, and the sand is soft and white. The beach is also flanked by palm trees and other tropical vegetation, providing a perfect shady spot to relax in between swims.
In addition to its natural beauty, Macao Beach is also known for its lively atmosphere. There are often live bands playing music, and there are plenty of bars and restaurants nearby, making it the perfect place to spend a day or night. The beach is located in the province of La Altagracia in the east region of the Dominican Republic, which makes it easily accessible from the Punta Cana airport.
What makes this beach one of the most popular ones in the area is its proximity to all the great things Punta Cana has to offer. Plus, you can go buggy and four wheel riders and surfers! It's actually one of the few beaches in Punta Cana where you can actually surf. So if that's something that interests you, this is definitely a beach you should be visiting!
Bavaro Beach
Another incredible beach in Punta Cana is Bavaro Beach, located right near the eastern tip of the Dominican Republic. Like Macao Beach, the waters here are crystal-clear and the sand is pure white, making it an ideal destination for a day of swimming, sunbathing and relaxation.
One thing that sets Bavaro Beach apart from other beaches in Punta Cana is its stunning natural environment. The beach is flanked by lush tropical forests and mangrove trees, which provide a beautiful backdrop for the azure waters.
The best part about this beach is the beautiful white sand. The sand is so white and reflective that it doesn't even get hot on the hottest of days! However, because this is a beach right next to a resort and is free to enter, you should expect a lot of people here. That being said, if you can get past the crowds, Bavaro Beach is definitely a must-visit destination when you're in Punta Cana.
Palmera Beach
Another one of the best beaches in Punta Cana is Playa Palmera, which boasts pristine white sand and clear, calm waters. This beach is perfect for a day of swimming, sunbathing and relaxing, as well as doing some water sports such as snorkeling or scuba diving.
Unlike other beaches in Punta Cana, Playa Palmera is not an open beach. It's a Royal Beach Resort, which means that in order to get access, you'll need to purchase a day pass. However, if you're looking for a more exclusive and private beach experience with fewer tourists, Palmera Beach is definitely worth checking out.
With its beautiful white sand and quiet atmosphere, it's no wonder that Playa Palmera is one of the most popular beaches in Punta Cana. Whether you're planning a romantic getaway or just want to spend a day enjoying some peace and tranquility, Playa Palmera is the perfect place to go.
Uvero Alto Beach
Next up, we've got Uvero Alto Beach. This isn't a super well-known location in Punta Cana, but it's still one of the best ones you can visit. You won't find a massive crowd here, and although the sand here is yellow, it's still just as soft and nice as the other beaches on our list.
One of the most unique things about Uvero Alto is its location. You can even go hiking in some of the nearby countrysides to get a beautiful view of the beach from above! Not only that, but because of how secluded it is, this is the perfect spot for some quiet reflection and meditation.
The waves here get pretty high too, so if you're familiar with how to surf, a day out here would actually be perfect!
Whether you're visiting Punta Cana with a group of friends or on a romantic getaway, Uvero Alto is definitely worth checking out. It's also a perfect place if you are planning your wedding, so, if you think about it, here you can have it all.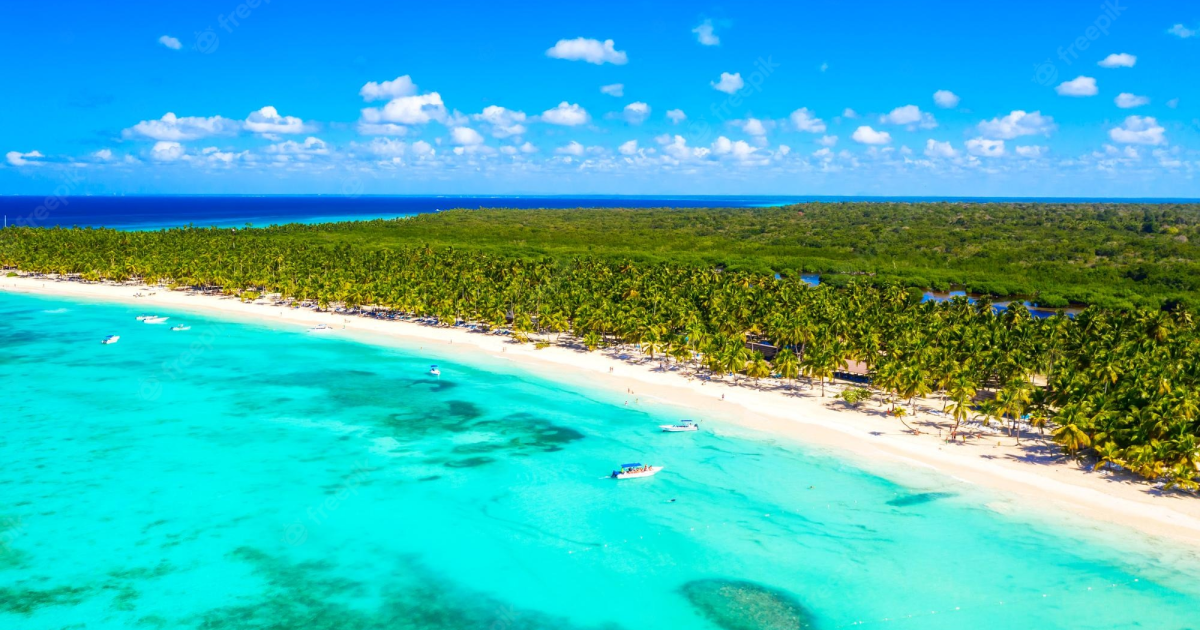 Juanillo Beach
Juanillo beach is a great choice for families with children. The beach is located in the exclusive area of Cap Cana, so you can be sure that your kids will be safe and well looked after.
And, if you ever get tired of the sand and sun, there are plenty of resort hotels, restaurants and a marina nearby to explore. The beach itself is beautiful, with palm trees lining the shore and soft sand that's perfect for building castles. Plus, it's never too crowded, so you can always find a spot to relax. The only downside here is that because of the exclusivity of it all, a trip here can get pretty expensive.
Overall, though, Juanillo beach is one of the best beaches in Punta Cana for families. If you're looking for a comfortable and relaxing vacation with plenty of activities to keep your kids entertained and safe, then Juanillo beach should definitely be on your list!
Esmeralda beach
Esmeralda beach is a hidden gem in Punta Cana. This gorgeous beach is only a short drive from Bavaro but feels miles away from the hustle and bustle of the city.
The water is an unbelievable shade of blue and is so clear that you can see the sand at the bottom. It's hard to believe that such a place exists!
What's even better is that there are hardly any people here. It's the perfect spot for those who want to avoid crowds and enjoy some peace and quiet. So you could really have the whole place to yourself for the most part! The beach is also great for swimming. So, if you're looking for an amazing beach experience, be sure to check out Esmeralda beach!
Arena Gorda Beach
Arena Gorda is the perfect place to relax and enjoy the Caribbean Sea. The long stretch of white sand and secluded location make it a great spot for swimming, sunbathing, and simply taking in the stunning view.
Although it is located at the end of Punta Cana's Hotel Zone, Arena Gorda is usually less crowded than other beaches in the area. This beach also has the benefit of being close to a beach club, as well as several hotels and coconut groves where visitors can find some respite from the sun.
To get to Playa Arena Gorda, simply head north from Punta Cana for 28 minutes. With its picture-perfect vistas and tranquil atmosphere, this beach is sure to provide an enjoyable experience for all who visit!
Macao beach
Macao beach is something of a hidden gem of Punta Cana beaches, being relatively untouched with clean sands, watersports opportunities, and an escape from the city crowds. Some of the more popular activities on this one include parasailing excursions or renting a beach buggy for an adventure bouncing over the sands. It's also highly popular with surfers due to the great pipes that form here. It's a favorite amongst locals, and a nearby all-inclusive resort lets you be pampered between beach excursions.
Macao beach is about a 35-minute drive to the north of the city center of Punta Cana. It's worth the trip to see a beach the locals like to frequent. The powdery white sand and clear blue waters make it easy to spend a lazy day lounging on the shore. But if you're looking for something more active, there are plenty of options available.
Parasailing gives you a bird's eye view of the coastline while renting a beach buggy lets you bounce along the sand dunes in search of adventure.
Surfing is also popular here, thanks to the great waves that roll in from the Atlantic Ocean. And when you need a break from the sun, head to the nearby all-inclusive resort for some R&R. With its stunning location and range of activities, Macao beach is sure to please everyone in your group.
Cortecito Beach
If you're looking for a party, Cortecito is the beach for you. This beach is known for its bars and clubs, and you can find everything from craft cocktails to hip clubs playing the latest dance hits. But Cortecito isn't just about partying – it's also a great place to eat. Local seafood restaurants are famous for their fresh, seasonal menus, and you can also connect with local culture here.
When you're ready to explore beyond the beach, Cortecito is also a great spot to start a long beach walk. Just 31 minutes north of Punta Cana, it's the perfect place to spend a day (or night) in the sand!
Arena Blanca beach
If you're looking for a truly luxurious beach experience, look no further than Arena Blanca beach. This picturesque stretch of sand is lined with high-end resorts, each offering its own unique take on the all-inclusive experience.
Whether you're looking for a party atmosphere or a more relaxing vacation, you'll find what you're looking for here. And, of course, the beach itself is absolutely stunning.
With its soft white sand and crystal clear water, it's easy to see why Arena Blanca beach is such a popular destination. Keep in mind that there are no public amenities on this beach, so you'll need to access it through your resort. But trust us, the experience is worth it.
Things You Need to Do in Punta Cana
While beaches might be your main focus, there's a lot you can do around them in Punta Cana. Below is a list of great activities you can do on and off the beach in Punta Cana!
Go on a Catamaran Cruise
One of the best ways to take in the beauty of Punta Cana is from the water. There are many different companies that offer catamaran cruises, and they usually include stops for snorkeling, swimming, and sightseeing. You can even find some that include an open bar!
Visit a Local Rum Factory in Punta Cana
No trip to the Caribbean would be complete without sampling some rum. And what better place to do that than at a rum factory? The Bacardi Rum Distillery offers tours seven days a week, where you can learn about the history of rum and see how it's made. Of course, there are also plenty of rum tastings!
Take a Jeep Safari Tour of Punta Cana
One of the best ways to explore the Dominican Republic is by taking a jeep safari tour. You'll get off-road through jungle paths and rivers and see some breathtaking scenery along the way. Plus, you might even spot some wildlife!
Explore Altos de Chavon
Altos de Chavon is an artificial village that was built in the 1970s. It's modeled after a 16th-century European town, and it's absolutely gorgeous. Spend an afternoon exploring the cobblestone streets, shops, and restaurants before taking in a show at the 5,000-seat amphitheater.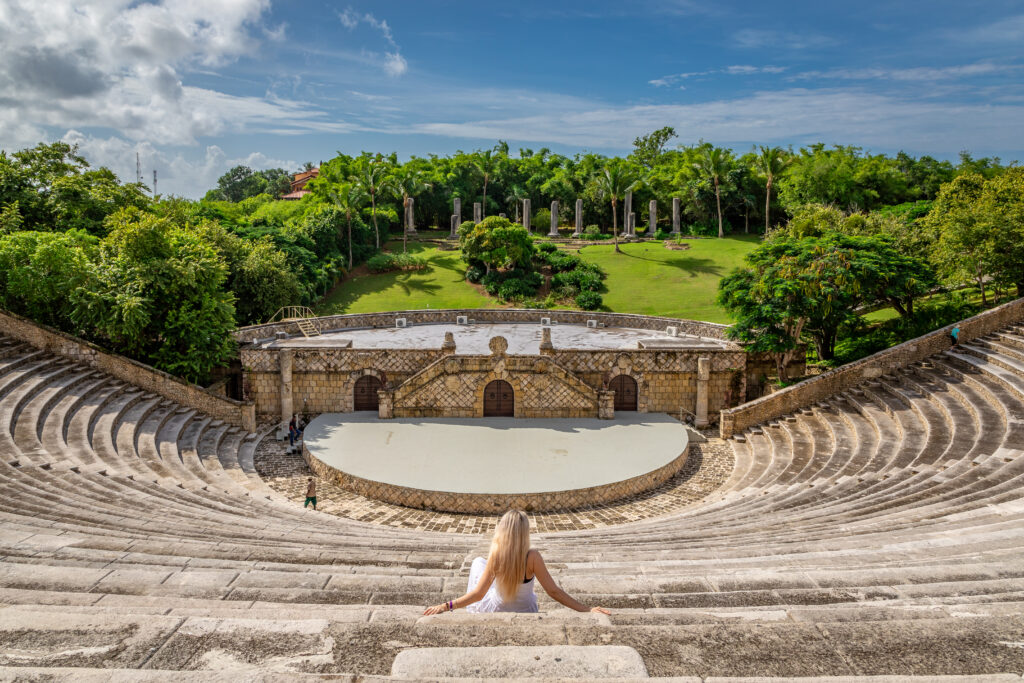 Go Surfing in Punta Cana
Punta Cana is one of the best places to go surfing in the Caribbean, thanks to its great waves and beautiful beaches. Whether you're a beginner or an experienced surfer, there's a beach that's perfect for you. So grab your board and hit the waves!
Try a Hike!
Punta Cana is also a great place for hiking, with trails to suit all levels. Whether you enjoy easy hikes through the jungle or more challenging climbs up the mountains, there's something for everyone here. So lace up your shoes and start exploring!
Go Snorkeling
Punta Cana is home to some of the best snorkeling spots in the Caribbean, so be sure to pack your snorkel and fins. Whether you're looking for a secluded beach or a bustling reef, you'll find it here. So jump in and see what you can discover!
The Bottom Line
No matter what your idea of the perfect beach vacation looks like, Punta Cana has something for everyone. Whether you're looking to party, relax, or explore, this beautiful Caribbean destination is sure to be the perfect destination for you! Find out about all the exciding activities you can do in Dominican Republic.