Punta Cana is home to some of the world's top white sand beaches and luxurious all-inclusive resorts. It's what everyone knows; let's get deep into it! Where it's famous chiefly for its beaches and crystal clear water, its landscapes are also drool-worthy.
Punta Cana is your go-to place if you love exploring the hidden treasures of nature; the striking sceneries, the beautiful landscapes, and more. And what can be a better way to satisfy your exploration cravings other than going hiking? Indeed, none! So, here we are to help you find all that you need to know about hiking in Punta Cana. Let's dive in!
What Is Hiking in Punta Cana Like?
Have you ever gone hiking at other locations in Europe or North America, where you get proper signposting, trail signs, and maps? If yes, then you must be expecting Dominican trails to offer you the same experiences. To your surprize, you have misinterpreted it!
Hiking in Punta Cana is far different; on getting out to explore Punta Cana on foot, you discover that there are no maps or signboards for guidance. On the other hand, you also get to immerse yourself in breathtaking landscapes and verdure sceneries.
Moreover, here you can skip crowds, as the trails for hiking in Punta Cana, even in the Dominican Republic, are another definition of tranquil heavens!
Should You Go On Your Own or Book a Guided Tour?
Wondering if it is safe to go hiking in Punta Cana? YES! It's safe to go hiking in Punta Cana; even you can enjoy it all alone.
If you are a beginner in hiking and have never gone for it, even in your hometown, we suggest hiring a guide or booking a hiking excursion. If you don't have a rental car, opting for an excursion from Punta Cana that involves a hotel pick-and-drop is an even better way to navigate to the trailhead.
On the other hand, if you are a pro and have experience hiking even without proper signboards, then you can rely on your expertise. Just carry your essentials, i.e., GPS, first-aid kit, ample food, spare battery for cell, and more, and hop on the trail for an exotic getaway!
5 Scenic Hiking Trails
Here are some scenic hiking trails you should not skip visiting when visiting Punta Cana. Let's have a look at them!
1. Punta Cana Beach Walk
One of the easiest hikes you can experience in Punta Cana! This trail doesn't include any trips to remote areas, so it's safe if you want to hike alone. Although it may not look adventurous, the sceneries featured along beautiful stretches of beaches make this hike seamlessly amazing.
Because of the endless beaches in the area, you can extend this picturesque hike into a daylong hike. This hiking trail is flat and features beautiful ocean views as highlights. Although the trail length is adjustable, it's up to twelve miles one-way.
2. Montana Redonda
Next on the list is another easy hiking trail of Punta Cana, i.e., Montana Redonda. Being just an hour's drive from Punta Cana, this easily accessible trail offers the chance to witness the panoramic 360-degree views of the lush green vegetation, the beautiful ocean, and the stunning views of Cordillera Oriental.
Moreover, this hiking trail boasts hammocks and giant swings on the mountain edge. Aah, a risky yet once-in-a-lifetime experience! Don't forget to bring your cameras along, as this site offers unique photo opportunities. Although it's easy yet, due to the steepness of about 800 feet, be prepared to get drenched in sweat!
3. Hiking Trail to Salto Del Limon
This trail is equally popular among locals and tourists for its endless charm. It features One of the famous Dominican attractions, i.e., Salto del Río Limón waterfall, as a final destination. However, it's not the only highlight of this trail, as you can witness beautiful vistas while walking toward the waterfall.
A memorable walk on a trail surrounded by tall tropical trees where birds chirping is the only noise breaking the silence; you will surely love the experience. This trail is shorter than the ones described above and is physically less demanding.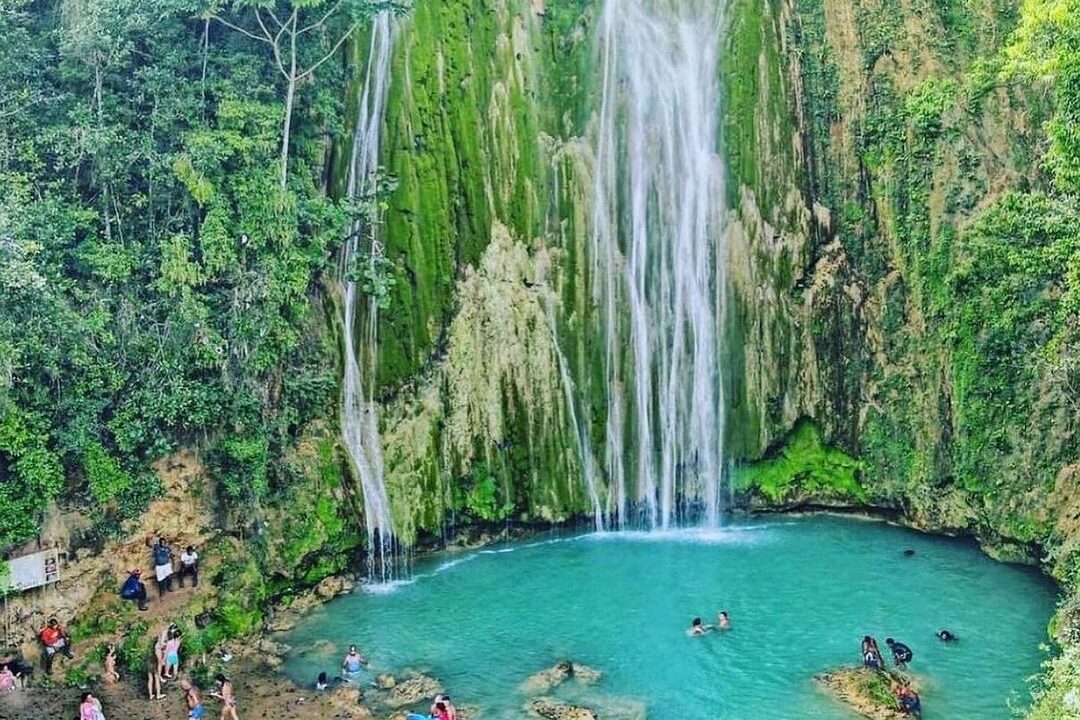 4. The trail to Fun Fun Cave
Located in Punta Cana's northwest, this exciting trail can be reached by foot in around 2.5 hours. It's an adventurous route that combines two experiences, hiking and caving. However, booking a guided tour is suggested if you want to go hiking in Punta Cana at this destination.
After enjoying an exotic walk to the cave, you can give your day a perfect finish with activities like rappelling. In it, you get to explore small lagoons, stalactites, stalagmites, and more.
This trail is featured in the tranquil Los Haitises National Park and boasts a 20-meter underground tunnel system. You can also enjoy swimming in the underground rivers; don't forget to bring your bathing suit along!
5. Hiking in the Indigenous Eyes Ecological Reserve
Last but not least, hiking in the Indigenous Eyes Ecological Reserve is another striking addition to our list of the best hiking trails. Spread over 1500 hectares, this reserve is home to turquoise lagoons, lush green forest, and more; all that one can expect in a dreamy landscape!
When hiking, you can also enjoy other activities, like swimming in the scenic background, snorkeling in the main lagoon of the reserve, and bird-watching hundreds of bird species and iguanas.
Wrapping Up
Punta Cana boasts alluring sceneries, beautiful landmarks, and lush green forest; in heart, it's worthy of being the most visited place in the Dominican Republic. Are you in Punta Cana looking for a fun activity for an instant adrenaline rush? Go hiking in Punta Cana!
In this article, we have mentioned all the necessary information to make the most of your hiking in Punta Cana. From what you should expect from hiking here to what method you should opt for and the best hiking trails, we have explained everything. You will surely find it worth reading.