Are you in The Dominican Republic and eager to discover the beautiful landscapes and charming locations along with the scenic waterfalls in the Dominican Republic? Well, you're at the right place to find out.
The Dominican Republic is a well-known paradise for fine-sand beaches, top-notch golf courses, and luxurious resorts. But there are also plenty of opportunities for adventure across the nation, including scaling mountains, jumping off cliffs, and exploring caverns.
There are gorgeous and distinctive waterfalls in the Dominican Republic that are waiting to be found in the countryside, some of which offer exhilarating trekking excursions. To discover more about the beautiful Dominican Republic Waterfalls, head down below:
The Top 18 Waterfalls In Dominican Republic:
Following are the best waterfalls in Dominican Republic one can ever visit:
1. Salto Limón (Samana)
Salto Limon is one of the most iconic waterfalls in the Dominican Republic. On Samaná Peninsula, El Salto del Limon is best visited by automobile or via pre-arranged tour. There is currently only one Dominican Republic waterfall that can be reached from Punta Cana through land travel on a scheduled day trip excursion.
The Salto El Limón waterfall in Samaná, which tumbles down 30 meters (100 feet), is among the highest and unquestionably the most beautiful of all waterfalls in Dominican Republic.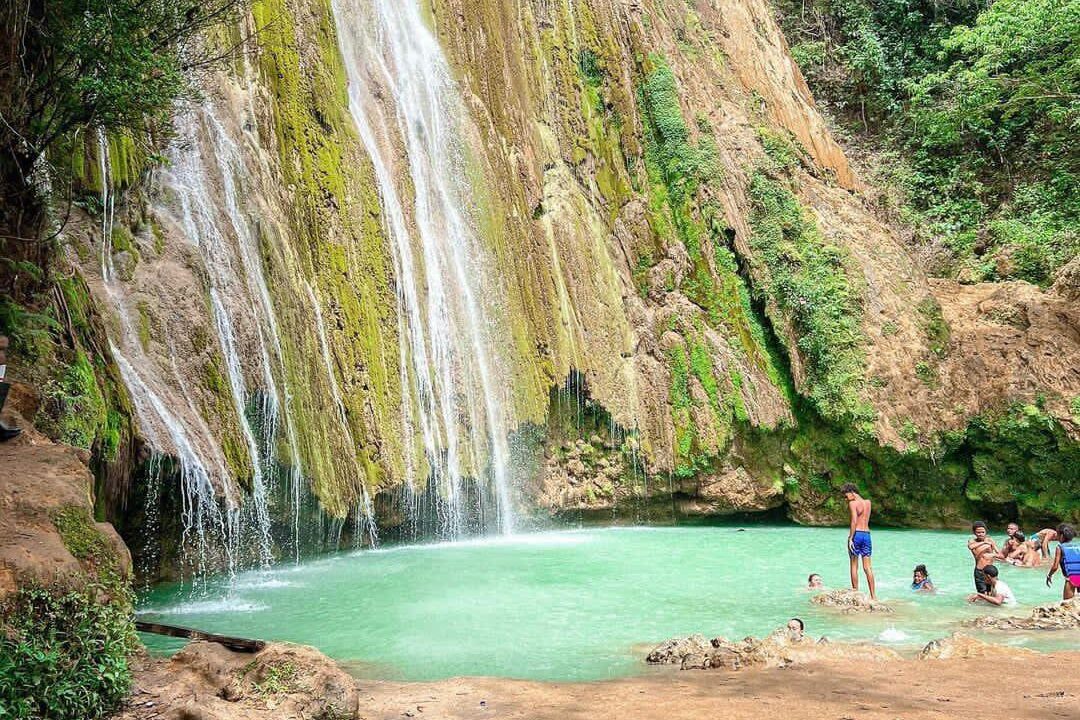 2. Salto Alto (Bayaguana, Monte Plata)
This is a unique one! The rainy season is when waterfalls typically intensify. The Salto Alto de Bayaguana, at this time of year, has three streams that flow effortlessly into a lovely natural lake surrounded by thick greenery. Three kilometers separate from Bayaguana in the Monte Plata Province, it takes an hour and a half to get there from Santo Domingo.
Since it is the closest to the Dominican Republic's capital, this Dominican Republic waterfall is an ideal day excursion from Santo SinceDomingo.
3. Saltos De Jima (Bonao)
The Jima River, known as the "Jumps of Jima" natural landmark, is located on the outskirts of Bonao. The spectacular waterfalls of the Saltos de Jima are located between the Jima River's birthplace in the Las Neblinas scientific reserve and its confluence with the Cam River.
The fauna of the region is extremely diverse, with a focus on birds such as the Cigua Constanza, Barrancoli, Bobo birds, and Parakeets. They also have local reptiles and amphibians that are found in rainforests.
4. Salto Baiguate (Jarabacoa)
At Salto Baiguate, the ideal waterfall and jade pool are waiting for you. They cascade down 25 meters (82 feet), hidden beneath a steep canyon, but are nonetheless easily accessible thanks to a set of wooden steps that take you right up to the water. Jarabacoa's picturesque Salto Baiguate waterfall is a wonderful location to unwind and cool off.
The waterfall has a ladder-like design, allowing the most courageous individuals to climb it and dive into the water from the top.
5. Las Golondrinas ( Salcedo)
A 4.5-hour drive from Punta Cana takes you to this enormous site concealed between the Salcedo Mountains. To reach the falls, you must first trek for 1.5 hours through the lush Monte Llano surroundings. Undiscovered paradise! Although it is undoubtedly a stunning sight, daredevils can go even further by jumping off it! Of course, you can also take a walk through the forest or swim in the gorgeous clear water pools beneath it.
Cascada de Las Golondrinas translates to "waterfall of the swallows" in English
The plant life is very different, and the nighttime lows can be very low (in the winter, even below 0°C). Only the brave can jump into this amazing Dominican Republic waterfall! From Jarabacoa or Constanza, Salto de Aguas Blancas is the ideal place to stop and explore the Cordillera Central.
The waterfall in Agua Blancas plunges 83 meters (272 feet). You can see a close-up of the falls from footbridges and a wooden platform, and you can get down to the lower pools.
It is the highest waterfall in the Dominican Republic (and the entire Caribbean!) at around 1,680 meters above sea level.
7. Salto De La Jalda (Hato Mayor)
Ironically, you seldom ever see tourists there, and many residents don't even know about it. It's a real experience to get here and leap. You may complete the tour in roughly 4.5 hours on foot or in 2.5 hours while riding a horse.
If you're the type of person who enjoys experiencing adventures and impressive sights, go to Miches, especially to Loma de Magua, where it's simpler to get there and don't forget to stop by La Jalda. There is also the option for those in a rush to use a helicopter to land directly in front of the waterfall.
The Salto de la Jalda, which rises 120 meters, is regarded as the largest waterfall in Dominican Republic and the entire Caribbean!
8. Salto Del Gallo (Sajoma)
One of those magnificent locations for mountain and ecotourism lovers is the "Salto del Gallo." The Gallo, a leap where the water sings on the rocks as it falls from a height of more than 50 meters, is reportedly still a hidden gem today because it is not yet a well-liked tourist destination.
The neighborhood of Corocito is in San José de las Matas, sometimes known as Sajoma, one of the municipalities in the province of Santiago.
9. La Rejoya (Juan De Nina-Puerto Plata)
The neighborhood of Juan de Nina is exactly where the river La Rejoya of Puerto Plata is located. You should visit right away to take advantage of this well-kept treasure and have an unforgettable time in this breathtaking location.
La Rejoya is a secret sanctuary in Puerto Plata that offers excellent experiences and more than six amazing waterfalls.
10. Salto Jimenoa I and II Jarabacoa
Visit Salto de Jimenoa One and Salto de Jimenoa Two, the two waterfalls that are synonymous with Jarabacoa. One is situated near a hydroelectric dam, close to La Vega, and the other is tucked away deep inside a ravine.
The diverse plants and animals that support its ecosystem, the rock formations that lie on its bed or rise on its banks, the beach that stretches under the cascade, the puddles produced by the river, and the beach all provide their own spectacles.
Several hiking organizations organize trekking activities around these spectacular waterfalls, offering a unique stroll through a region full of rare flora and wildlife.
11. Salto De La Jalda (Between Miches and Sabana De La Mar)
Starting with the Caribbean's tallest waterfall, which is also one of the easiest to get from Punta Cana. Salto de la Jalda astounds visitors with its about 400-foot height. Interestingly, Salto de la Jalda is so obscure.
It was very recently discovered and achieved the title of the tallest waterfall in the Caribbean from Salto Aguas Blancas in Constanza. Because of how challenging the hike is, not many people visit the Dominican Republic's unspoiled natural beauty (at least 10 kilometers round-trip).
Even though Salto de la Jalda has only been known about (publicly) for 7-8 years, and not many people go to this waterfall, it is still entirely underdeveloped.
12. Cascada Blanca (Between Miches and El Seibo)
Do you find the Salto de la Jalda to be too challenging? Visit Cascada Blanca, which is situated in the same Cordillera Oriental mountainous region, as an alternative. A short but humid hike awaits you after an hour and a half of driving from Punta Cana. You don't want to miss the Cascada Blanca waterfall's stunning primary drop, which can be seen from just a few meters away.
There are two natural swimming holes nearby, and there is another waterfall on the way.
13. La Culebra (between Miches and Sabana De La Mar)
Although it is said to be a collection of different waterfalls, it has scarcely been investigated so far. Since this waterfall is very unassuming, it would likely be more interesting for a tourist in the Dominican Republic to visit one of the several waterfalls in and around Punta Cana.
La Culebra is situated in the nearby river valley east of Salta de la Jalda.
14. Salto De Anamuya
Salto de Anamuya, one of the waterfalls in Punta Cana, is the one that is nearest to all the resorts. It is a quiet site in Punta Cana and ideal if you want to escape the touristy crowds and experience nature at its finest. It is also ideal if you want to visit one of Punta Cana's waterfalls without having to walk very far because it is only a 5-minute walk from the closest parking space.
Numerous natural swimming holes can be found at the multi-tiered waterfall known as Salto de Anamuya.
15. Salto De Los Mosquitos
It's a gorgeous waterfall in Puna Cana that can be accessed by taking a little walk through the jungle, so it's not your typical Punta Cana waterfall trip. This journey begins at Rancho Terranova, which also serves as the trailhead and includes a café, pool, and deliciously fresh fish available during the day. Loma Linda is a mountain similar to Monta Redonda in that it has a stunning view and some big swings, although it is not as well known among tourists.
When all of these elements come together, Salto de Los Mosquitos becomes one of the best day trips from Punta Cana, especially considering how straightforward it is to find the hiking trail.
16. Salto Anacaona (Sajoma)
The stunning Anacaona waterfall, part of the Yerba Buena stream that empties into the Inoa river, is surrounded by substantial boulders and lush foliage. It is situated in Santiago, Dominican Republic's San José de las Matas (Sajoma).
There are two ways to reach the waterfall; one is along a narrow mountain path that requires between 30 and 45 minutes to go. For those who are unfamiliar with this kind of adventure, there is an alternate route that runs down the riverbank.
17. Hongo Magico "Magic Mushroom" (Jamao del Norte, Moca)
The mountains of Jamao del Norte, Moca, in the province of Espaillat, conceal this "salto." It is a unique adventure that you can only have by reaching this waterfall. Ideal for adventure and pristine location enthusiasts. This location was just discovered, so not many locals are familiar with it yet.
The Hongo Magico waterfall, which translates to "Magical Mushroom" in English, is one of those locations where the exotic meets with unfathomable beauty and deep puddles that beckon you to rappel down them.
18. Cascada Lulu
Cascada Lulu is located just outside of the Santa Barbara community of Samana. A kid or someone with mobility issues can easily access this very stunning waterfall. Although the route requires a little more caution, you'll need a 4WD vehicle to cross a shallow river.
Cascada Lulu has a small store where you can buy local goods and savor the beautiful aromas of coffee beans. Of course, you are welcome to swim in the pool below the waterfall.
19. Salto Zumbador
Zumbador Waterfall is located in the midst of humid forests and amber mines. Its name originates from Spanish, which means hummingbird. You will have a serene experience bathing in this waterfall, as it offers harmonious music when its water hits a rock and produces a buzz just like the hummingbirds.
Salto Zumbador is among the tallest waterfalls one can find in Hato Mayor, Dominican Republic.
The Bottom Line
The Dominican Republic is renowned for its stunning beaches, warm people, delectable rum, and year-round t-shirt weather. However, this Caribbean island is not so willing to divulge all of its secrets. Numerous gorgeous and distinctive waterfalls are waiting to be found in the countryside.
Above mentioned are a few of the most beautiful waterfalls in Dominican Republic that travel mongers must visit. Nevertheless there are many waterfalls that are not listed, like Salto de Sacoa in Monte Plata. There you can take a bath in the natural pool right bellow the waterfall.
If you enjoy these sanctuaries of fresh water, we recomend you to go to the province of Sanchéz Ramírez, there you can find the largest freshwater lake in the Caribbean.
However, finding an economical and experienced travel guide in Dominica may not sound good to you. On top of that, choosing among these breathtaking waterfalls and amazon sceneries spread throughout the Dominican Republic can be overwhelming.
Don't worry! We have developed a free quiz that will suggest the best destinations matching your taste, along with top suggestions to make your stay more fun without compromising on comfort. Keep visiting Your Dominican Guide to know every fascinating beauty hidden in this heaven on Earth— Dominican Republic.