Do you want to explore Samana but have no idea where to kick-start your journey? There are a lot of things to do in Samana Dominican Republic, than just enjoying the sun and sea.
Located on the northwest side of the Dominican Republic, Samana has hidden paradise and beaches, resorts with beautiful views, and jaw-dropping excursions of nature.
So, if you are interested to know about what things to do in Samana Dominican Republic, then head down below!
35 THINGS TO DO IN SAMANA DOMINICAN REPUBLIC
1. CAÑO FRÍO RIVER
It is located near playa Rincon, and you would have to hire a car to take you to this place.
Its emerald, crystal-clear water connects to the ocean, and the beautiful view of roads going through mountains allows you to have a breathtaking view of the cliffs, all covered with coconut trees and lush green plantations.
You can do boating around mangroves, and the vendors offer deliciously cooked fish, fried plantains, rum, beer, coke, and freshly cooked rice over there at a very reasonable cost.
This place is also named Bacardi island, as this place got popular after a small advertisement for a rum manufacturer, Bacardi.
It is less than 5 km from Samana, and you have to catch water taxis that leave Samana port regularly.
It is covered with palm trees and white sand beaches with turquoise-clear water.
This place has three beaches, one of which is for the public, while the other two belong to hotels.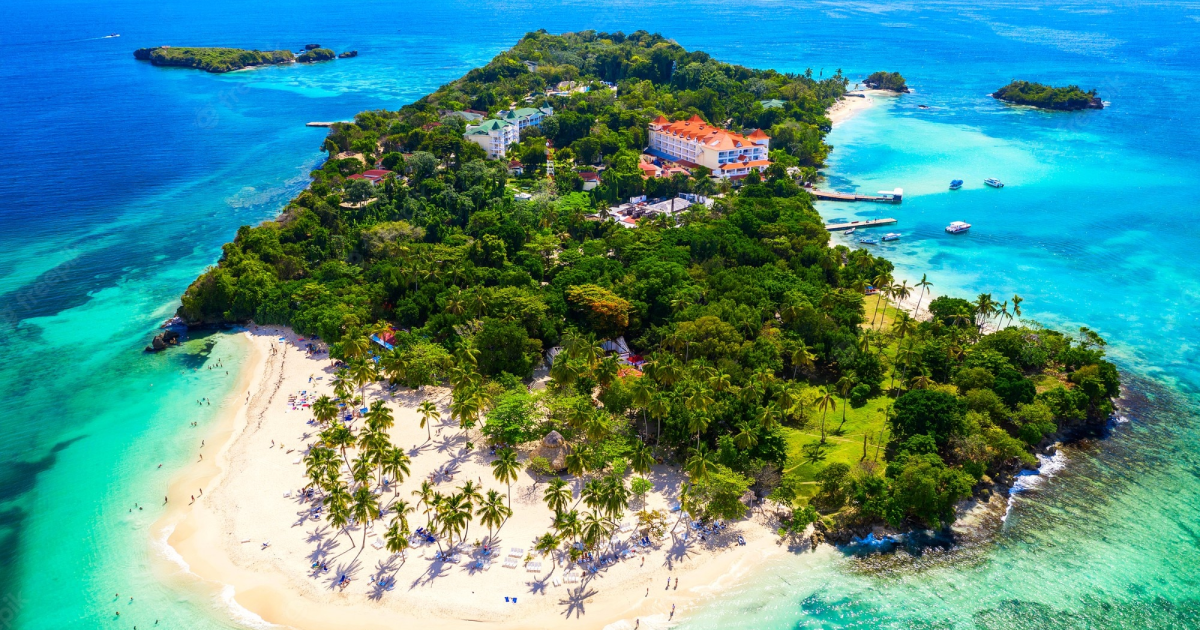 3. LAS TERRENAS
Las Terrenas is a small town in the northeast of Samana and is popular for its numerous hotels and beaches.
Playa Bonita is quite a popular beach where you can enjoy surfing and snorkeling.
You will see a little fishing village with many restaurants and bars. If you love spending your time among native wildflowers and birds, then you must visit a place called Salto Del Limon waterfall close to this town, which is famous for its beauty.
It is a stunning location in Las Terrenas's pristine forests. Add this beautiful place to your list of things to do in Samana Dominican Republic.
You can reach this place through horse riding, or you can enjoy hiking up through the muddy ground.
Before you return, take a dip in the nearby natural pool.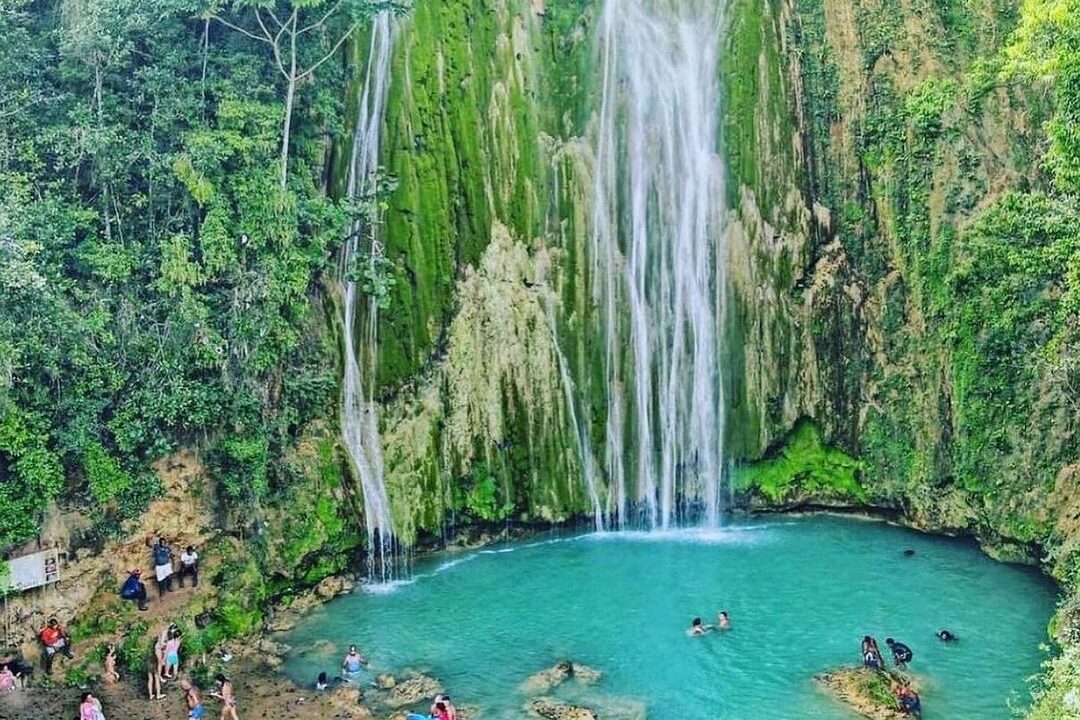 5. PLAYA EL VALLE
The best thing to do in Samana, Dominican Republic, is to visit playa El Valle.
This is one of the best beaches located in Samana. It is an untouched nature surrounded by green landscapes and cliffs and is 12 km away from Samana.
Playa El Valle beach is divided into two parts by a rock and produces big waves, which can be fun as well as dangerous.
You can also go camping at this place and enjoy your food with a dream-like view.
6. PLAYA RINCÓN
It is one of the most admirable beaches in the world. Although it is quite famous, you will find it less crowded, so you can spend quality time in this paradise.
You will have a dreamy day here and can enjoy the traditional seafood offered by many restaurants.
7. WHALE WATCHING
It's one of the most exciting things to do in the Samana Dominican Republic.
One can go on a boat trip and enjoy whale sightings. The whales are used to attract tourists, and you can have a chance to watch them very closely.
You should visit this place between January to march as whales are more commonly seen in these months.
This is quite a different experience than the rest of the Samana free things to do.
8. ROTONDA AND PUEBLO PRÍNCIPE
It is popularly known as the "Rotondas circle."
You will find a huge humpback whale statue, as Samana is famous for these whales.
Near this place is Bahia Principe village, where you will see old Victorian-style houses.
All the houses are painted with pastel colors giving a vibrant view.
9. AMBERJACK PARK
If you are a wildlife lover and want to walk and explore natural things to do in Samana Dominican Republic, then Amberjack Park, located in the west of Rotonda, is a great choice.
Amberjack Park has a seasonal lake popularly known as "lemon lake." It dries up during the summer, and you will find wading birds here in the rainy season.
You will find native plants blooming every time, regardless of the temperature.
10. HACIENDA COPCUYO
This base is 15 minutes away from Samana and is an ideal place to live, as many tourist attractions are near it. The atmosphere is very homely, and you will enjoy a perfect combination of the sea and mountainous views.
The incredible Hacienda Copcuyo hotel even has a bio pool with real fish in it.
You can visit the tropical forest, waterfalls, El Valle beach, and Galeras for adventurous things to do in Samana Dominican Republic.
11. EL VALLE LODGE AND TAINO LOFTS
These two hotels are together, which means if you stay at Taino lofts, then you will have your meals at El Valle.
You can enjoy your food while sitting on their patio with a beautiful view of nature.
You might hear the sound of waves breaking on the shore at night because a beach is only 5 minutes away.
12. CASA EL PARAÍSO
Living in nature is one of the most relaxing things to do in Samana Dominican Republic. This hotel is situated in the middle of the jungle.
It is popular due to whale sightings from this place. The rooms are all open with an oceanic view.
You can enjoy the infinity pool and jacuzzi here.
13. PLAYA FRONTÓN
This place must be on your list of Samana Dominican Republic things to do.
Take a boat from Las Caleras, which will take 15 minutes, or you can also hike along to this place, which will take one and a half hours to reach this place.
You will see cleared water sitting at the foot of a 90m cliff, white sand, and many coconut trees.
Playa Fronton is popular for snorkeling due to the coral and turquoise water.
14. LAS CALERAS
If you want to spend your days in tranquility and explore sacred spots, then this place should have priority on the list of things to do in Samana Dominican Republic.
You will discover valuable ecosystems and pre-Columbian native culture.
You can visit Chingaza National Park, hike to the sacred sport of the Musica people called Lagunas de Buitrago, and visit sacred sites at Andes Mountain and the highest abandoned point known as Palacio.
15. SAMANA BAY
This place is the heart of the Samana Dominican Republic.
You will find the renowned Los Haitises National Park, a tropical forest where you may discover tunnels decorated with local Taino petroglyphs, magnificent tree-covered islands, and lovely mangrove lagoons.
It is popular for diving and snorkeling, and in the winter, it serves as a stopover for migratory humpback whales in the winter.
You can enjoy whale-watching trips as these huge creatures jump and frolic on the water's surface.
16. LAS GALERAS
This small village is about 28 km on the northeast side of Samana.
You can see famous palm-lined beaches through the Las Galeras jetty, particularly the Rincon beach.
Las Galeras is also famous for the 'Boka del Diablo,' which means mouth of the devil. It is 7km away from this village.
You will find the high-sky splash of water when it strikes a natural rock structure here.
17. MALECON
There are a lot of things to do in Samana Dominican Republic, but the boardwalk along Samana bay is incredible.
You will have an epic view of the Dominican, hitting the blue horizon.
There are a lot of restaurants, cafes, bars, and shops selling homemade things.
You can stroll around the beautiful palm-lined beaches, eat famous food and cuisines, can do fishing, and explore the famous La Churcha of Samana.
18. TAINO PARK
If you want to know about historical events, this place is for you.
You will find statues in Taino Park depicting the battle of indigenous Taino Indians and their culture. You will also witness their difficult past and historical traditions.
There are about 25 sculptures with beautiful costumes created by European designers.
Many artifacts are here, like clay pots, bony remains, and stone engravings.
19. SANTA BARBARA
If you are into scuba diving, then this is the best site for adventurous things to do in Samana Dominican Republic.
Puerto Escondido and Carbo Carbon are the popular spots for this activity, with the latter being deeper than 120 ft.
Areas where the rock formation occurs, popularly called 'the three gates' and 'the stone emerges from the water,' show a breathtaking underwater sight.
20. CARBO CARBON NATIONAL PARK
This place shows the old Dominican Republic, which was not developed, and neither was a tourist attraction.
Carbo Carbon National Park is one of the most remote spots in Samana.
It provides challenging trails twisting and turning through tropical foliage. You will need a guide to hike through these paths, as maps are not used much.
21. SAMANA BRIDGE
Walking on this 700 m bridge is itself an adventurous things to do in Samana Dominican Republic.
It Is a symbolic characteristic of Samana, which is joining the two cays.
You can go to Cayo vigia from Cayo Linares by crossing this bridge. It is better if you cross it at sunset as the view is spectacular during this time.
You will also see a lot of marine wildlife from the bridge, which includes starfishes and pufferfish.
22. LA RUMBA
If you have explored the Samana Bridge and now you want to have some tasty food, then La Rumba is the best choice.
You will find tasty seafood and Latin and Spanish cuisines.
It is a superb place to catch your meal after watching humpback whales in Samana.
23. LOS HAITISES PARK
This park is quite large, covering an area of about 1600 sq. km. It is considered the national park of Samana.
You have to take a boat from Santa Barbara to reach this place, which will take almost half an hour.
You will explore a lot of things here, including islets, Taino caves, and mangrove forests.
24. DOMINICAN TREE HOUSE VILLAGE
Dominican Tree House Village is in the middle of the forests and is just a few minutes away from El Valle Beach, which is one of the best beaches in Samana.
If you are into secluded beaches and romantic tree houses, then you will love this place. There are no pebbles or seaweeds, so you can walk on the beach without water shoes.
You can ride a bike to the beach and enjoy zip-lining above the woods.
25. EL CABITO
It is a beautiful restaurant at Las Galeras, situated on the top of a cliff with turquoise water at the bottom.
It is a hidden beauty of nature, and you will enjoy the view, especially during sunset, which feels like heaven. Crashing waves and sunsets are the best combo here.
You may find food a bit expensive but trying its food is one of the best things to do in Samana Dominican Republic.
26. PLAYA BONITA
It is a popular beach located in las Terrenas. It is a crescent-shaped, secluded beach.
The waves here are quite strong, so if you are a surfer or a boogie boarder, then this should be on your list of excursions. The water is shallow and shows different shades of turquoise color.
27. CHASSERIAU HOUSE
This house is the famous birthplace of Theodore Chasseriau.
It is situated in the village of El Limon. The district is popularly known as Norberto de Los Santos, as well as Katanga.
You will see an oven in the big yard of this house where the bread was baked for the slaves to eat.
You can visit a cultural event where this French painter's work is displayed at the Louvre.
28. CUVEA LA BOCA DEL DIABLO
It is located near Las Galeras and is popularly known as the mouth of the devil or the blow hole.
It is a cave that is on the edge of a cliff at Cape Samana.
The water communicates with the sea several meters down the cliff. The crashing waves at the foot of the cliff produce a roaring sound.
You will feel air shooting up to your face when you hike up to the top.
29. SALTO DE LA TOSA
This is a waterfall that people do not commonly know. You will see water falling and creating a limestone wash that feels like it is the source of water.
The ecosystem is kept well with a lot of ancient trees. It is an excellent spot to do swimming and other things to do in Samana Dominican Republic.
30. PLAYA MADAMA
It is a secluded beach in las Galeras. You can either reach this place by trail or by boat.
Nearly 50 meters off the coast, in the center of the cove, there is a beautiful coral reef and rock structure with a large number of fish. Residents come here to fish directly off the rocks. It is especially amazing for snorkeling lovers.
31. PLAYA EL PORTILLO
It is one of the pristine beaches of Las Terrenas, lined with coconut trees and ground, all covered with soft sand.
You can go swimming in the turquoise water or surfing and kitesurfing when the waves are strong.
Since the coral reefs are very close, so it is the perfect place for snorkeling as well.
You will see tropical fishes and hermit crabs in mangroves and tidal pools.
32. PLAYA LAS BALLENAS
It is one of the main attractions at Las Terrenas.
You can have a nice dose of vitamin D. The beach is also lined with palm trees, which cast a shadow on the shoreline. There is a grassy area as well where you can set your umbrellas and have nice picnics.
The sand here feels very soft and silky.
33. ONDA BEACH
Onda Beach is present in a natural area surrounded by cliffs and mountains.
It is a small coastline with turquoise water and golden sand covering the ground.
If you are a lonely traveler or want to have some leisure time with yourself, then add this place to your list of things to do in Samana Dominican Republic.
34. EL ZUMBADOR
El Zumbador is a small river at Santa Barbara that empties into the San Juan river.
This place is ideal for your nature excursions, and it is not commonly visited, so you can relax while being away from city noises.
It is a combo of two waterfalls, namely El Zumbador Grande and El Zumbadur Chiquito.
35. LAGUNA SALADA
Laguna Salada is a valley at Las Galeras surrounded by mountainous hills all around.
The hills on the easter side rise to about 100m while on the southern side, it is 200 m in height. On a bright sunny this place is amazing for a small picnic party.
The water is quite salty, with green algae and many types of aquatic plants.
THINGS TO AVOID IN SAMANA DOMINICAN REPUBLIC
Although there are a lot of things to do in Samana Dominican Republic, as mentioned earlier, you have to avoid a few things if you are sticking around here for a while.
Don't give angry looks to the locals or be tough with them or the police. The locals in Samana always stick together, which is a typical Dominican thing.
If you are into any quarrel, it will be a dramatic scene for them, and they will hover over the situation. You will be the one who gets arrested if the police come.
Do not show if you are wealthy. It is recommended not to wear any expensive jewelry or watches because they keep an eye on everything from your shoes to your head.
This can attract thieves roaming around on the streets. Do not ride an unlicensed taxi. You will find the name of the company on the roof if it is licensed.
Don't trust people in a few seconds here, even if they are friendly. Even do not leave your drink unattended, as it might get spiced. If you need to do it, then ask for a new drink!
There are very strict rules and penalties for drug offenses. They have sniffer dogs with them at their airport to catch foreigners if they are carrying any kind of drugs. The penalty can be very severe. You will also find some strangers throwing dirt at you. In this case, even if you get arrested, you will have to pay them to get out of the situation.
FREQUENTLY ASKED QUESTIONS (FAQs)
Q1: Is Samana Worth Visiting?
There're a lot of adventurous things to do in Samana Dominican Republic, like zip-lining, hiking, surfing on the most beautiful beaches, snorkeling, humpback whale-sighting, and whatnot!
The place itself is a hidden paradise with mountainous regions, hilly areas, oceanic views, beautiful valleys, and waterfalls.
So yes, Samana is worth visiting.
Q2: Does Samana Have Nice Beaches?
Samana has a lot of beaches that you'd add to the list of things to do in Samana Dominican Republic.
Some of the wonderful beaches are mentioned in this article. You will have a unique experience in each of them. The water is crystal clear or turquoise with palm-lined or coconut trees. The beaches also have white and golden sand, some of which feel very soft and silky.
Q3: What's the Main Tourist Centre of Samana?
Las Terrenas and Las Galeras are the two destinations that will leave you speechless! The views and the landscapes are spectacular. Most tourists like to explore these places. But, undoubtedly, Samana is no short of breathtaking attractions, and gauging one over the other is a daunting task.
The Bottom Line
Although we have listed the top 35 things to do in Samana Dominican Republic, you'll find a plethora of exploration in Samana. However, getting a reliable tour agent in Samana is always challenging.
If it's difficult to choose one place out of all such breathtakingly beautiful spots, give our quick free quiz and find the best destination matching your mood and requirements.