Have you visited La Romana Dominican Republic, and now you are wandering around because you don't know what to do here?
La Romana is located on the southeast side and is one of the ten biggest cities in the Dominican Republic. Many people have no idea what things to do in La Romana. But there is a lot more than just sightseeing or nature excursions.
So, if you are looking for some budget-friendly things to do in La Romana, then head down below!
33 Things To Do In La Romana
Saona Island
Saona Island is one of the largest coastal islands in the Dominican Republic. It is approximately 25 km long and 5 km wide.
It has breathtaking views of white sand lined with palm trees & turquoise-colored water adding to its beauty.
You can have speed boat trips and swim in the natural pool where you can also catch the sight of starfishes.
Catalina Island
Just 2.4 km from the Dominican Republic is a small island called Catalina Island.
If you want a quick escape from the hustle & bustle of La Romana, then Catalina Island is a good place to go. You can enjoy speed boating, diving, and snorkeling.
You will find the true beauty of the underwater ecosystem here, with a wide variety of fishes in the turquoise water.
Altos De Chavon
Altos De Chavon is a 16th-century recreation of a Mediterranean town. It is located above the Chavon River and is a wonderful work of architecture.
You can click and capture memories, visit museums and amphitheaters, and can enjoy food in restaurants.
It was established as a cultural center for the Dominicans so add this small village to the list of things to do in La Romana if you are into Dominican culture.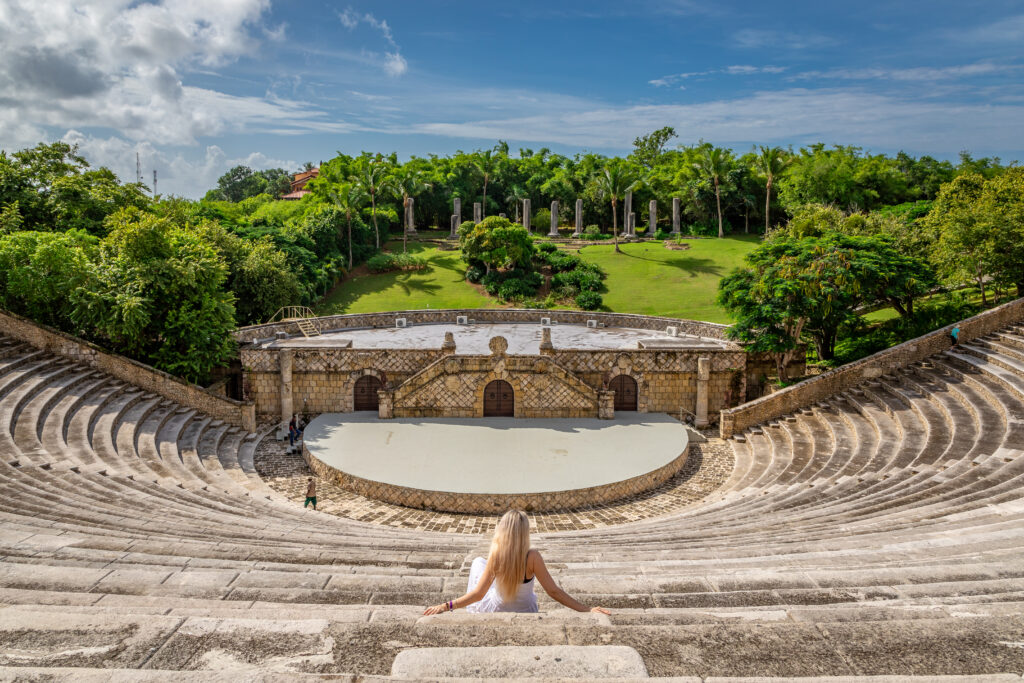 Teeth Of The Dog
La Romana Dominican Republic activities are not only restricted to snorkeling or diving. This place has the best Caribbean golf course called Pete Dye's signature golf course. It is popularly known as the teeth of the dog.
It was created from the rough rock and coral of the Dominican shoreline. Playing golf is one of the best things to do in La Romana.
You will find the holes by the ocean incredible, with every hole offering difficulties for all skill levels.
Bayahibe
Bayahibe used to be a fishing village. It is now a beautiful town popularly known for its white sand and clear water beaches.
You will find craft shops and many restaurants offering seafood, witness both the local nature and the city's beauties, and visit the public beach and Cotubanama park.
You can walk to the cave in Cotubanama park, which Taino Indians formerly occupied.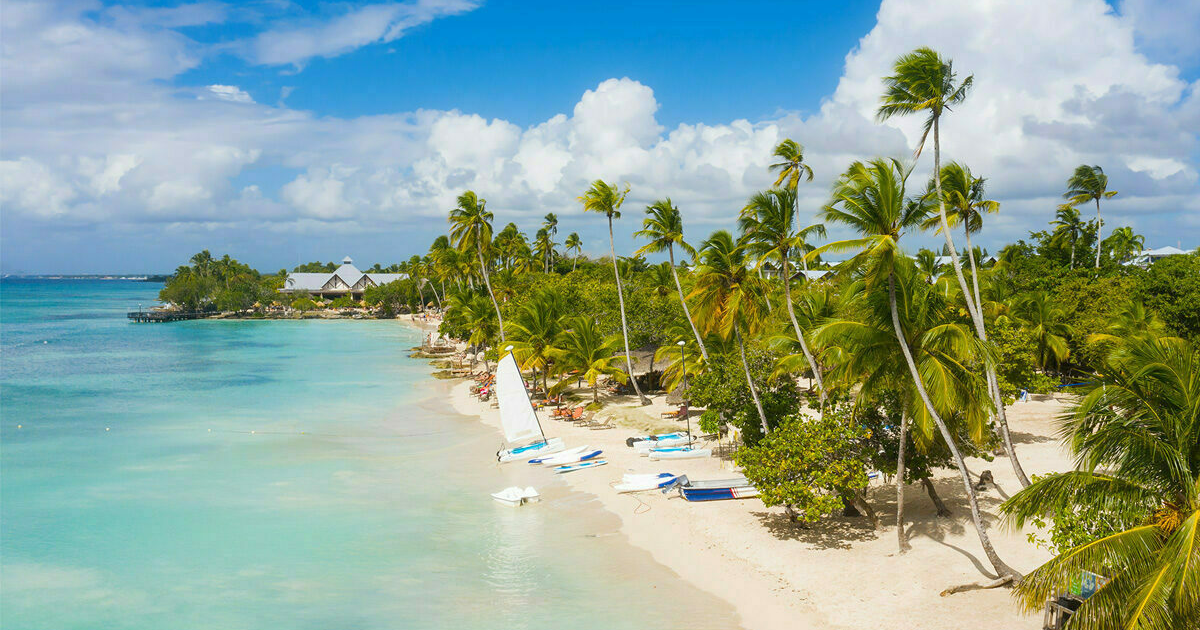 Higuey
Higuey is a crowded region that has experienced considerable growth over the past ten years. It's also the location of several important historical and religious landmarks.
You can visit the Basilica of Altagracia, a roman cathedral and one of the main attractions of Higuey, and the church of San Dionisio.
The church of San Dionisio is one of the oldest churches in America.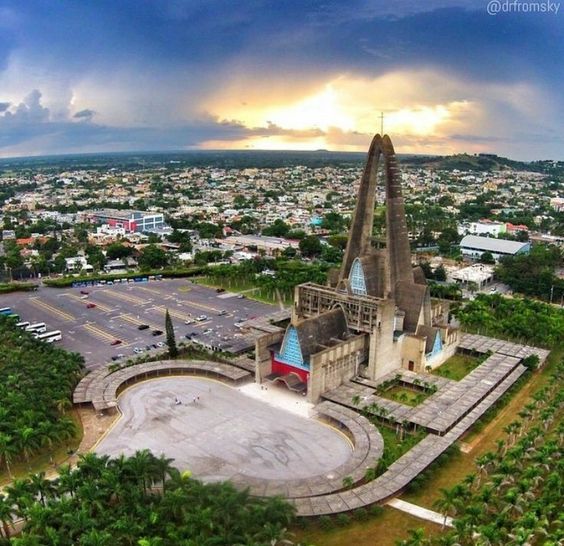 Chavon River
If you visit the historic city of Altos de Chavon, then you will have a beautiful view of this river. The Chavon River is one of the largest rivers in the Dominican Republic.
It flows into the Caribbean Sea at La Romana, so the greatest way to experience the river is through a river cruise.
You will see unusual faunas living along the side of the river, like freshwater turtles and hawks.
National Park Of The East
The best thing to do in La Romana is to visit the national park of the east, famous for its biologically varied land reserves.
You've to pay an entrance fee to explore the park. You have to hike through nature to reach the cave, where you will see bats and a clear-watered pool perfect for swimming.
The hiking to the cave is quite tough due to a lot of rocks and sandy ground.
Cueva De Las Maravillas
If you want some interesting La Romana activities, then visit an underground natural attraction called Cueva De Las Maravillas (the cave of wonders). It is approximately 100,000 years old and was discovered in 1926.
You will find fascinating rock formations that occurred due to mineral accumulation induced by the continual wetness of the cave and iguana habitat.
The cave walls are covered with artwork left behind by the indigenous Taino people.
Playa Caleta
Playa Caleta is a small and crowded beach that offers beautiful scenic views, delicious cuisines, and a bay perfect for you to swim.
It is a remote area full of adventurous things to do in La Romana DR as it will give you a cultural glimpse of beach life in the Dominican Republic than other beaches of La Romana.
You should bring snorkeling gear as fish, and other water animals are off the coast.
Boca De Yuma
It is a small village located on the Northeast side of the national park of the east. This place is a little off the usual tourist path, so you can have a peaceful hang out with the locals here.
The village has a walkway along with many restaurants that offer seafood.
If you are visiting Boca De Yuma, then be prepared to experience local culture rather than beach life.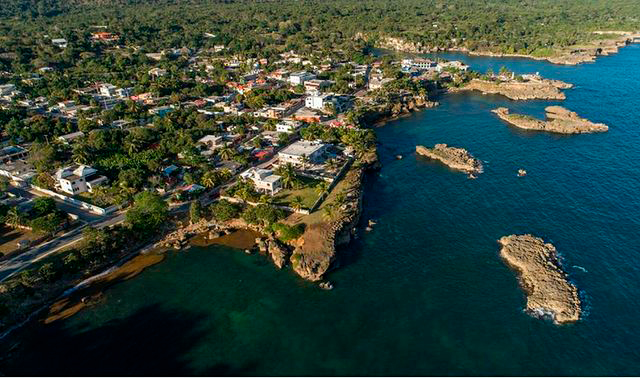 La Flor Dominicana Cigar Factory
This is one of the well-known factories in the Dominican that produces cigars. It is an interesting thing to do in La Romana Dominican Republic.
You will get to see how tobacco plants are converted into cigars after passing through various processes.
The best way you can reach this factory is through a drive or with a tour guide. It's located just 5 minutes away from La Romana airport.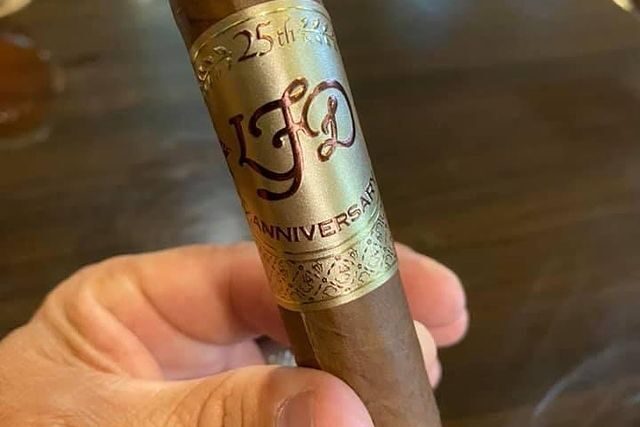 Tabacalera De Garcia Cigar Factory
Tabacalera de Garcia is one of the largest hand-rolled cigar factories in the world. You will be amazed to see how carefully the cigar is made on the palm-lined shore of the Caribbean outside Casa de campo at Altos de Chavon.
You can see stores having different varieties of a cigar. You will walk through a humidor that could hold about 7,000,000 cigars.
Playa Minitas
If you want relaxing things to do in La Romana, then Playa Minta is an ideal piece of paradise, having tall palm trees and white sand.
You can have quality time with yourself listening to the waves of turquoise blue water. This beach is also an ideal place if you want fun things to do in La Romana Dominican Republic. You can enjoy kayaking, boating, snorkeling, as well as swimming. You will see a lot of tropical fish here.
Buggie Adventure
It is one of the most exciting excursions at Bayahibe that you won't forget.
You have to bring some comfortable clothes and swimsuits, sunblock, towels, and mosquito repellent. If you want to experience the breathtaking surroundings of Benerito Town, have a thrilling excursion in the buggies.
You can stop at a typical Dominican home and observe how cocoa and coffee are made while experiencing new flavors and smells.
It is better if you visit for this trip in good weather.
Snorkeling At The Marinarium
If you are into marine wildlife, then the Marinarium cruise excursion on the coast of Cabeza de Toro and Bavaro is the best spot for adventurous things to do in La Romana. You can enjoy sightseeing nature on the cruise and snorkeling to discover underwater life.
You can buy beverages from the swim-up bar in a waist-deep lagoon.
You will observe great coral reefs, nurse sharks, and stingrays during snorkeling.
El Obelisco
El Obelisco is an obelisk-shaped monument representing the lives of Dominicans over the years. You should visit this place to examine the colorful murals that are painted on the whole monument.
You have to go to Parque del Obelisco to see this monument. This park is located on the west side, just 5 minutes away from Rio Ramana.
It is better if you visit it in the daytime to appreciate the details of the murals.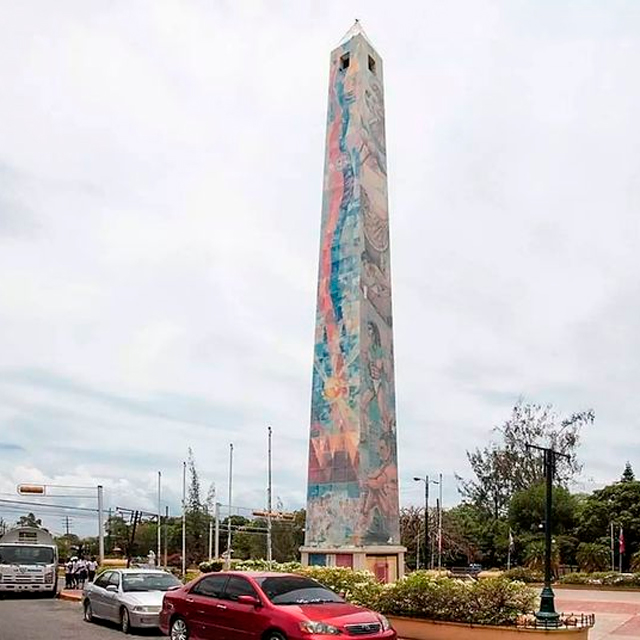 Zip Lining
Zipping over the rainforest canopy is an exciting thing to do in La Romana. You can ride and enjoy spectacular views of the woods.
You have to take a safari van to get to the site ziplining on the mountain. You will fly for about 2km winding through mountains. It will be one of the most thrilling excursions for you.
The ziplining of La Ramana is one of the longest zip linings in the Dominican Republic.
Monekeyland And Plantation Safari
If you are visiting La Romana first time, then monkey land is the finest spot to start with. The monkeys interact with guests, and you can capture a lot of pictures with them. This excursion will be quite educational as well as exciting for you, especially if you are a nature lover.
You will get to taste chocolate and coffee at the plantation site here.
The chocolate and coffee are hand-processed from beans and are sold from a nearby shop.
Puerto Plata
You will have an adventurous trip to Puerto Plata, which is a 352 km driving distance from La Ramana. This is the city where tourism started in the Dominican Republic.
You can visit the fortress of San Felipe, the Brugal rum distillery, the Amber Museum, Del Oro Chocolate factory and enjoy the ride on a cable car up to mount Isabel.
You will see Puerto Plata city from the top of mount Isabel which is almost 800m above the ground.
Resort Casa De Campo
This resort is one of the most beautiful resorts of La Romana, extending for about 7000 acres. You will see a beautiful green landscape on their patio.
If you shut your eyes and imagine the ideal Caribbean beach, the odds are good that it resembles Casa de Campo Resort and Villas' beach. The place has a beautiful beach club with a nice pool. In the middle of this resort is Minitas Beach.
Viva Wyandham Resort
If you want to spend your day with luxurious things to do in La Romana, then add this place to the list for your excursion. It's one of the biggest resorts in La Romana.
You can visit Dominicus beach and Dominicus palace.
The resort is very beautiful and has scenic views, so you can capture pictures and swim in the pools.
Cotubanama National Park
Cotubanama Park is the main tourist attraction of La Romana.
It is located in the Bayahibe region and is popular for its white sand, shallow beaches, beautiful coral reefs, caves, subterranean lagoons, and the rock art of the Taino indigenous people.
You can enjoy scuba diving with dolphins and can have a boat trip to Saona island.
The park is covered with Cambron trees and a variety of wildlife, including Herons, Frigate birds, crown pigeons, and pelicans.
Sol Azul
Sol Azul is a beach hotel located just 5 minutes away from playa Caleta.
You can enjoy swimming in the outdoor pool or spend some quality time with yourself on their patio, having a beautiful view.
You can visit a lot of places from here, like Babylon club, which is one of the most thrilling clubs in La Romana, Multiplaza, and Parroquia Santa Rosa De Lima, which is a beautiful church.
Quetzal Catamaran Cruise Trip
On this Catamaran cruise trip, you will visit Saona Island, Reef at Catuano as well as Las Palmillas bathing pool all in one day. This excursion is an exciting thing to do in La Romana and will be one of the most memorable trips for you. You can go snorkeling at Catuano.
Prestige Catamaran Cruise Trip
This cruise will take you to Catalina Island, which is close to La Romana's mainland.
There is a dive location popularly known as 'the wall' where you can enjoy snorkeling. Have a great lunch at the shoreline of Catalina Island.
The cruise also sails to the opposite side of the island called 'The Aquarium,' where you can have a lovely meal on board the Catamaran.
Horse Riding And Cave Swimming
Bayahibe is a town located on the Caribbean coast of the Dominican Republic. The town offers some amazing things to do in La Romana, which include horse riding and cave swimming.
You have to ride on a horse to reach the caves. It will be quite adventurous to swim and dive within the cave.
It is one of the best excursions for a nature lover, and you will get to see wonderful sea views and landscapes here.
The Links
The Links is a golf course having 18 holes running through Casa de Campo's center and providing breathtaking sights of the Caribbean Sea and the resort area.
Although it is a little distant from the ocean, you will still get an opportunity to visit the beach as the 5 holes have water hazards.
You will enjoy playing golf with the unique views of the sea and rolling hills.
Tanama Jungle Ranch
Tanama jungle ranch is located on the banks of the river Chavon.
You will love this place if you are a nature and wildlife lover, as there are many hummingbirds, iguanas, live tarantulas, and a variety of plantations.
You have to take the boat from La Romana to reach here, which will take approximately 45 mins to an hour. You will get to taste typical Dominican food here.
La Estancia Golf Resort
You must visit this golf course if you have your own clubs and want an interesting thing to do in La Ramana.
With spectacular views, this place is worth investing your time in. You will see how the fairways on the course are spacious and well-kept.
Fairway number 2 is very similar to Casa De Campo.
Playa Mariposa
Playa Mariposa is a kind of secluded beach where you will find no vendors roaming around. You can have a relaxing time here listening to the crashing waves while sipping drinks.
You can have a small picnic by the shore.
Since it might be dangerous to maneuver the boat through the reef, start your journey from Canto de la Playa.
Canto De La Playa
One of the most adventurous things to do in La Romana is snorkeling. Canto De La Playa is a spot near the beach where the cruise comes from Saona Island.
You can have a little fun here and enjoy snorkeling as there are coral reefs nearby.
There is a large, waist-deep, turquoise-colored natural pool where you can play with starfishes.
Regional Museum Of Archaeology
If you are interested to know the history of Taino Indians, then add this regional museum of archaeology to the list of things to do in La Romana. It is located at Altos De Chavon.
This museum has an excellent exhibition of intriguing graphs containing historical chronological information and archaeological data.
You will see many artifacts of the Taino Indigenous people. It also offers a store to buy pictures.
Things To Avoid In La Romana
La Romana is one of the largest cities in the Dominican Republic, and you can have a lot of fun and interesting things to do in La Romana, but you still have to be very careful about certain things as well.
It is better to travel by busses or rented transport rather than private taxis as they will charge more after a lot of negotiations. This can cost you a lot, and negotiations themselves are quite stressful and endless. But, after 9 pm, busses stop running so you won't be able to travel through them at night.
Avoid wearing any jewelry or walking around with a lot of money because of the snatchers that usually seek opportunities at night and thieves that steal your belongings, especially in the most crowded area.
Don't solely rely on English for communication, as 85 percent of the population is Spanish speaking. You can use any translation application for basic-level communication with the locals. But, if you're planning to stay for an extended period, then hiring a local translator can be an ideal choice.
You should neither go against the cultural norms of the Dominican Republic nor break any laws, as these things might put you in trouble.
If you want to buy anything, then do not buy it before bargaining as the sellers usually tell the price much more than the real one.
Never leave your belongings or valuable items unsupervised at the beach. Always keep a watchful eye on them or keep them nearby.
Avoid exchanging currency at airports or hotels, as the exchange rates won't be favorable to you. Try it through a bank or any currency exchange office.
Frequently Asked Questions (Faqs)
What is La Romana known for?
La Romana is one of the main tourist attractions popular for cigar factories, sugar cane plantations, and a variety of wildlife. The city offers beautiful, turquoise-colored beaches, famous golf courses, and many spots highlighting Dominican history.
Are there mosquitoes in La Romana Dominican Republic?
Yes! There are a lot of mosquitoes, so if you are planning exciting things to do in La Romana then you should carry mosquito repellents with you. It is better if you wear long sleeves while doing outdoor activities as there is an increased chance of a mosquito bite.
Does La Romana have a seaweed problem?
No, there are no seaweeds on the beaches of La Romana, and you can go for fun things to do in La Romana. The city is on the south of the Caribbean Sea, so the chances of seaweeds invading beaches are very low.
The Bottom Line
La Romana is the hub of adventurous spots, and exotic sightseeing one can ask for. That's why we have listed the best 33 things to do in La Romana. Although, finding a top-notch travel advisor in La Romana will take away a lot of your time and energy.
All these exciting places can be overwhelming for you to know what to decide and what not to do. Don't worry; we have created a personalized travel quiz to help you find the most desirable places in the town matching your needs.