I was lucky enough to visit the Dominican Republic on Christmas eve, and I was blown away by all the delicious traditional foods. I constantly indulged in new flavours, from Mangú (mashed plantains) to Sancocho (a stew made with meat and vegetables). It was an incredible experience that I'll never forget.
My favourite Christmas dinner dish is La Bandera Dominicana, a platter featuring white rice, red beans, and meat. I love how the colours dishes' colours symbolise the Dominican Republic's flag. The rice represents the purity of our people, the red beans signify the bloodshed during our fight for independence, and the meat represents strength and prosperity. This dish is unique because it reminds me of my heritage and family's traditions.
The dish's colours – red, blue, and white – represent the Dominican flag, making it a staple at holiday celebrations. I recommend trying this dish if you find yourself in the Dominican Republic Christmas foods. It's a great way to get a taste of the local culture!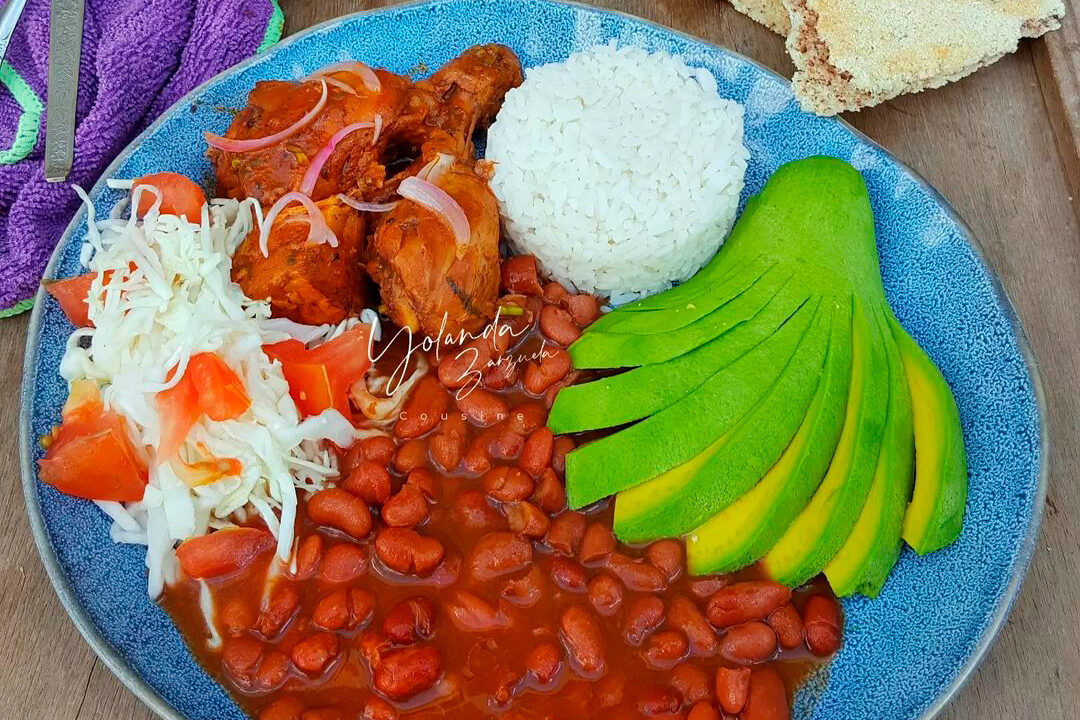 Puerco Asado Or Lechón Asado
A traditional Christmas meal in the Dominican Republic often includes lechón asado, Russian salad or roast pork. This succulent meat is marinated in spices and cooked over an open fire for hours, resulting in crispy skin and tender, juicy meat. Lechón Asado is a popular dish during holidays and special occasions and is usually served with rice, beans, and various side dishes.
Many families and restaurants will gather friends and family to celebrate the holidays with a traditional lechón asado feast, serving it with delicious sides such as mangú (mashed plantains), Ensalada Rusa (potato salad), and Arroz Blanco (white rice). This festive meal is a cherished tradition for many, one that brings loved ones together to enjoy good food and company.
Lechón Asado
Eating lechón asado during the holidays is not just about enjoying delicious christmas food. But also about cultural significance, such as Dominican christmas music, christmas songs, christmas flowers and christmas decorations, all-embracing Dominican christmas traditions. Roasted pork has been a staple of Dominican Christmas celebrations for generations. Passed down through families and keeping traditions alive.
For many people in the Dominican Republic, lechón asado is an essential part of their Christmas traditions feast. The dish is deeply rooted in the country's history and culture and is cherished by many as part of their holiday traditions. Lechón Asado is typically made with a whole roasted pig and is often served with traditional Puerto Rican plantains and beans. The dish symbolises the Dominican Republic's rich heritage and is enjoyed by people from all walks of life during Christmas eve dinner.
Whether you're visiting the Dominican Republic during the holidays or enjoying a lechón asado at home, this dish will bring joy to your celebration. A traditional lechón asado features a whole roasted pig that's been marinated in flavorful spices overnight. The next day, the pig is slow-roasted over an open fire until it's perfectly crispy and juicy on the inside. Serve with mofongo, tostones, rice, and beans for a delicious holiday feast. ¡Feliz Navidad!
Moro De Granules
Moro de granules is a staple dish during Christmas in the Dominican Republic. Made with rice and pigeon peas, it is often served alongside pernil (slow-roasted pork) and pasteles (ground beef or chicken empanadas). Moro de granules is a filling and satisfying dish that will leave you feeling full and happy on christmas day.
The pigeon peas not only add a unique flavour to the dish but also a unique texture that makes it a favourite festive dinner among locals and tourists alike. Some families make larger batches of more de granules as gift-giving during the festive season. This is because the dish is so popular and loved by so many people.
This dish is tasty and has cultural significance in the Dominican Republic. Many believe that eating more de granules during Christmas brings good luck and prosperity in the coming year. It is a dish passed down from generation to generation and is still enjoyed by many today.
Be sure to try some delicious Moro de granules the next time you celebrate Christmas in the Dominican Republic! Moro de granules is a traditional dish with rice, pigeon peas, and pork typically served on special occasions. This festive dish is sure to add some holiday cheer to your celebrations!
Ensalada Rusa
Potato salad, or "Ensalada Rusa", is a popular dish in the Dominican Republic during Christmas celebrations. It's usually made with potatoes, carrots, peas and mayonnaise and sometimes includes diced apples and beets for added flavour and colour. The dish is often garnished with parsley or cilantro and served chilled or at room temperature.
Another favourite holiday dish in the Dominican Republic is "pastelón," a layered casserole that combines mashed plantains, ground beef, cheese, and olives. It's similar to lasagna but with a Caribbean twist. The plantains give the dish a unique sweetness, while the meat and cheese provide a savoury contrast. The olives add an extra dimension of flavour, making this dish irresistible.
No Christmas feast in the Dominican Republic would be complete without some meat – usually roasted pork or chicken – as well as "Arroz con habichuelas," rice and beans cooked together with spices like cumin and oregano. And don't forget dessert – sweet treats like flan or "bizcocho Dominicano," a buttery sponge cake often filled with guava or pineapple jam, are always present at the table.
Overall, the Dominican Republic celebrates Christmas with a mix of traditional dishes from Spanish and Caribbean cuisine. Whether you're enjoying potato salad or pastelón. These festive foods will bring joy to any holiday gathering.
Pavo
This dish, known as pavo Asado, is prepared by marinating the turkey in a mixture of garlic, onions, and spices before roasting it to perfection.
Aside from being a staple at Christmas season celebrations. Roast turkey can also be enjoyed year-round at special occasion meals or as part of a hearty lunch or dinner. Its succulent meat pairs well with traditional side dishes such as Arroz con habichuelas (rice and beans) or platanos maduros (fried sweet plantains).
So if you're looking for something new to try during the holiday season. If or want to add some variety to your regular meals, give pavo asado a try! It's sure to delight both your taste buds and your guests.
Conclusion
I recently visited the Dominican Republic for the holiday season. And was delighted to experience their traditional Christmas foods. The delicious combination of meat, beans, and plantains are known as "La Bandera Dominicana". From the sweet treat of "Bizcocho Dominicano" cake, each dish was a delightful addition to the Dominican Christmas feast.
I highly recommend trying these dishes. If you ever have the opportunity to visit the Dominican Republic during the holiday season. The flavours and traditions genuinely make for a memorable and enjoyable dining experience.