Santo Domingo, the capital of the Dominican Republic, is a bustling metropolis with plenty to see and do. From exploring the city's colonial history to soaking up the sun on one of its many beautiful beaches, there's something for everyone in Santo Domingo.
Here are our top things to do in this vibrant Caribbean city.
Let's discuss them in detail so you can add them to your bucket list.
List of Top Things to do in Santo Domingo
1. Stroll through Zona Colonial
Zona Colonial is the oldest part of Santo Domingo and full of history. It's a great place to visit for its architecture and history, as well as its many shops, restaurants, and bars. This part of the city was originally established by Spanish settlers in 1496, so you can imagine how much history there is here!
A great way to see this area is from above on one of the many walking tours that take place daily. You'll get an idea of how large this area is by seeing it from above before you dive into exploring each street individually.
It is also a great destination for those interested in Dominican Republic's vibrant cultural scene, social movements, museums, galleries, nightlife, and cutting-edge cuisine.
2. Shop at Mercado Modelo
Mercado Modelo is Santo Domingo's main market and a great place to buy souvenirs, handicrafts, and local food specialties like coffee, chocolate, cigars, and rum. The market is located in an open-air building with several floors of stalls selling everything from hand-painted pottery to handmade dolls.
Even if you don't plan on buying anything, browsing MercadoModelois a great way to experience Dominican culture. Make sure to try some fresh fruits and vegetables while you're there!
Also, it's close to the important theater "Las Mascaras", there you can see many plays and music performances. If you are want to know more, check our article about Theaters you must visit in Santo Domingo.
3. Take a City Tour
A great way to orient yourself in Santo Domingo and learn about its history and culture is to take a city tour. Tours typically last around 2-3 hours and cover all the city's major highlights, from the colonial zone to modern neighborhoods like Puerto Nuevo. Various city tour companies offer budget-friendly city tour packages and cover various worth-seeing sites.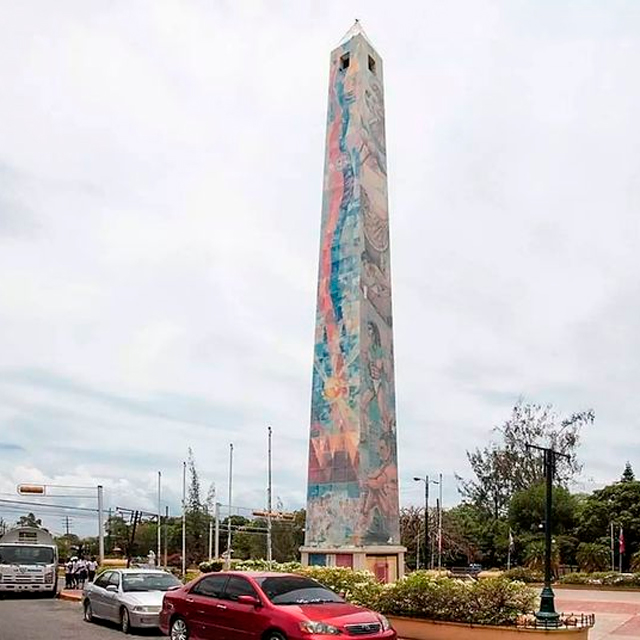 4. See a Flamenco Show
Flamenco shows are popular tourist attractions in Santo Domingo's Zona Colonial. Shows typically feature live music and dance performances showcasing various flamenco styles. One of the most popular flamenco shows in Santo Domingo is "The Dance of Fire" at the restaurant/bar Mundi Flamenco on Calle El Conde."
5. Take a Dip in One of Santo Domingo's Pools
Santo Domingo is home to some of the best pools in the Caribbean. If you're looking for a break from sightseeing, lounging by the pool is the perfect way to relax. Many of Santo Domingo's pools are located at resorts, but there are also a few public options. Casa Espana is one of the top pool clubs in Santo Domingo and entertains thousands daily.
No matter where you decide to swim, you're sure to enjoy soaking up some sun in Santo Domingo.
6. Visit the Columbus Lighthouse and Museum
You can't come to Santo Domingo without visiting the Columbus Lighthouse, a symbol of the Dominican Republic and one of its most famous landmarks. The tower is located on Isla Cabritos, connected by a bridge to the main island of Santo Domingo.
Inside is a museum with exhibits about Christopher Columbus, who explored much of what we now know as North and South America, plus displays on Dominican history. You'll learn about how this country became so populated by immigrants from Europe and Africa—what brought them here—and why many people chose to stay after their ancestors came originally just looking for work or adventure!
7. Take a Salsa Rueda Class on the Malecon
Salsa dancing is a fun way to get fit and meet new people, and with Malecon being such a popular place for those looking to make friends, it's no surprise that salsa classes are in high demand.
Classes take place on the Malecon, a long road that runs along the coast at night. The best part about this experience is that if you need more confidence to show off your moves at bars or nightclubs or want some time alone, taking a class is always an option!
So grab your dancing shoes and head down there tonight!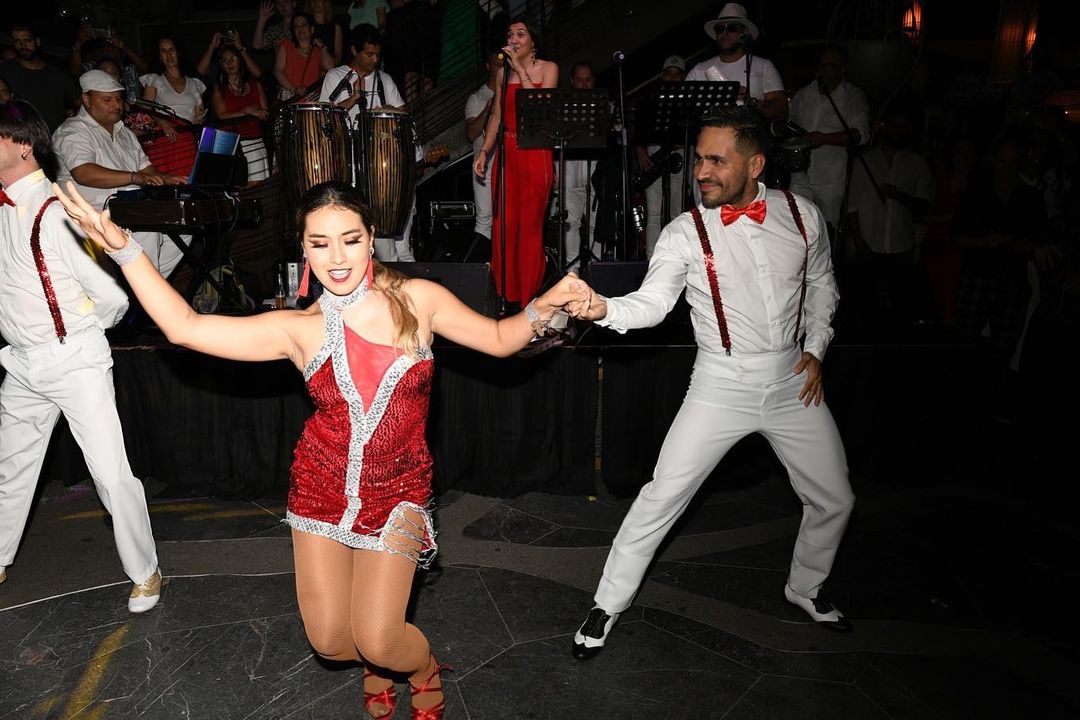 8. Watch the sunset from Fortaleza Ozama
"Fortaleza Ozama" is the name of a historic fort located on the western side of Santo Domingo and overlooks the Atlantic Ocean from a high vantage point. While giving you some mesmerizing sunset views, the fort also holds its importance for being rich in culture and history.
So going there before sunset with your better half with some tea and snacks can get you a good life experience of spending time and enjoying breathtaking views there.
9. Have a coffee at Coffee Santo Domingo
It's easy to miss this place if you're not looking for it. It's located inside an old area abandoned in the 1990s and, at first glance seems like any other coffee shop in the city. But look closer—there are no prices listed on anything, meaning you have to negotiate through a maze of aisles before getting your drink, and yes, they do take credit cards.
You can get hot chocolate or fruit tea with rum and honey or opt for something more traditional like cappuccino or espresso. Plus, there are plenty of snacks such as sandwiches, muffins, cakes, and cookies if you want something more substantial than just coffee!
The best part about this place, though, is its atmosphere: it has been described as "like stumbling upon some hipster's paradise," so if that sounds appealing, give this one a shot!
10. Explore Chinatown market
Taste the unique blend of Chinese and Dominican traditions in Chinatown Market on a fine Sunday morning. The Chinese and Dominican landowners and street vendors at the weekly outdoor market sell fresh produce, meats, and other goods every Sunday. Some Chinese fruits and vegetables are now commercially grown in the Dominican Republic. It's an interesting meeting of two cultures with vastly different histories and values. Furthermore, if you're still hungry or interested in purchasing some unique Asian products, you can visit any of the many shops and restaurants.
11. Check out the President's Palace (Palacio Nacional)
If you're interested in the history of Santo Domingo, then there are no places more interesting than the President's Palace (Palacio Nacional). Built-in 1510 by the Spaniards, it was originally used as a fortress to defend against attacks. Later, it served as a prison where soldiers were held captive. In 1844, it became home to Dominican presidents and has remained so ever since.
The palace is considered one of the most important buildings in Latin America and has been declared a national monument by UNESCO. The Dominican Republic Vice President's office is also housed in this most recognizable building in the country. It's open for public tours during set hours each day: Tuesday through Saturday from 9 am to 5 pm, Sunday from 10 am to 5 pm, and closed Monday.
12. Check out Plaza España
Located on the outskirts of the Zona Colonial and not far from the Rio Ozama is the spacious Plaza España. It is not a low-key plaza where you can relax with a cup of coffee while people watch because it is frequently used for public events and gatherings.
Restaurants with patio seating can be found clustered near the park's perimeter. The area around the cafés is frequented by tour guides who try to persuade passing tourists to join their group for a stroll. The Alcazar de Colón is also located on the square, across from the river and opposite the restaurants. This museum occupies the former home of the Columbus family.