Punta Cana is a stunning town in the Dominican Republic famous worldwide for featuring the 32km stretch of white sand beaches, lavish all-inclusive resorts, zipline Punta Cana, and crystal-clear turquoise water. Its Junalio beach is considered among the top stunning beaches in the world.
Although Punta Cana excursions have beach visits and water-based activities as top attractions, zipline adventure is also something tourists add to their bucket list as the must-do thing in Punta Cana.
Going zipline Punta Cana is an experience you will cherish your entire life. Nothing can substitute the joy of flying in a zip line when passing through the picture-perfect sceneries and landscapes all surrounded by lush green vegetation. Assisting you make the most of your ziplining excursion in Punta Cana, we have gathered some information; you should not skip reading! Without further ado, let's dive in!
How Do You Prepare for Zipline Punta Cana? – Some Safety Tips for Beginners!
Ziplining is not as risky, but the condition is valid when all the safety measures are ensured. Helmets, harnesses, and lanyards are the equipment zipliners use. Don't skip wearing any of them!
Here are a few safety tips you should consider when going zipline Punta Cana.
Wear Comfy Clothes
Prefer wearing breathable clothes; gym clothing will work best! However, you can also go in long shorts. Please skip wearing shorts, as these can interfere with the harnesses.
Don't Wear Open Shoes
Wear closed toes shoes. Skip wearing flip-flops if you don't want them to go flying off unto the jungle. Be sure the one you wear is firmly secured to avoid disappointment later.
Avoid Capturing Selfies
We know everyone loves to post zipline adventure selfies on their Instagram feed; we recommend avoiding capturing selfies on your way and leaving your mobile phones on the ground.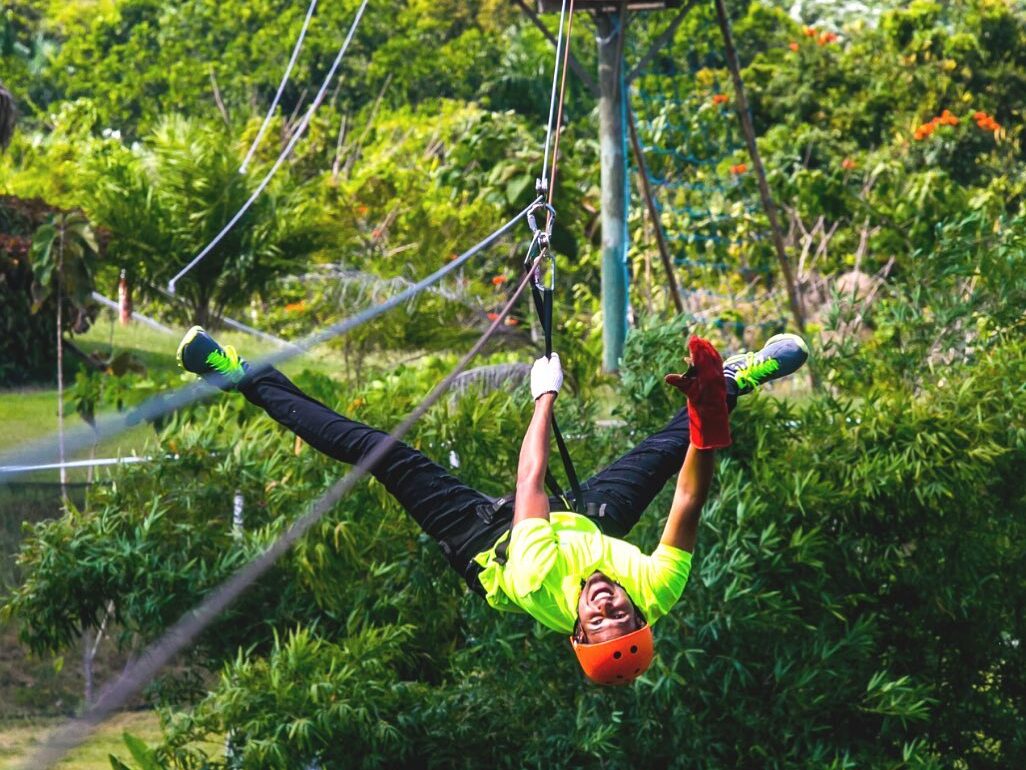 Put on Sunscreen and Insect Repellent
Zipline adventure will let you live some unforgettable moments of life when going through the forests and other places where you can encounter sunrays and bugs. However, must put on your sunscreen and insect repellent to ensure safety.
Be sure to Empty Your Pockets!
Take off all your expensive accessories, including the jewels or anything else. Empty your pockets if you don't want your important things flying off here and there.
Research Well for the Tour Company
Do proper research for the tour company you want to go ziplining with. The Dominican Republic hasn't imposed any international safety restrictions; still, you should check the condition of equipment and the company's safety record to ensure you are in safe hands. We prefer going with renowned companies, even if you have to pay more.
Listen to the Safety Instructions Attentively!
In all the excitement, we all somehow consider the safety instructions a waste of time and don't bother to listen attentively. Are you in the same boat? Avoid doing so, as you will hang at a considerably steep height with just a few cords and ropes, so even a minor mistake or missing any safety equipment can be risky for your life.
Enjoy, Enjoy, and Enjoy!
The best-of-the-best thing about going to Zipline Punta Cana is that you don't need any special training to enjoy and make the most of your experience. Just get wrapped in the equipment and enjoy!
What to Expect from Zipline Punta Cana?
Be prepared for a day-long fun when going for a zipline in Punta Cana. You can go for Eco-Splash ziplines that take you straight into the water, the Couples' zipline to capture memorable moments of togetherness or an adventurous suspension bridge between cables.
Do You Know?
Ocean View ziplines are famous in Punta Cana!
Punta Cana holds the longest zipline in DR, i.e., 2500 feet.
Best Zipline Punta Cana Adventures
Although you will find several ziplines in Punta Cana, here we have listed some of the most alluring scenery featuring zip lines. Dive into to get to know more about them!
Canopy Adventure with Bavaro Runners
When admiring the beaches and flat landscapes of Punta Cana, most tourists don't even know that Punta Cana also boasts a mountain range all surrounded with verdure, i.e., Anamuya Mountains. It's the spot where Bavaro Runners Zipline is located. Imagine flying in a zipline, immersing yourself in the picturesque natural landscape. Isn't it dreamy?
Featuring 12 cables and 18 platforms, this zipline is considered the one featuring the most beautiful scenery in the entire Dominican Republic. This zipline course also includes the DR's longest zipline, and couple cables are also offered. However, just get equipped with gloves, a helmet, and harnesses and hop on!
Zipline Punta Cana at Bavaro Adventure Park
In the Bavaro Adventure park, you can hook yourself in fifteen different adventurous activities; It's your choice whether you want your excursion to be only ziplining or you want to add another activity to it, too.
Here you can have fun ziplining with family, as the zip lines are pretty easy. The suspension bridge between the two cables is a charm in itself. Besides all, the main attraction of the zipline Bavaro Adventure Park is the last and the longest zipline of this park, which lets you dip into the swimming pool, splashing water.
This is the only zipline in Punta Cana where you can hop without gloves, as it has an automatic braking system. The cables are shorter here, just 300 to 800 feet long.
Other Worth-Trying Zipline Punta Cana
These are the best, but not the only ziplines in Punta Cana. You can find numerous others, too, including La Hacienda Park. It's a tranquil park situated in the Anamuya's lush countryside. Here, the ziplines hold five cables and extend up to two kilometers. Besides the ziplines, you can enjoy freefall jumps, countryside safari, and buggies.
Wrapping Up
Going zipline Punta Cana is an adventurous experience when on a tour of the Dominican Republic. When flying over the mountains, forests, and pools, you get to enjoy immersing yourself in the alluring landscapes and capturing 360-degree panoramic views.
This article has explained all you need to know to enjoy an exotic ziplining experience in Punta Cana. Considering our safety tips, you can fearlessly have fun and make ever-lasting memories!