If you finally decided to travel to the Dominican Republic on vacation, the province of Bahoruco is an unmissable place. It is located in the southwest of the country and is one of the most genuine tourist regions, with a large number of historical, natural and cultural attractions.
It is important to mention that this province was part of Barahona until 1943, so it also shares some of the most emblematic tourist places with this province. Its name is due to the Sierra de Bahoruco, before belonging to the territory.
On this occasion we will tell you in detail what are the best things to do in Bahoruco so that you do not leave this wonderful province aside on your vacation in the Dominican Republic.
Why visit Bahoruco in the Dominican Republic?
Bahoruco is a small but beautiful province with many natural resources, it is also the place where the cry for freedom in America took place, thanks to the uprising of Cacique Enriquillo against the Spanish.
It should be noted that in colonial times Bahoruco depended economically on the city of Azua, which was the main city in the south of the country in 1940. At that time, the only municipality of great importance was Neiba, the capital of Bahoruco today.
Currently, Bahoruco is a wonderful tourist place, especially for people who love culture and history, as well as for ecological or adventure tourism. Also for people who want to know traditions and customs of the people of the region.
Even here you will find different natural and heritage sites, a variety of dry and humid forests, which add value to ecotourism in the South, and make it an excellent option to visit at any time of the year.
It is important to mention that the province gives tourists and residents of the place the opportunity to be part of a harvest of grapes (vintage), pillar and toast in the home of a Coffee Grower (person who is dedicated to growing coffee) or enjoy of a beautiful sunset in the Lago Enriquillo National Park (Bahoruco's main tourist attraction).
So don't let them tell you about the experience of touring this Caribbean province, and be yourself the one who discovers each space, place and attraction that we tell you about in this article. Do not miss it!
When is it better to visit this Province?
The Province of Bahoruco is a spectacular place to create new experiences at any time of the year. The climate is characterized by both dry and humid weather at two times of the year.
In the Southwest of the Dominican Republic, the winds enter from the southeast and collide with the mountains of Bahoruco Oriental, which produces greater rainfall in the Sierra de Bahoruco, although to the west, the rains decrease due to the "shadow effect" of the winds.
Thus, the temperature changes are quite noticeable. The average temperature in the lower areas is 28° C. And when going up to the Sierra de Bahoruco the temperature drops 1.5° C for every 100 meters.
However, we recommend traveling to Bahoruco in the months of December to March, or early May, when there is less rainfall. In addition, at this time the temperatures are much more stable, without exceeding 29°C, the ideal temperature to enjoy the crystal clear waters of the beaches and natural spas.
Top 10: the best things to do in Bahoruco
When you decide to visit a place, especially a province like Bahoruco, it is best to inform us in advance of all the things you can do, from the most relaxing to the most exciting and fun.
Without further ado, we will tell you all the information you need to know so that you don't lose any moment and create new stories to tell upon your return from this Caribbean island with so many places to enjoy. Let's see.
This is the largest lake in the Caribbean, and the only one with 300 km2, with 43 meters below sea level. Its name is thanks to Enriquillo, the first Taino chief who revolted with great success against the Spanish Colonists.
The Lago Enriquillo National Park is part of the Jaragua Bahoruco Enriquillo Biosphere. This space is ideal for observing wildlife, as it has a refuge for American crocodiles (the only population in the Dominican Republic, and which is in danger of extinction), as well as flamingos in Boca Cachón and other endemic wild birds.
You can also explore its natural landscapes, and enjoy the fauna and the dry forest that inhabits it. We found a great abundance of bayahonda, cambrón, guayacán, Saona tree, which are the main food of the Rhinoceros and Ricord iguanas. You will love to see some specimens of these species!
It should be noted that it is possible to explore the park by boat, both the lake and the Isla Cabrito, and thus see all the wildlife that this space houses. In addition to the beautiful landscape that covers it, such as large tropical and dry forests, springs, farmland and more.
Don't forget your hat, or cap, and hydration! The heat is strong in this part of Bahoruco, especially during the boat ride.
Follow the Coffee Route and have a steaming cup of this energizing liquid
After taking a good walk around Lake Enriquillo and all the attractions that await you in Bahoruco, you can take the famous Coffee Route, which starts from San Bartolomé avenue, taking the mountain and thus reaching the mountain coffee plantations.
This is a wonderful experience, especially for coffee lovers, so in this tour you will learn about the complete processing of the Coffee, from piling it, roasting it, grinding it, straining it (as it was done in the old days) and, finally, tasting a coffee warm.
The entire experience takes place in the humble home of Lorenzo Amador, known as "Pimpo" in the Botao community. Pimpo, with his great charisma, makes tourists live this unique moment with great care and passion for the cultivation of this drink so appreciated throughout the world.
Immerse yourself in the waters of El Salto de Los Guineos
Once you have done the Coffee Route, enter the San Bartolomé highway again, and do not hesitate to reach the community of Los Guineos.
This town is the perfect paradise on earth to immerse yourself in the rivers, gradually discovering the puddles and large waterfalls that this place has, to live a day of great fun. Ideal to enjoy with family or friends!
Here you can take a relaxing bath in the crystalline waters of Los Guineos, and you will immediately notice the variation between the warm but fertile climate of Neiba, and the humid forest of the Sierra, with abundant water to enjoy a great family adventure.
When you visit Salto de los Guineos, do not stay in the first river you come across, there are a large number of waterfalls that you can explore and enjoy during the trip. And don't forget to enjoy the beautiful vegetation of the place, as well as eat a delicious lunch typical of the city.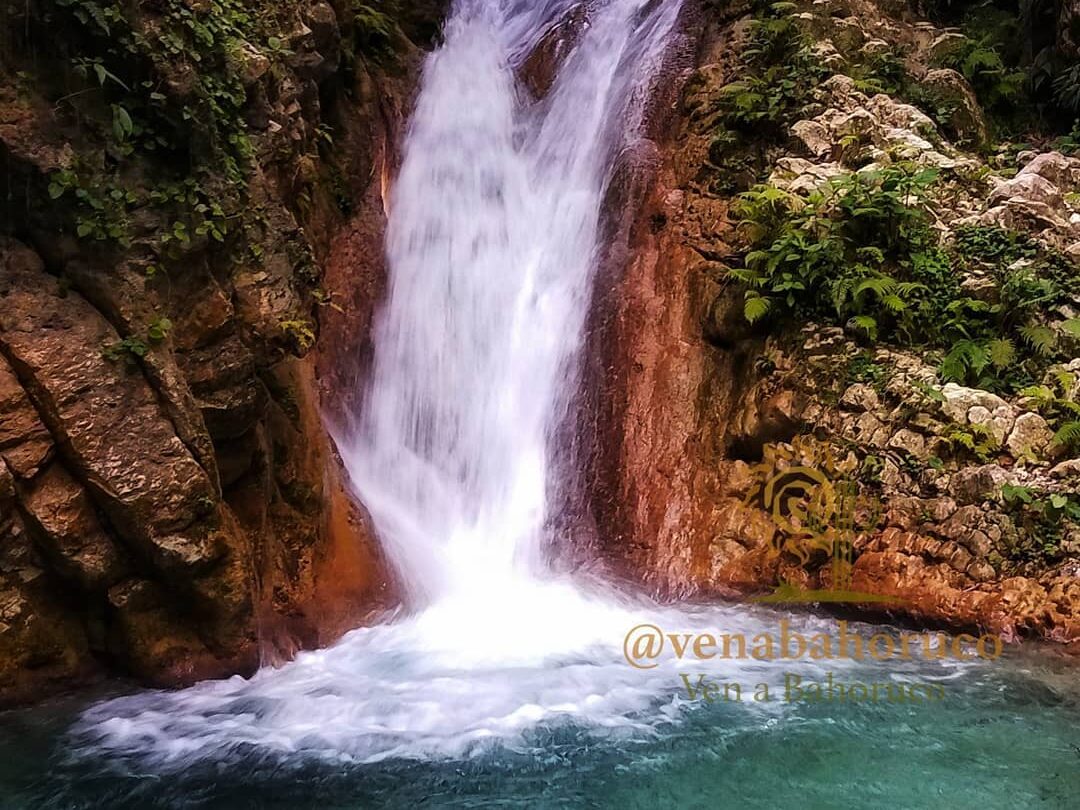 Visit the Las Marías Spa
If you have time, be sure to take a good dip in Las Marías Spa. This is a paradise that is highly visited by tourists and locals from the Neiba municipality, it has a depth between 0.5 and 5 meters.
Thanks to the fact that its waters come from fresh water, this natural spa is ideal for cooling off and enjoying the cozy and familiar place. In addition, it has beautiful surroundings that are covered with tropical vegetation.
There is even a bar in Las Marías where you can try the local gastronomy and visit the surrounding stalls where you can taste the famous tilapia typical of the traditional gastronomy of this province.
Also, do not forget to visit other smaller lakes such as the Hoyo de Felipe, in Los Ríos, the cachón de Villa Jaragua, among others.
Get to know the amazing Los Cocos Wind Farm
About 60 km from Barahona, close to the exclusive beaches of Pedernales, is the Los Cocos Wind Farm, the most important in the Dominican Republic. It has 40 wind mills, which generate enough energy to supply many Dominican homes.
So, if you want to live a different experience, you cannot miss this place. In fact, you can take a guided tour for an hour to learn about the operation and facilities of this park. You can even buy and see some crafts that represent the park or are related to it.
Currently, Los Cocos Wind Farm is an impressive and important tourist attraction, which also shows visitors that there is another energy alternative that is friendly to the environment.
As a curious fact, this park has received an award with the National Award for Cleaner Production.
Explore the Sierra de Bahoruco National Park
This is one of the most attractive points in Bahoruco and definitely cannot be missing from your list. The Sierra de Bahoruco National Park has an area of 1000 square km and is 70 km long. In addition, it occupies part of Jaragua-Bahoruco-Enriquillo, making it one of the most emblematic parks in the country.
It has a short mountain system, but with a high peak that reaches 2,367 meters in height. It also stands out for its great diversity of flora and fauna, with at least 180 species of orchids, rhinos, iguanas, and many more.
People who love nature and are great bird watchers come to this park to see more than 100 species along its trails.
It should be noted that tourists can take a guided tour for an hour.
The Sierra de Bahoruco National Park has a temperature that is above 19 ° C, which offers a refreshing climate for hiking. But, being a protected place, it is not possible to camp.
Visit Los Ríos de Bahoruco and enrich your experience in this fluvial reserve
There are places that you cannot miss in Bahoruco and Los Ríos de Bahoruco are part of them. You can take a cold bath in its rivers and streams, see its wild animals and enjoy its great vegetation.
There is no doubt that you will feel attracted by nature, and from the top of the mountain you will be able to admire the impressive view of Lake Enriquillo.
Bahoruco beach
Bahoruco beach is located 20 km south of the island, almost reaching Barahona. It is a very popular place for people who love water sports, due to its great waves.
Even if you can't take a quiet dip in this place, you can visit it and enjoy a wonderful sunset overlooking the coast. And do a little surfing if you are passionate about this activity.
Villa Jaragua and Los Ríos
If you want to enjoy a calm day and not so full of obstacles, you can visit the ecological park that is located in Villa Jaragua and Los Ríos. In addition to diving into its rivers and waterfalls, you can also drink something refreshing in any of its restaurants or bars.
You can also take some photos at the Jaraguence Identity Monument, a place that offers a rural experience, and learn a little more about the culture and origin of this province. The Monument was designed by Silvano Lora, a famous painter and sculptor.
In the Museum, its tools, utensils and archeology are exhibited, which are worth a visit. In the same way, this site tells us, through its pieces and artifacts, great stories of the culture of the inhabitants of Los Ríos.
Do various exciting and relaxing activities in the Sierra de Neiba
To finish, we recommend you explore the Sierra de Bahoruco. Throughout the area, abundant vegetation, mountains, a humid forest and a dry climate predominate, which offers tourists a pleasant tour with low temperatures.
There are various activities that you can do in the Sierra de Neiba. One of them is to visit the caves that house samples of pre-Columbian art engraved on their rocky walls. Surely, you will love to know a little more about the Taíno culture, in caves like the Caritas de los Indios, which is located in the north of the Enriquillo Lake National Park.
Likewise, you can take a very refreshing and relaxing dip in the small rivers that are created in the mountains, or in the different spas that are found around the Sierra de Neiba.
Final words
Aunque la provincia de Bahoruco es un lugar poco concurrido por los turistas, es cuestión de tiempo antes de que comience a recibir a más viajeros interesantes en explorar sus maravillas naturales, historia y amplia cultura. Y es que cada rincón y parte de esta zona tiene algo que ofrecer y qué contar para llevarse a casa recuerdos e historias maravillosas.
Gracias a sus balnearios, ríos y parques, la calidad humana de sus pobladores y grandes degustaciones de café y vino, te dejará una experiencia única e inolvidable. ¡Te garantizamos que querrás regresar!
Así que no dejes de visitar Bahoruco, darte un chapuzón en sus cristalinas aguas, disfrutar del atardecer en el Parque Nacional Lago Enriquillo, y disfrutar de esta provincia llena de tesoros para todos nosotros.