Organizing a wedding in the middle of a tropical paradise with soft white sand beaches, facing the sea, and an exotic climate is the dream of many couples. Fortunately, it is now possible to make this dream come true in the Dominican Republic.
From impressive beaches, rooftop terraces, chapels facing the sea, or any place that comes to mind, this Caribbean country has what you are looking for to make your wedding a magical and unforgettable experience. So, if you are looking for the best wedding resorts in the Dominican Republic , here you will find all the information you need.
And not only that, this Caribbean country is full of incredible and unique places to celebrate your wedding in style. The variety of destinations and natural settings is an essential aspect, in addition, you can purchase all-inclusive wedding packages, taking care of everything you need.
In this sense, neither the music, the richest dishes, the flowers, or highly trained personnel to attend to your guests will be a problem. Next, we will tell you about our selection of favorite places to say the big "YES, I accept" in the Dominican Republic.
Where to get married in the Dominican Republic?
Celebrating your wedding in this magical Caribbean country has many advantages, as it is a region rich in many natural wonders, a unique culture, delicious food, and cheerful people who pay a lot of tribute to love. Therefore, you will be able to live this dream moment just as you imagine and much more.
And it is that, with so many natural settings, it is best to first know the main tourist destinations, and those that house the perfect resorts and facilities to carry out your wedding, also providing a great experience to your guests.
So, regardless of your choice, having a wedding in the Dominican Republic will offer the happy couple excellent beaches and a perfect mix of romance and exploration before and after their honeymoon. Also, you will have lush natural backgrounds for your photo shoots!
Let's look at the main sites:
La Romana
This Caribbean country is famous for its towns full of life and color, beaches with miles of white sand and calm waters, as well as its underwater caves and mangroves. In La Romana you can enjoy all of this and the best golf courses in the Caribbean. Home to great resort options for getting married!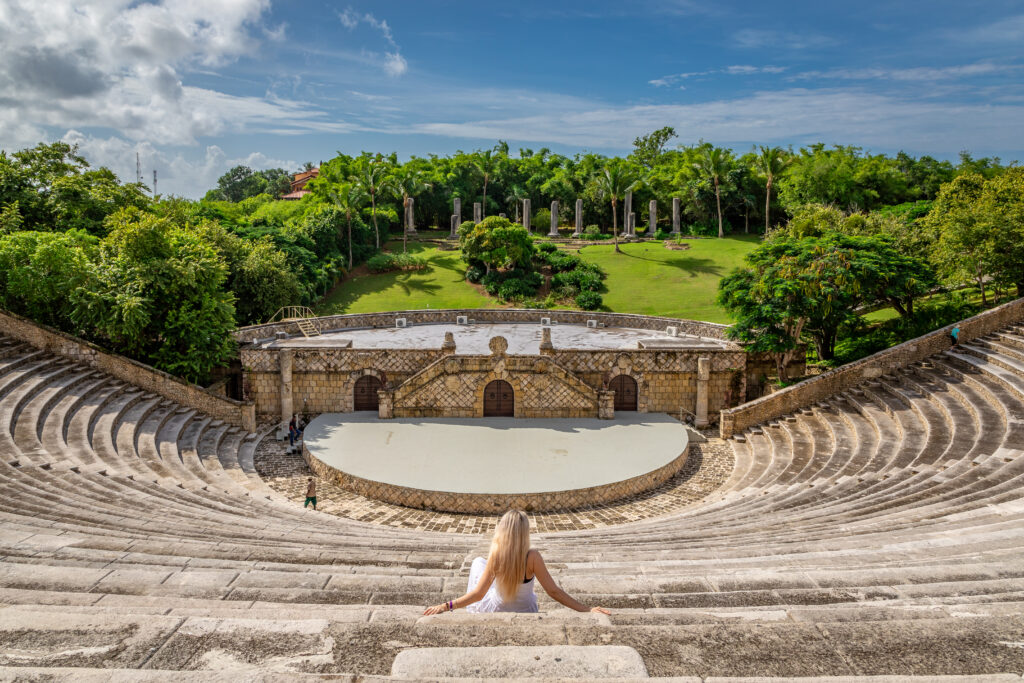 Juan Dolio
It is a small and quiet coastal community. It is a perfect wedding destination if you prefer something more private and quiet. Juan Dolio has miles of coconut palms and offers the feeling of being in a remote but relaxing place.
Puerto Plata
If you want to celebrate your wedding with an adventurous atmosphere and experiences full of adrenaline, Puerto Plata is ideal for it, as it contains coastal towns of great natural beauty. Whitewater rafting in Puerto Plata is a great way to get your adrenaline pumping and discover the towering treetops of the rainforest, and the famous Damajagua waterfalls.
Punta Cana
You may have heard a lot about Punta Cana, as it is usually one of the most famous options among travelers. Punta Cana offers countless stunning beaches and perfect settings for weddings.
In addition, in this region we find the Hoyo Azul, a cold, neon-blue lagoon that is perfect for cooling off on a hot day, as well as cliffs and tropical jungles to admire.
Santo Domingo
Finally, we have Santo Domingo, the capital of the Dominican Republic located in the heart of the country. This colonial beachside city is ideal as a wedding destination.
Not only will you be able to take very beautiful photo sessions with its architectural treasures, but you will also enjoy a pleasant tropical climate with your partner. In addition, it is accessible to your guests, and you will be able to organize the wedding very easily, hosting up to more than 100 people in the celebration.
Top 10: What are the best hotels or resorts for weddings in the Dominican Republic?
If you have plans to make your reservation to celebrate a wedding in this beautiful tropical country, the options are numerous. In fact, it is possible that, with so many natural settings and incredible facilities, it can be difficult to make a decision.
But don't worry, we are here to help you. Let's see now which are the best resorts and places to get married in the Dominican Republic.
Excellence Carmen
Located in Punta Cana, Excellence El Carmen is a luxury all-inclusive hotel for weddings. If you want to have the wedding of your dreams in the middle of an adults-only facility, this is a great place for it.
The tropical atmosphere of the place is one of the protagonists, as well as a beautiful decoration. The hotel staff is pleased to welcome the couple to celebrate their wedding and enjoy island life on their honeymoon.
In terms of guest capacity, this hotel can accommodate up to 120 of your loved ones and friends, either on or off the premises. In addition to the wedding, you can organize your engagement party, bachelor or bachelorette party, as well as a rehearsal dinner, wedding ceremony and reception.
With 23 swimming pools and a world-class spa, this marvelous hotel offers a stunning landscape and a modern but Caribbean-style architectural complex. As for its luxurious suites, you can choose between a suite with a view of the sea, private pool or beach.
There are also parking, transportation and valet services, lighting and sound equipment, and other essentials such as the wedding cake, sparkling wine toast, food and beverages, and much more.
Sky Terrace at Royalton Bavaro
Another of the most popular wedding destinations in the Dominican Republic is the Sky Terrace at Royalton Bavaro Resort and Spa. Here, you will enjoy spectacular views facing the Caribbean Sea at sunset during the perfect day for your wedding.
With comfortable seats for the guests, and personalized decoration for the bride and groom and the guests, you will be able to make your dream come true with a spectacular wedding. The Sky Torrance offers you semi-private or private ceremonies to suit all kinds of preferences.
Best of all, you'll be able to exchange your vows up high, as this ceremony and reception venue features an unobstructed balcony overlooking the famous Bavaro Beach. If you wish, you can combine the natural beauty of the shimmering beach with a twist by adding a chiffon-covered bow.
Plus, host a private reception and cocktail party on the Sky Terrace so you can watch the sun set on the horizon. You can even have a party there after the ceremony! All in a magnificent dream place to celebrate union and love.
Renaissance Santo Domingo Jaragua Hotel & Casino
Located in the capital of Santo Domingo, the Renaissance Santo Domingo Jaraguá Hotel & Casino is also another perfect wedding destination to reserve your ceremony day right now. It is a hotel prepared to host weddings and any other special event.
With 15 rooms for events, you can celebrate your day in a magnificent environment, trained staff and incredible food. And not only that, you also have the option of holding the ceremony outdoors with everything you need.
In particular, the Anacaona Grand Ballroom offers an impressive area for wedding celebrations, accommodating 810 guests for a banquet-style meal, or 900 for a cocktail reception.
This room features lush carpeting and paneled walls, embellished by high ceilings adorned with magnificent chandelier. Like something out of a fairy tale! It also makes preparation rooms available to the couple, providing a serene and peaceful space for pre-ceremony preparations.
The Renaissance Santo Domingo Jaragua Hotel & Casino offers a plethora of services for newlyweds to take advantage of on their big day. In fact, the bride and groom will be able to receive professional help and advice from the most qualified event planners, who will work with you to make sure all the details are taken care of.
Club Hemingway in Juan Dolio
If Juan Dolio is your ideal place, then you will like Club Hemingway. This hotel works perfectly as a scenic location for weddings and ceremonies with unique receptions.
Surrounded by crystal clear waters and many palm trees, this unique location offers the perfect combination of nature and urban charm without any of the drawbacks. In addition, it offers a relaxing and calm environment, making it an oasis for your fairytale togetherness. In addition, you can organize the wedding inside its charming chapel or outdoors.
Wedding reservations are made from Monday to Friday, while on weekends the hotel plans various activities for you and your guests at its facilities. Club Hemingway is the perfect venue for weddings from 50 to 250 guests.
On the other hand, the couple and guests will be able to enjoy one of the best beaches in the Caribbean while relaxing in the pool, or enjoying a delicious meal in the palapas of El Embarcadero, the only restaurant completely over the sea in the country.
In addition, the Club Hemingway is one of the few hotels that has one of the best chefs, Alberto Martín of Spanish origin. In fact, he has been awarded as the best chef of 2022 by the Buena Mesa de la Mar Brotherhood in Asturias, Spain.
Therefore, both you and your partner and guests will enjoy a unique gourmet experience with exquisite dishes. So you can meet with the chef in person or online to plan your wedding menu. You'll have a great story to tell about your wedding, with amazing food and a special venue!
Beach pavilion at Royalton Punta Cana Resort and Casino
Do you dream of saying the big "I do" with your bare feet on soft white sand? Well, at the Beach Pavilion at Royalton Punta Cana you can find one of the best places to celebrate your wedding in the Dominican Republic, just 25 minutes from the Punta Cana International Airport.
These luxurious facilities overlook the ancient Arena Gorda beach, one of the best water parks in the Caribbean, tennis facilities and an elegant pavilion facing stunning views of the coast with turquoise waters and white sand and gentle.
If you decide to have your ceremony in this enchanting venue, you can schedule a semi-private reception at one of the hotel's gourmet restaurants, or upgrade to a private reception and continue the party on the Diamond Club beach.
Choose from a wide range of wedding packages and exclusive accessories such as the Dominican Experience, which will add a touch of local culture to your big day. Without a doubt, it will be a ceremony full of life, color and lots of joy! In the best Dominican style.
Dreams Dominicus in La Romana
Located in La Romana, Dreams Dominicus is also another of the best resorts for weddings in the Dominican Republic. This resort offers dreamlike settings coupled with fairytale décor thanks to its exceptional amenities and stunning views.
Bordering the Cote d'Azur, this family-friendly resort offers endless unreal luxuries, such as the main pool illuminated at night and Mediterranean-infused décor and design flair. Also, it's ideal if you plan to hold an LGBTQ ceremony.
With movie screenings, reservation-less dining experiences, kids' entertainment clubs, and 24-hour room service, options for joy and fun spring from every corner of this stunningly designed hotel.
Adventurous couples who yearn for something beyond the here and now can plunge below the surface into another world by becoming PADI certified scuba divers at the resort's dive center.
Plus, holding hands in the blue depths of the shimmering Caribbean Sea, you can make your honeymoon unforgettable by floating among rugged coral reefs and dazzlingly colored aquatic life.
Here you will also find up to 6 facilities and natural spaces to celebrate your wedding according to what you want. So, you can have the wedding at the beach viewpoint, on the pier, beach arch, main square, on one side of the pool, or on the beach.
BlueBay Villas Doradas in Puerto Plata
If you want to plan your wedding with only adult guests, the all-inclusive BlueBay Villas Doradas is perfect for it. In addition to the possibility of celebrating your wedding, you will be able to relax and enjoy a honeymoon in a luxurious atmosphere.
The hotel is located in front of the sea on the beautiful Playa Dorada with its sand and crystal clear waters, next to the beautiful Playa Dorada golf course, which contains 18 holes of golf and regularly hosts local and international competitions.
Your wedding guests will never get bored, as the hotel hosts endless recreational activities, such as diving, sailing, tennis, windsurfing, and much more. In addition, their dishes contain natural ingredients that will delight the palate of the happy couple and guests.
On the other hand, the hotel offers different wedding packages. Each of them varies in the capacity of number of guests, as well as rooms, menu, decoration, among others. You cannot miss the wedding coordinator, nor the unmissable wedding cake.
Among the many excursions and activities that take place in the hotel area, you can choose to enjoy one of the most romantic shows: an unforgettable sunset, riding a horse along a fine sandy beach.
Sublime Samana in Las Terrenas
Sublime Samaná is located on the Samaná peninsula in the northeast of the Dominican Republic, along a palm-fringed beach of Playa Cosón, surrounded by rolling hills. It offers a calm and idyllic atmosphere, perfect for celebrating a magnificent wedding.
In addition, it is known as one of the "small luxury hotels in the world" located on one of the most beautiful beaches in the world with accommodation at very affordable prices.
So, whether you are looking for one of the best Dominican Republic wedding resorts to host a small Caribbean wedding ceremony with your closest friends and family, or a large and elegant wedding in the Dominican Republic , the professional planners of this amazing hotel will be happy to help you.
The hotel offers 3 all-inclusive and personalized wedding packages according to your dreams and desires:
Tú y yo , for couples looking to have a simple and small ceremony without many accessories; Intimate affair , for those who wish to have a small ceremony with a private cocktail, and in the middle of a starry setting with a photo package.And finally, the Sublime package , which provides a complete service, including hair and makeup for the bride, a cocktail party and a private dinner with a photographer to capture memorable moments.
Casablanca in La Romana
Located in Casa de Campo, Casablanca is a beautiful and one-of-a-kind venue for weddings. Offers views of the magnificent Caribbean Sea, the Chavón River, the famous Dye Golf Course Fore and the incredible La Marina.
As a place to celebrate weddings, it has a mansion with up to 7 rooms, which makes it an ideal place to enjoy a wedding for several days or weekend stays. It is bright, modern and elegant, so it will offer you a unique and unforgettable experience.
With its stunning panoramic views, there are both covered and uncovered ceremony venues. During the ceremony you will enjoy a beautiful landscape while exchanging vows in this exotic paradise.
Additionally, preparation rooms are available for couples to prepare for their special day in comfort and style. Guests are sure to be wowed by this dream hideaway with amazing modern conveniences.
Finest Punta Cana
Finally, we recommend Finest Punta Cana to celebrate your wedding in the Dominican Republic. It is a relaxing resort to celebrate intimate and unforgettable weddings. From start to finish, its staff will be expressly dedicated to helping you with whatever you need, keeping everything within your reach.
However, at Fines Punta Cana you can celebrate from a quiet wedding to a luxurious and glamorous one, which is why it is a good place to make a reservation as a destination wedding. In addition, his ideas and design of the environment are an inspiration for his great creative work.
On the other hand, this hotel offers couples a range of wedding packages that adapt to the unique needs of each couple. This is very convenient to find the right service to fit your wedding budget.
They offer a selection of venues for the celebration, whether you want to be in the sun or surrounded by the elegance of a ballroom. On the other hand, the gazebo and the terrace will allow you to stay connected with the beauty of the hotel's surroundings while enjoying the best elegance of the hotel.
Final words
The Dominican Republic is a world-renowned and acclaimed tourist destination for its beaches and paradisiacal landscapes and facilities where luxury is part of the panorama, thus offering an attractive combination to become an excellent wedding destination.
Dominican culture can be infused into your wedding experience by adding Caribbean cuisine, handmade cigars, and local rum. Symbolic same-sex ceremonies are also permitted, and are available at many of its top resorts.
Undoubtedly, couples who love the Caribbean climate will enjoy this important event in the midst of impressive beaches, and within luxurious resorts with access to the beaches and with incredible activities for the celebration.
Likewise, if relaxation is what you need, you can choose any package that suits your preferences, which always favor all travelers who visit the island for vacations or to have the wedding of their dreams.