Saona Island, once called "Adamanay" by the Taino peoples, is a true paradisiacal destination lost in the middle of the Antilles. With an area of 110 km², Saona Island is one of the largest portions of island territory in the Dominican Republic.
Its greatest tourist attractions are obvious: those beautiful white sand beaches and crystal clear waters make you fall in love with the naked eye. But the story does not end there. Saona Island houses an incredible collection of natural , archaeological and cultural treasures that will leave you speechless.
Fancy a vacation in the Caribbean? Can you visualize yourself under an umbrella, enjoying a piña colada on the shore of a turquoise sea? Would you like to combine the beauties of ecotourism with the practical advantages of a luxury stay? Saona Island offers a bit of everything; exotic landscapes, adventure, disconnection and wonderful secrets hidden in plain sight.
Below we explain in a precise and detailed way absolutely everything you need to know about this dream island.
Geographic and administrative location
Saona Island belongs to the Dominican Republic, a Sovereign State located in the central-eastern part of Hispaniola Island, in the Antillean Caribbean. It is attached to the provinces of Altagracia and La Romana, forming part of the Punta Catuano nature reserve.
Saona Island is located in the extreme southeast of the Dominican Republic, approximately 80 kilometers from Punta Cana. Mano Juan and Catuano, its main population centers, are home to around 500 to 300 inhabitants.
Environmental importance
What really makes Saona Island a paradise is the fascinating purity and variety of its ecosystem. Not only is it the perfect vacation destination, Saona Island is also a very important organ for the health of planet earth . Here we talk a little more about it.
Cotubanama National Park
In 1975, the Dominican government issued decree number 1311. It positions the provinces of Altagracia and La Romana as protected geographic areas, and names them part of the Cotubanamá National Park. Subsequently, laws number 64-00 and 202-04 were approved, which concern the Environment and Protected Areas.
Today, the Cotubanamá National Park has an extension of 791.9 kilometers. Among which are the 110 square kilometers of Saona Island. This majestic natural reserve is also known as Parque Nacional del Este, for being located to the east of the Punta Catuano region.
Saona Island is one of the most important areas of the Cotubanamá National Park, since it provides asylum to an incredible percentage of endemic species of the Caribbean . In fact, of the 539 species reported in the latest inventory of the Cotubanamá National Park, the vast majority reside on Saona Island.
Saona Island and the Parque Nacional del Este in general are the ideal destination for nature lovers. Not for nothing are they contemplated within the Protocol regarding Specially Protected Areas and Wildlife in the Caribbean Region (SPAW). A prevention measure promoted by the Cartagena Convention.
Fauna and flora: endemic species
On Saona Island we can observe a complex network of ecosystems that is frankly impressive. Shrublands, semi-humid forests and mangroves are some of the most outstanding plant formations on the island. Certain Neotropical species such as the red, black, white and button mangrove abound in very specific areas of Saona. Likewise, you will find caves, reefs, natural pools and more.
Regarding its fauna, this island is home to four different species of turtles: the loggerhead, the hawksbill, the tiglar and the green turtle. In the same way, some very curious birds such as the shore gull, the crowned dove and the green parrot often nest here. The latter remains an endangered species.
Dolphins, manatees, fishing bats and rhinoceros iguanas are also part of the picturesque animal population of the island.
Historical and cultural legacy
In addition to the endless list of natural treasures hidden in Saona, it would be a crime not to mention its cultural richness. On this island the traces of an entire civilization are preserved , its ancient inhabitants: the Tainos. The archaeological sites, the aboriginal art exhibitions and even the gastronomy of Saona keep the memory of the original peoples of the Caribbean.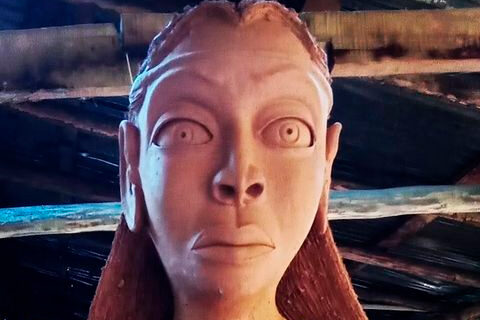 Taino art and history
The rockiest area of the island is to the northwest, where you can visit majestic caves and caverns. Among all, the most famous is the Cotubanamá Cave, named after the famous Taino chieftain. At the beginning of the 16th century, the indigenous settlers took refuge in this area of Saona hoping to elude the troops of Juan de Esquivel, who obeyed the orders of Nicolás de Ovando.
The chief Cotubanamá was captured and executed by the conquering army. However, he and his people left behind the indelible trace of their civilization. In 1912, the North American archaeologist, Theodore de Booy, came across a fascinating collection of Taíno artifacts and handicrafts. In addition to this, he verified that the petroglyphs carved and painted by the first settlers of the island were still printed on the walls of the Cotubanamá Cave.At present, the local authorities have been in charge of preserving the material legacy of the Taínos. If you visit Saona Island, don't miss the Taino art exhibitions for anything in the world.
Gastronomy
What better way to appreciate Caribbean culture and traditions than through its gastronomy? Dominican food has a flavor as unique and mesmerizing as its beaches. Throughout the island you will find a multitude of wooden beach bars in which typical Dominican dishes are served.
Coconut fish, lobster, tostones, rice with beans, and mangú are some of the most popular recipes in the entire Dominican Republic. Of course, there is no shortage of salads, stews, sweet sandwiches and cocktails. Dominican gastronomy brings together the best of Caribbean, African and European cuisine .
Did it make your mouth water? Below we review for you the best restaurants on Saona Island.
Agriculture
De acuerdo a diferentes estudios antropológicos, los pueblos Taínos fueron constituidos por una multitud de etnias arawacas, las cuales decidieron emigrar. Se cree que los Taínos llegaron a las Antillas procedentes de América del Sur. Más específicamente, los historiadores apuntan que los Taínos provienen de la desembocadura del río Orinoco, en Venezuela.
Al emigrar, los Taínos llevaron consigo la yuca y otros tubérculos que hoy en día forman parte importante de la agricultura dominicana. Así mismo, una variedad de legumbres y demás especies vegetales ampliamente consumidas en el Caribe Antillano fueron domesticadas por los indios Taínos.
Siendo el turismo su principal actividad comercial, la Isla Saona no es una potencia agrícola. Dicho esto, en sus entrañas aún florece la memoria de los conucos taínenses.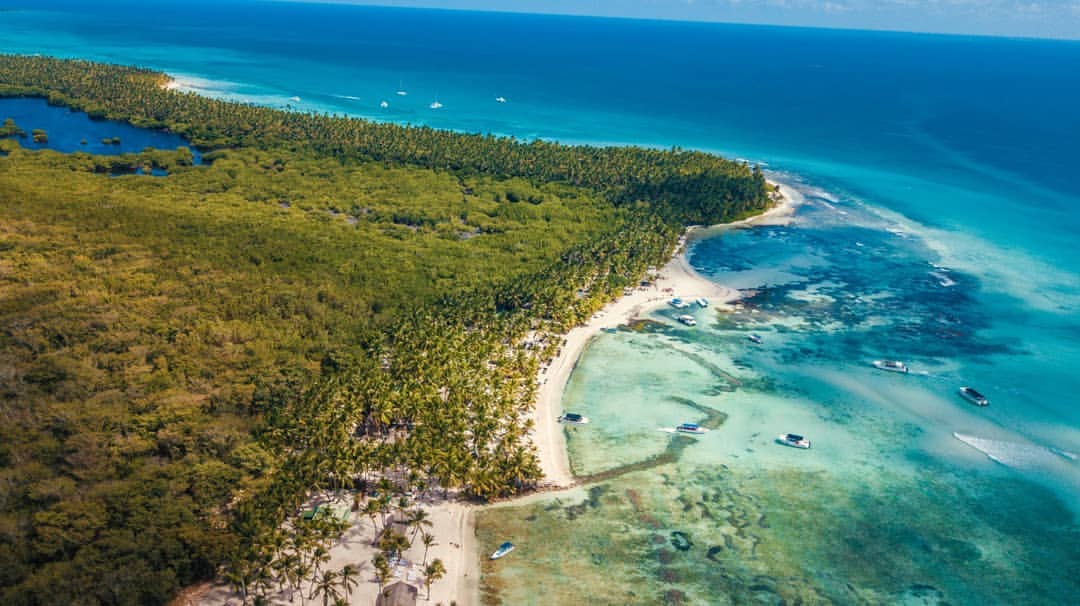 Of mixed race
The Dominican Republic is the perfect example of interculturality, and Saona Island is no exception. The small and charming town of Mano Juan expresses its miscegenation through its colorful wooden houses and the customs of its inhabitants.The inhabitants of Saona are cheerful , hospitable and easy to deal with, with that hint of mischief characteristic of the tropics.
Sights
Beauty and attractiveness are attributes that Saona Island has in abundance. So much so, that great filmmakers like Randal Keliser and Steven Spielberg chose her to film scenes from their famous movies "The Blue Lagoon" and "Jurassic Park". Moreover, the magazine "Caribbean Travel & Life" classifies it as "one of the best dream beaches in the Caribbean".Being in Saona, wherever you look you will find something to delight yourself with . However, there are some attractions within the island that stand out from the rest. Here we tell you a little about each of them.
Catuano Channel
The Catuano Channel is attached to the Cotubanamá National Park and separates the southeastern insular tip of the Dominican Republic from Catuano Beach.Said channel measures, between both points, 1,250 meters wide. The Caribbean waters of the Catuano Channel hide a gigantic coastal reef, ideal for snorkeling and other underwater activities. If you are planning to visit Saona Island, this is a mandatory stop.
Catuano Beach
This is one of the widest and most popular beaches on the island, a protected area of virgin nature. Its crystalline waters of an intense turquoise color and its white sands create an unforgettable setting.In addition, being one of the busiest tourist areas, here you will find stalls with thatched roofs and even a souvenir market . Get ready to relax under the shade of a coconut palm, with the sea breeze whispering in your ear.
Palmilla Beach
Right in front of Saona Island, southwest of the Parque Nacional del Este, there is a small uninhabited islet. La Palmilla Beach is a little piece of heaven on earth, a private paradise, ideal for escaping the noise of the world.With the exception of a wooden shack, La Palmilla is completely devoid of buildings. Here you can swim, dive and take long walks by the sea without anyone bothering you . Do you prefer peace and quiet over adrenaline? Then you'll love Palmilla Beach.
Caves and archaeological sites
Do you remember that we mentioned the mystical grottoes and caves grouped at the northeast end of Saona Island? Although the most popular is the Cotubanamá Cave, the truth is that here there are many cavernous formations to explore . In fact, it is a complex system of interconnected caves, which form a whole labyrinth.
In the town of Mano Juan, a reception post has been established where you can hire a guided tour of the caves. There are several trails to get to the Cotubanamá Cave, but in general you usually go through a 500-meter branch located in Punta Catuano.
Natural pools
Saona Island seems to have been made by the gods, with a variety of natural pools among which the Cotubanamá pool stands out. This curious maritime formation has been declared nothing more and nothing less than "the largest natural pool in the world". Just 400 meters from the coast of Saona, this is a natural monument that you do not want to miss.The natural pools of Saona Island are shallow, and some of the most exotic marine animals can often be seen in them . Its waters adorned with corals and seashells open up a space for communion between nature and human beings. If you want, ask those who have done it: bathing in the Cotubanamá pool and taking pictures with the marine stars is an unforgettable experience.
Lagoon the Flamingos
We cannot talk about majestic landscapes without mentioning the Laguna de los Flamencos, the best place for native bird watching on the entire island. Laguna los Flamencos and its neighbor, Laguna Canto de Playa, are separated from the sea by thin rock formations. The lagoon can be reached on foot from Mano Juan , a journey that lasts just over half an hour.
The Laguna de los Flamencos is also known as Playa El Toro. It is one of the favorite areas for tourists from all over Saona Island. As its name indicates, here you can see flocks of flamingos and other endemic bird species of the Caribbean. These birds can be observed during the course of the day. However, it is at dawn when they usually party.
Song of the Beach
Canto de la Playa is one of the least frequented areas of Saona Island, a virgin beach with all of the law. Its serene waves and undisturbed shores make Canto de Playa the perfect place for a little adventure getaway.Here you will find beautiful coral reefs , ideal for snorkeling lovers. Its palm and coconut trees provide shade for visitors. On the other hand, thanks to the absence of homes and businesses, peace is assured.
Mano Juan
If you prefer a more hectic experience, the fishing village of Mano Juan could be your thing. As the main populated center of Saona Island, Mano Juan has become the tourist spot par excellence .
In this area of the insular land of Saona you can enjoy a variety of services and amenities that other areas lack. On the other hand, this is the best place to get acquainted with Caribbean culture on the whole island.
Turtle Recovery Center
Speaking of Mano Juan, if you decide to visit the town, don't miss out on the opportunity to visit its sea turtle sanctuary. This recovery center is in charge of preserving the life of various species of turtles and promoting their procreation. To do this, its workers carry out exhaustive monitoring of each nest using a complex GPS system.
The goal of the sanctuary is to prevent the illegal hunting and trade of turtles, as well as other risk factors. The Mano Juan Turtle Recovery Center houses the most important nesting area for protected sea turtles in the entire Dominican Republic.
Do you advocate for animal rights and the protection of endangered species? Then do not hesitate to visit the sanctuary to learn in depth the wonderful work that is done here.
White Horse Reef
Last but not least, the Caballo Blanco Reef is another of the natural attractions that are all the rage among tourists. There is something magical about these marine formations, this one in particular is compounded by the presence of a Spanish shipwreck dating back to the 18th century . The shallow depth of the reef has been deteriorating the remains of the galleon. However, its 17 guns and other metal parts are still in good condition.
The Caballo Blanco Reef is part of the archaeological reserve of the Cotubanamá National Park, so the galleon dives are carried out in a controlled manner. That being said, it is still possible to snorkel and scuba dive on the reef. Those who have done it have been fascinated with the various elements of this underwater monument.
Recreational activities
Ok, at this point you should have a bit of a clearer idea of what wonders Saona Island has to offer. However, it is totally valid if you are still wondering what to do on Saona Island. Let us help you solve your doubts: below we suggest some recreational activities commonly carried out on Saona Island.
Water activities
As expected, water activities are one of the biggest tourist focuses on the island. And it is that those fabulous turquoise waters are not there to be wasted. Are you one of those people who transform when they go to the beach? Do you get a feeling of euphoria and freedom when you dive into the sea? If so, Saona Island has everything you need.
The main water activities that you can carry out in the Saona are the following:
Dive
snorkeling
stand up paddle boarding
Deep Sea Fishing Tours
Boat rides and other boats
party yacht charter
sailing sports
Helicopter tour
Are you interested in living a slightly more exciting experience? Do you want to feel like the protagonist of a movie? Flying over Saona Island from the seat of a helicopter is the kind of adventure you will never forget . The catamaran trip is nice, but a helicopter tour of Saona is on another level.
On the other hand, going to Saona Island by air will allow you to save time and get the most out of your stay. In general, this class of services includes both round-trip air and ground transportation. Likewise, they usually offer buffet and drinks. Beach beds and chairs, professional tour guide and accident insurance should also be included.
It should be noted that the helicopter tour tends to be more expensive than the catamaran trip. With prices around 300 dollars. Here we leave you the links to two air tour services in the Dominican Republic:
Hiking
Its incredible variety of ecosystems and its mysterious caves make Saona Island the perfect place to go hiking. Saona is, in its entirety, a little piece of heaven that awakens in those who visit it the need to explore.Every corner of Saona is full of treasures and natural wonders hidden in plain sight. So the fact that guided tours are so popular on the island is no reason to be surprised. If you are interested in getting to know the island in depth, hiking is the best way to do it .
Local food tasting
Okay, you're right, maybe eating doesn't count as a recreational activity. However, trying exotic recipes and flavors is certainly exciting. Dominican food is a festival for the palate, a mixture of Caribbean, African and European flavors.
Few dishes surpass the subtlety of a freshly caught coconut fish, much less if it is eaten by the sea. As the saying goes: "full belly, happy heart".
lodging options
Accommodation is one of the most important aspects to consider when planning a trip. For this reason, we wanted to make things easier for you by listing the various options available to you for your visit to Saona. First of all, it is important that you know that Saona Island is devoid of large infrastructure. So the alternatives are limited.That said, in Mano Juan you will find some of the most pleasant lodging options . On the other hand, you can also check into a hotel in Bayahíbe, La Romana or Punta Cana, which usually offer expeditions to Saona Island. Below we describe one by one the most popular lodging centers in each location.
The most popular hotels on Saona Island
Ok, let's start with the hotels and guest houses inside the island and then move on to the other options, shall we?
Saona Beach House Hotel
Near the beach, in a quiet and quite private area of Mano Juan, you will find the Saona Beach House Hotel. This establishment has been very well reviewed by its guests , who praise the customer service. Its reception service is open 24 hours a day. In addition, the Saona Beach House Hotel has its own restaurant.The rooms at the Saona Beach House receive constant maintenance and are in excellent condition. It is a warm and homely space, in which you can rest comfortably. For more information, you can check their profile on Booking.com or contact the managers directly from the hotel's official website .
Rural House El Paraíso de Saona
This guest house offers a slightly simpler infrastructure than the previous one, but like Saona Beach House it has an excellent location . On the other hand, it is relatively close to a restaurant called "Capitán Gringo".
Based on tourism, leisure and ease of travel, Google summarizes it as an acceptable option for visitors. Its percentage of positive reviews on Google Maps is 4.5 stars.If you are interested in knowing more about this establishment, you can check it out on Agoda or Booking.com .
Saona Lodge
The third and last lodging option on Isla Saona is the Saona Lodge, a small establishment with charming wooden cabins. The Saona Lodge consists of a total of 9 rooms and is located 5 minutes from Mano Juan. It is located just behind the White House of La Marina , and has free Wi-fi connection.The Google Maps review summary gives it a total of 4.9 stars, certifying it as visitor-friendly. You can check the room prices on Booking.com or Next Day Hotels .
The best hotels in the vicinity
Did none of the above options convince you? If you are looking for something a little more luxurious with all services included, you may prefer to stay on one of the coasts near Saona Island. Here we leave you a list of the best hotels in Bayahíbe, Punta Cana and La Romana according to the opinion of the users.
Casa de Campo Resort and Villas, La Romana
The first advantage of this establishment is its location: 11 minutes from the airport, on a private beach. In addition to this, the Casa de Campo Resort and Villas hostel offers roundtrip transportation services, buffet breakfast and spa treatments. The facilities of the Casa de Campo Resort have 183 rooms. Likewise, it has several restaurants, a gym, golf courses and two outdoor pools.
This is a 5-star lodging center , classified by Expedia as a VIP establishment. Its staff speaks Spanish, English and French. The Casa de Campo resort seeks to satisfy even the wildest of whims. In fact, its administrative team offers you a variety of all-inclusive packages. This includes water and land activities, food and beverages, tips and taxes, and free access to all facilities.
Its rooms are equipped with all kinds of comforts: pillow-top mattresses, hypoallergenic bedding and duvets. They also include 42-inch LCD televisions, with satellite service and latest-model DVD equipment. The bathrooms have been designed to guarantee enjoyment and comfort, with spacious tubs and modern showers. The best rooms have patios or balconies.Do you want to know more about the Casa de Campo Resort and Villas? Visit their official portal .
Iberostar Selection Hacienda Dominicus All Inclusive, Bayahibe
Bayahíbe is a coastal city to the south of the San Rafael del Yuma municipality, being an ideal port to embark towards Saona Island. The Iberostar Selection, also known as Hacienda Dominicus, is located in this city. This is also a five-star establishment, erected on a private beach 52 minutes from the Punta Cana International Airport.
It boasts 504 rooms with air conditioning, Wi-fi connection and active room service 24 hours a day. Other advantages that you can find here are its ecological bathroom amenities, plasma televisions with satellite channels, video game consoles, and LED lighting. Similarly, most rooms have beautiful balconies from which you can enjoy a fabulous view.
La Hacienda Dominicus offers parking and valet parking services, luggage storage and a variety of recreational activities. Outdoor pools, tennis courts, multilingual staff and 24/7 reception service. In addition, the Dominicus organizes expeditions to the Parque Nacional del Este. That is, to our beloved Isla Saona.For more information visit the hotel page .
Whoa! Bavaro, Punta Cana
Finally, for those who want to stay in the famous Punta Cana, the Whala! Bávaro could be the ideal option. Bávaro is one of the most attractive tourist spots in Punta Cana, with a most charming beach.
The facilities of this luxurious establishment are right on the seashore, so if you stay here you will have a guaranteed beautiful view . In addition, the hotel has several swimming pools and terraces with snack bars.
The Whala! Bávaro is made up of several buildings surrounded by large garden areas. It has 263 modern and functional rooms, which are divided into 5 types: double, economic, superior, double with sea view and double with pool view. Similarly, the Whala! Bávaro houses 2 Buffet Restaurants, 1 à la Carte Restaurant and 1 Japanese Restaurant.Would you like to know in depth their offers and services? Take a look at their official website
Other alternatives
We understand that not everyone likes large hotels, which can become overcrowded. If you are looking for something a little more intimate or you are an adventure travel enthusiast, you could consider the following alternatives.
Houses and apartments for rent
For a much more private experience, rental houses and apartments are a great solution. Of course, staying in one of these spaces often means you'll have to get around on your own and meet your own needs. Although well, it all depends on the service and the deal you make with the owners of the place.In Mano Juan some residents receive guests sporadically, but it is something that can only be agreed at the time. In view of how unpredictable this can be, the most prudent thing to do is to rent a house or apartment in the vicinity of the island . In Rent by Owner , Tripadvisor and AirBnb you can find several offers.
Tents
This is a somewhat more extreme alternative, suitable for backpackers and young people with an adventurous spirit. Organizations such as visitarepublicadominicana.org offer tents to those visitors who wish to spend the night in communion with nature.Adam, manager of a restaurant on Isla Saona e Isidro and of excursions, also rents tents in the back of the establishment. You can find out more about this service here .
Restaurants and other commercial centers
Once the lodging issue is settled, the second priority on our list should be food . Of course, many hotels offer food and beverage services. However, it never hurts to expand your options and have a plan B.
On the other hand, if you stay in a rental house or apartment, you may not have guaranteed food. And besides, how can you not treat yourself to something special while on the island? Below we talk about the 4 most popular restaurants in all of Saona. Finally, as an informative bonus, we tell you where you can buy little things for your loved ones.
Taino Restaurant
Do you fancy a lobster by the sea? The Playa Taíno Restaurant is an establishment of the tourist company Alamos Travel, which offers delicious dishes and drinks in the shade of a beach bar .
If you are one of those who prefer to eat in serene outdoor spaces, the Taíno Restaurant is made for you. According to the summary of Google Maps opinions, this is an establishment with 5-star service.
Restaurant Saona Paradise
The Saona Paradise is in the middle of the Mano Juan coast, so it tends to be more frequented by tourists. You can take refuge from the sun under its wooden roof while you taste a delicious traditional Caribbean dish.In the Saona Paradise restaurant you will find a buffet bar with different delicacies, from which you can choose the ones you most like. There is no shortage of fresh fish and lobsters. With prices that vary from 100 to 300 dollars depending on the service and the number of people.
Tao Beach Club & Restaurant
The Tao Beach Club & Restaurant is a very exclusive establishment located on a private beach on Saona Island. In addition to food, the Tao club also offers comfort, entertainment and guided walks around the island.
Based on the reviews from the public, their staff is very well trained and all the waiters are very friendly. The food has also received rave reviews, especially its seafood cocktails, fish, and lobster.
Do you want to enjoy Saona at your own pace? The workers at Tao Beach Club & Restaurant will be more than happy to help you out with this.
Restaurant Playa Los Griegos
Playa Los Griegos Restaurant has one of those idyllic views shown in movies. It's a clean area, free of seaweed, with loungers neatly arranged under the shade of a palm grove.Playa Los Griegos has an area specially designed for children and its services have received very good reviews. According to the testimony of one of its diners, you will be able to observe some exotic species of butterflies while you eat .
Craft markets and souvenir shops
Commerce on Saona Island is quite restricted, so you won't run into any mall or anything like that. That said, in Playa Catuano and in Mano Juan you will find markets where you can buy all kinds of souvenirs. In this kind of stalls you will find different Taino handicrafts, bracelets, ceramic figurines and any other little detail that you can think of. Of course, try to haggle to get a better price.
Routes and excursions to Saona Island
As we explained above, generally the routes to Saona Island depart from Bávaro (Punta Cana), Bayahíbe and La Romana. The cheapest transfers are made by boat or catamaran, with prices ranging between 50 and 90 dollars per person. Children receive a discount of up to 50%, and children under 3 years of age can travel for free.
Depending on the boarding area and the type of boat, the trip to Saona Island can last from half an hour to an hour and a half . Most tourist agencies also offer ground transportation, food and drinks. One of the drinks that cannot be missing on these ships is Dominican rum.
Excursions to Isla Saona usually leave early in the morning, between 6 am and 9 am Most commonly, they last throughout the day, with an approximate return time between 5 pm or 6 pm Over the course of return, the guides usually organize small farewell celebrations on the boats. So get ready to shake your skeleton to the rhythm of merengue, bachata and reggaeton.
Next we leave you a brief list with Dominican travel agencies, which you can contact online.
Plan your visit to Saona Island: aspects to consider
The best way to ensure a successful travel experience is to prepare everything you need in advance. Better safe than sorry, right? In this section we offer you some tips that will help you plan a pleasant and hassle-free stay.
Items that cannot be missing in your luggage
The Dominican Republic is a Caribbean country, with an intense tropical climate for which you must be prepared or prepared. Most hotels and rental houses have air conditioning. However, on your walks on Saona Island you will not have this comfort. Don't worry: the sea breeze is cool and pleasant. That said, it is best to wear comfortable and light clothing .
On the other hand, if you plan to camp overnight on the beach, you will need something warm. The days in the Caribbean are bright and hot, but at night the wind currents can get very cold. We also recommend that you have the following items with you:
Hat.
Parasol.
Sunglasses.
Sunscreen.
repellent lotion.
Mineral water.
Sandals or another type of comfortable footwear.
Swimsuit.
Towel.
Exchange houses
On Saona Island and throughout the Dominican Republic, the dollar is handled almost more frequently than the peso. The Dominican economy is based entirely on tourism, so it will not be difficult for you to finance your stay with American currency. That said, if you want to exchange dollars or another foreign currency for Dominican pesos, make sure you do it at a bank or a certified exchange house.
Making your change at hotels, airports or travel agencies is fast and comfortable. However, these establishments do not always handle the best cups . Seasoned travelers recommend going to a Western-Union office or a Banco Popular office. Carrying a few Dominican pesos with you is a good way to save money. Since if you offer to pay in dollars you could be a victim of speculation.
Of course, for security reasons we recommend you to be prudent with the amounts of cash you handle when leaving. Although if you hire the services of a tourist agency you would not have to fear any kind of incident.
Hurricane season
Being located in the central area of the Antilles, the Dominican Republic is a territory prone to hurricanes and tropical storms. Resorts and other luxury establishments have a series of security measures to deal with this type of meteorological phenomenon. However, being such an exposed area, it is not recommended to visit Saona Island during the hurricane season .
In general, the hurricane season in the Dominican Republic runs from the beginning of June to the end of November. October is a transition month between the hurricane season and the frontal season. That is, a period in which two or more air currents with different temperatures meet. The best time to hike to Saona Island is between December and May.
Peddlers
Saona Island is not a very active point of commerce. Even so, it is likely that when you arrive you will receive different offers from its inhabitants. Don't be surprised if some Dominican women approach you to promote their massages or want to braid your hair. In the same way, there is no shortage of vendors selling traditional crafts and snacks.You decide what to invest your money in, just keep in mind that tourists are not always offered the best prices . Before you say yes to something, try to compare prices and ask for rebates.
Legal requirements to enter the Dominican Republic
Before packing your suitcases, it is very important that you make sure you have all your documents in order. Entering the Dominican Republic is not complicated, but to avoid bad times it is best to check this list of requirements:
E-ticket (new electronic form created by the Dominican Republic immigration office to replace the Traveler's Health Affidavit, to fill it out go to https://eticket.migracion.gob.do/ )
Vaccination Card (from April 23 of this year 2022 this requirement is optional)
Valid passport (mandatory)
Tourist visa (does not apply to Dominican citizens, diplomatic and consular personnel or to clients of certain private aviation agencies. The Dominican Ministry of Foreign Affairs is the entity in charge of issuing visas, for more information consult its official website )
Conclusion
Saona Island is one of those paradisiacal places that remains etched in the memories of its visitors. Very few tourist destinations in the Antillean Caribbean remain as well preserved as Saona. Today, pristine beaches are in short supply, and the vast majority of Caribbean islands no longer remain untouched.
Saona Island is like a movie location frozen in time. It is enough to walk along the shore of that turquoise sea to feel transported to another world. Saona is the epicenter of a variety of natural wonders, from coral reefs to underwater caves. The incredible diversity of animal and plant species that occupy the island is one of the most amazing in the entire Caribbean.
Do you want to feel like a tycoon in a Hollywood movie? Are you interested in living experiences that you can tell your grandchildren about? Let the waves and the vibrant landscapes of Saona Island remain imprinted in your heart . What are you waiting for? Start planning your adventure.
If you liked this article and want to know more wonderful destinations in the Caribbean and the world in general, do not hesitate to visit our home page. Thank you for reading! Leave us your opinion in the comments section.