The Dominican Republic is beautiful, with much to offer tourists and travelers alike. From stunning beaches to incredible mountains and everything in between, there's something for everyone in the DR. The best part is that many of the country's best attractions can be enjoyed without spending a single cent.
This blog post will share our favorite free things to do in the Dominican Republic that cost little to no money. So, whether you're on a tight budget or looking to save money, read on for our top picks!
20+ Free Things to do in the Dominican Republic
Here is a list of 20+ almost free things to do in the Dominican Republic. Have a look at them one by one…
1. Take a stroll in the capital city of Santo Domingo
Spending time strolling Santo Domingo's picturesque downtown is a practical choice. Walking around with a drink in hand and people-watching in Parque Colon doesn't cost a dime, thanks to the profusion of market booths and street performers.
You can spend the better part of a day and night here because of the abundance of food stalls selling inexpensive traditional foods like empanadas, stuffed bread, or baked pastry, the abundance of corner stores selling alcoholic and non-alcoholic beverages, and the plenty of stalls selling cheap trinkets.
2. Watch the Bonye Group Performance
Bonyé, a salsa band, plays salsa, bachata, merengue, and other Latin music every Sunday from 5 to 10 p.m. in front of the Ruinas de San Francisco. People come to enjoy the show while having food or drinks with their friends or partners.
3. Explore Santo Domingo Chinatown
Santo Domingo's Chinatown was founded in the 1900s and has become an important part of the city. You can try window shopping, exploring their culture, and having food there. While the street food and fru it may cost a little more, seeing the market's lively nightlife is entirely free. Make sure you are safe from thieves and pickpockets.
4. Spend a day at Indigenous Eyes Ecological Park
Indigenous Eyes Ecological Park is where people and wildlife can thrive in peace. The park is full of nature and freshwater pools, some of which you can swim in. The park is a great place to get out and see the native plants and animals of the nation. In addition, there are over a hundred different types of birds that make their home there, and a keen eye may easily see them.
5. Try Horse Riding In Las Terrenas
Samaná Province's Las Terrenas is a picture-perfect vacation spot, yet its visitors often spend time doing nothing. However, horseback riding is the best way to see the area's natural splendor. If you're willing to bargain, you may take a daylong equestrian excursion for less than twenty dollars.
The tour ends at some of the world's most well-known waterfalls, where you may go swimming or sightseeing for an unforgettable experience. There is no better way to spend an afternoon in Las Terrenas than on the back of a horse with a knowledgeable guide leading the route as you cross rivers, jump over boulders, and climb the steep slopes.
"If you enjoy horseback riding and nature experiences, we recommend you check out the 5-in-1 package of Horseback Riding, Cocoa Picking, City Tour, Zipline and Dune Buggy.
6. Swim In Hoyo Azul
One of the best things to do in Punta Cana is to visit and swim. Discover this stunning pure blue sinkhole, 14 meters deep, by wandering through the jungle, crossing a suspension bridge, and making your way through the flora and wildlife. Explore the area and swim in the natural waters while gazing at the towering limestone cliff that towers over you at 75 meters.
7. Play Chess with Locals
Outdoor games of chess and dominoes are popular across the country. You may head towards a nearby park and ask locals to pull up a chair and sit with you for chess so you can learn a trick or two, or you could simply take a picture to record the occasion. The locals are welcoming, and in most cases, they won't object if you take pictures of them.
8. Explore the Mind-boggling Beaches of Punta Cana
If you're looking to spend time exploring beaches in the Caribbean, look no further than Punta Cana, a large resort town with dozens of beaches. There are nice and smooth stretches of all the beaches that are up to 12 miles long, making for a seemingly infinite opportunity to go for a stroll.
Whether you stay in Bavaro, Macao, or Uvero Alto, you will never be far from a gorgeous beach featuring miles of beach sand and swinging palm trees.
The most popular beaches in Punta Cana are;
Juanillo Beach
Barcelo Bavaro
Playa Macao
Arena Gorda Beach
Playa Los Corales,
Playa La Vacama
9. Explore Boca Chica Town
Boca Chica is a beach resort town on the southern coast of the Dominican Republic, about 40 kilometers from Santo Domingo. Boca Chica is a popular day trip destination where tourists can soak up some rays, discover the culture around town, and try their hand at water sports like kayaking, jet skiing, and banana boating.
You may also go chill off and dance the Merengue at various bars and clubs in Boca Chica, which lends the area its name for its party atmosphere.
10. Visit Zona Colonial
Discover the rich history, architecture, and culture of the Dominican Republic while taking in the area's natural beauty and enjoying a day of shopping and dining at Zona Colonial. It is a delight to take a leisurely stroll through the historic streets and see what new hidden treasure or secluded vantage points you can uncover at each turn.
Here you can also visit some most historic spots, including
The oldest church in the New World is the Church and Convent of the Dominican Order, next to Parque Duarte on the famous cobblestone roadway of Calle Las Damas.
Alcázar de Colón, also known as Casa Colón or the "House of Columbus."
The oldest castle Fortaleza Ozama overlooks the Ozama River. The Monasterio de San Francisco is where Alonso de Ojeda and Christopher Columbus were originally buried.
The Royal Palace Museum, or Museo de las Casas Reales, is a stunning structure and comprehensive repository of Dominican colonial history (and Haiti)
The tombs of the Dominican Republic's founding fathers can be seen at the Altar of the Nation at Parque Independencia, which is also home to the Basilica Cathedral of Santa Maria la Menor, the largest and most important church in Santo Domingo and the first cathedral ever built in the Americas.
11. Visit La Arura Cigar Factory
The La Aurora Cigar Production offers a comprehensive tour of a premium cigar factory, beginning with the seed and ending with the final packaging.  
Guests are given a comprehensive overview of the labor-intensive process of cigar manufacturing and information regarding the history of La Aurora, the first cigar factory in the Dominican Republic, which opened in 1903. All of this is presented to the visitors in less than an hour.
So if you want to cover more things in less time, add this free tour of the cigar production factory to your bucket list.
12. Explore Agora Mall In Santo Domingo
The Agora mall is quite large and is situated north of the city center, close to a major highway. It's home to one of the city's largest and most diverse food courts.
You can buy the things you want or just look around at the various stores selling products from well-known international brands.
It's approximately a half-hour trip from the colonial zone, so if you're planning to see the botanical garden or the mall, you may cover both simultaneously.
13. See Monumento a Los Heroes de la Restauración
Monumento a Los Heroes de la Restauracion, situated in the Dominican Republic's Santiago de los Caballeros, is a historical landmark. The tallest structure in Santiago, Chile, also serves as a significant focal point for the city.
The hilltop location of the monument in the heart of Santiago affords visitors breathtaking panoramas of the city and its surroundings. Also, there's a park right outside the entrance. On the fifth floor, you'll find the grand prize: a wraparound balcony overlooking Santiago and the distant Cordillera Central mountains.
14. Visit Jesus Maestro Parish
Incredibly beautiful inside and out, Jesus Maestro Parish is open to all who wish to visit a Catholic church outside their home country. The building stands out for its unusual design, with a white façade and a dome covering the top.
The people within the church are friendly and welcoming, and the building itself is spotless. Soulful music is playing in the background for your enjoying pleasure, which may help you relax. Masses are usually held in Spanish; however, English translations and gospels can be arranged for visitors, so check the schedule before you go.
15. Discover Calle Las Damas Street
The many historic buildings that line this New World cobblestone street have made it famous. This Ladies Street, the most refined thoroughfare of the colonial era, was the first street in the Americas to be mapped out.
Tradition has it that Vice Queen Maria de Toledo, accompanied by her court ladies, ambassadors, administrators of the court, maritime explorers, and other notable people of the colony, walked down this route. You can spend a lot of time just wandering around the neighborhood, as there are a lot of other places of interest nearby.
16. Visit Golden Beach
Tourists flock to Golden Beach because it is one of the best beaches in Puerto Plata. This beach is characterized by black sand, clear water, and, along those same stretches, a significant amount of seaweed on the sand and in the water. The beach is maintained by several private resorts that maintain it properly. Here, you can enjoy a day of leisurely strolling or fun activities with friends and family.
17. Spend a day in Tropical treasures Uvero Alto
Tropical Treasure is a must-see if you want to take home a piece of the Dominican Republic's culture. Here you may find a wide selection of high-quality Dominican souvenirs at reasonable prices.
Shopping without hassle from the friendly and helpful personnel is a gift this place offers. Antiques, jewelry, and relaxing massages may be abundant, and the area is a gateway to some of the top spas in the country. If you don't feel like spending money, just go there to appreciate the local culture and scenery. Put yourself out there and get to know new people. Have a great time just hanging out with your pals.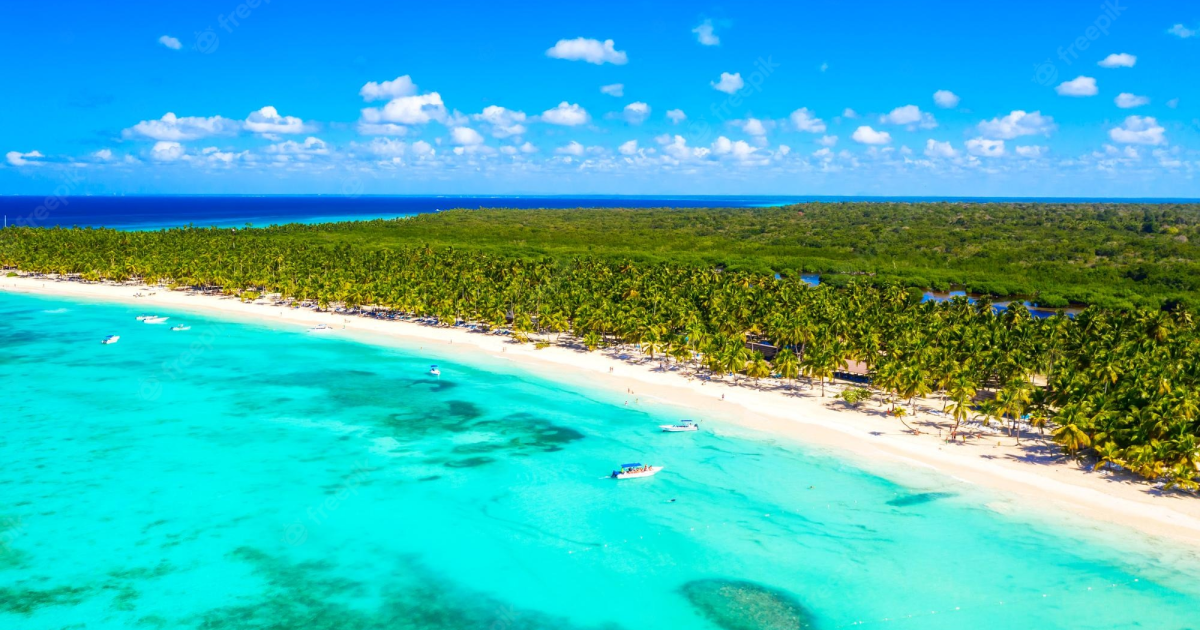 18. Visit Muñoz – The Ultimate Beauty
The Dominican city of Puerto Plata lies on the edges of the country; therefore, most tourists who visit the area don't venture there. However, if you're looking for an inexpensive place to stay in Puerto Plata, you'll most likely end up in Muñoz or one of the city's hostels.
It would open the door to a once-in-a-lifetime experience for most tourists in the Dominican Republic: a breathtaking climb in the Muñoz hills and some stunning views. You can do it yourself with the help of a rented car, or you can pay less than $50 USD for a guided tour that includes food, water, and the comfort of knowing you'll be picked up and dropped off at your door without having to worry about finding a ride.
Besides the things mentioned above, you can…
19. Head to some most instagrammable spots in the Dominican Republic, like Catalina Island, and capture some stunning views with your camera.
20. Experience hiking at easy hikes across the country if you are a beginner, including Montana Redonda and Maximo Gomez Trail.
21. Enjoy multiple cuisines at some local but famous restaurants like Laurel and Casa Vera
All in All,
The Dominican Republic is an amazing country with so much to offer tourists and travelers alike—much of it can be enjoyed without spending a single penny!
From exploring Santo Domingo to taking a dip in one of the many beaches along the coast, there are plenty of free things to do in the Dominican Republic that will leave you with lasting memories.
So what are you waiting for? Add this amazing country to your bucket list and plan a budget-friendly trip now.