Are you newlyweds looking for an amazing all-inclusive honeymoon destination? If so, look no further than the Dominican Republic! This stunning country offers everything from white-sand beaches and crystal-clear waters to lush rainforests and lively cities. With so much to see and do, you'll surely fall in love with the Dominican Republic!
In this post, we'll take a closer look at some of the best all-inclusive resorts in the Dominican Republic. We'll also provide tips on what to pack for your trip and recommend some must-see attractions. So, whether you're just starting to plan your honeymoon or wedding or you're already packing your bags, read on for everything you need to know about the Dominican Republic!
The main things to consider when choosing this resort are its proximity to the punta Cana international airport, its immaculate grounds, and the fact that it has some of the best all-inclusive food options available (especially the spaghetti at Portofino and the El Patio pork tacos – both of which are delicious!). Additionally, the rooms at this resort in the Dominican Republic are always superbly appointed and super comfortable, making it the perfect place to relax and unwind after a long day of exploring.
Secrets Cap Cana resort is a gorgeous one with an incredible beach. The beach has hammocks, cute cabanas, and a romantic lunch/dinner option at a cabana that looks out over the ocean. In addition, there is a huge pool with a swim-up bar. Secrets Cap Cana also has the prettiest sunsets that I have ever seen.
Dreams Royal Beach Punta Cana
The resort is located on a beautiful white-sand beach overlooking the turquoise ocean. It offers luxurious accommodations and amenities, making it the perfect choice for a honeymoon or romantic getaway. The resort's location provides stunning views of the ocean and beach, making it a perfect place to relax and enjoy the natural beauty of paradise.
Dreams Royal Beach Punta Cana provides the perfect setting for a luxurious and relaxing vacation, situated on one of the most beautiful beaches in the Dominican Republic. The resort offers an array of excellent accommodations, dining options, and activities to keep guests entertained throughout their stay. Whether you're looking to spend your days lounging by the pool or exploring all the area offers, Dreams Royal Beach Punta Cana is the perfect choice for an unforgettable getaway.
Your honeymoon should be a time to relax and indulge, and there are plenty of ways to do that at our resort. Whether you want to spend your days soaking up the sun by the pool or playing tennis or beach volleyball, or you're interested in experiencing some of our transcendent world-class spa treatments, we have everything you need to make your honeymoon special.
At Dreams Royal Beach Punta Cana, newlyweds can enjoy an incredible all-inclusive package that features Unlimited-Luxury® amenities. This is the perfect place to escape and relax on your honeymoon. You'll be able to enjoy plenty of romantic activities and create memories that will last a lifetime.
Excellence El Carmen
This lovely colonial-style resort is the perfect destination for couples looking for a romantic getaway in a secluded location. Nestled among palm trees on a beautiful white-sand beach on a remote stretch of Punta Cana's Caribbean shoreline, the resort offers everything you need for a relaxing and romantic vacation.
If you're looking for the perfect place to honeymoon, look no further than Excellence Punta Cana. This All-Inclusive and Adults-Only resort is exactly what you've been dreaming of. With world-class amenities and service that are truly second to none, Excellence Punta Cana is the perfect place to escape from it with your new spouse.
The best way to experience the beauty of the Dominican Republic on your honeymoon is by staying at this modern luxury resort. The resort has 23 pools, so you can cool off and relax after spending time in the sun. You'll also be surrounded by stunning architecture, making it the perfect place to enjoy your honeymoon.
You and your spouse will enjoy nothing but the best on your honeymoon at Excellence El Carmen. With world-class restaurants and daily entertainment, every moment of your honeymoon will be blissful. Excellence El Carmen has been designed specifically for your once-in-a-lifetime trip, ensuring you have the best possible experience.
Excellence El Carmen is the perfect place to stay in Punta Cana. The hotel's warm hospitality, luxurious accommodations, and amenities make you feel at home. Whether you're looking for a romantic getaway or a family vacation, Excellence El Carmen has everything you need for an unforgettable experience.
Sheraton Santo Domingo Hotel
If you're planning on having a honeymoon, you should stay at the Santo Domingo Hotel. It's no surprise that this hotel is popular in Santo Domingo; it's centrally located and has amazing views of the Caribbean Sea.
There's no excuse not to take a romantic trip to the world-class hotel 35 minutes away from Las Américaspunta International Airport.
A few minutes away from Santo Domingo's most popular restaurants and nightclubs is this modern hotel located along one of the main avenues in the city and at El Malecon.
You'll be right in the heart of the action when you stay here, with everything you need right at your fingertips. Whether you're looking to explore the city or want to relax and enjoy yourself, this is the perfect place to do it.
You can look forward to an exciting honeymoon nightlife in Zona Colonial! This historic district is within walking distance of many great restaurants and cultural attractions. You'll be able to spend your days exploring all that this vibrant area has to offer.
The hotel's dynamic dining options offer the chance to explore the vibrant flavours of the Dominican Republic. You can sip on a handcrafted cocktail by the resort-style pool or try something new from one of our many restaurants. Whether you're looking for a quick bite or a leisurely meal, we have something to suit your taste.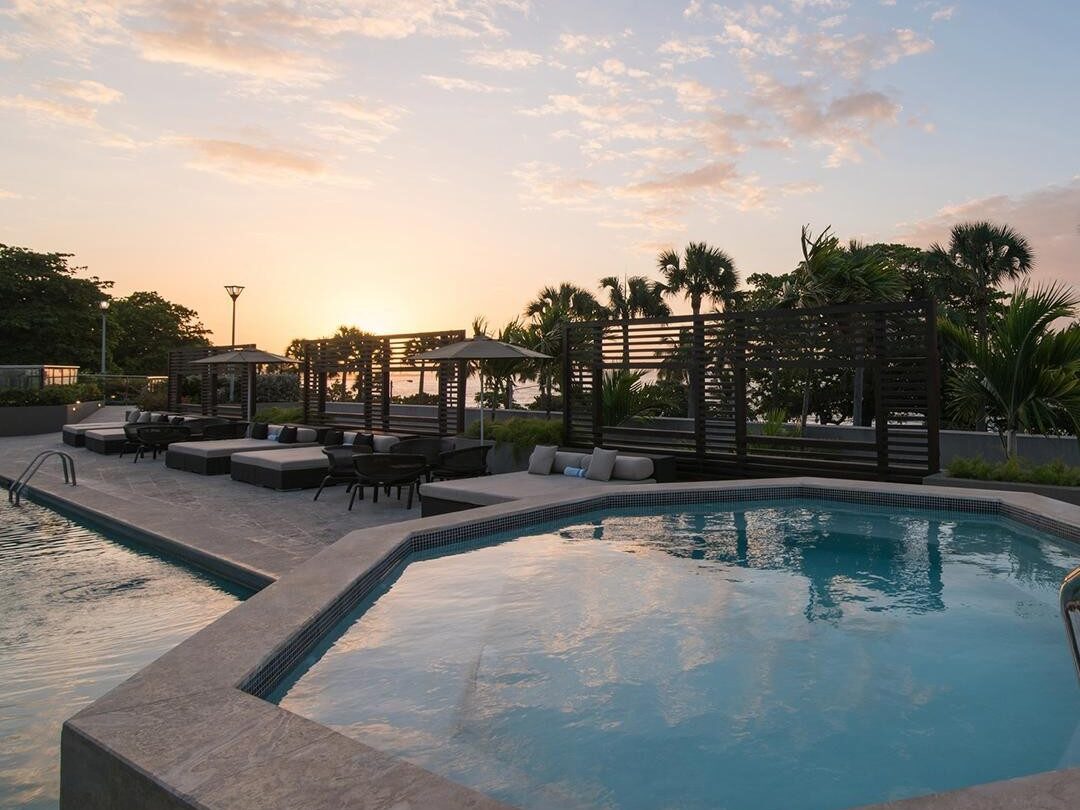 Conclusion
I recently had the pleasure of visiting the Dominican Republic for my honeymoon. The resort we stayed at was an all-inclusive luxury one, and it was gorgeous. I couldn't have asked for a more magical place to spend my honeymoon. We enjoyed every minute of our time there and plan to return soon!
The beaches at this destination were some of the cleanest and most well-kept I have ever seen. In addition, the staff members were all incredibly friendly and welcoming, making our experience much better. If you are considering a relaxing and romantic getaway soon, I would highly recommend this place – it truly is lovely.
I could not think of a better place to get married or spend the honeymoon. Every second was a complete and delightful experience.