The inhabitants of the Roman Empire were the forerunners of what we know today as desserts. Banquets were a common excuse for wealthy families in Ancient Rome to meet and share. The term "Dessert" comes from the Latin "postrerum", which in turn is derived from the prefix "post", that is, something that comes after.
During the feasts, between wine, laughter and strong dishes, they used to distribute small portions of fruit or bread with yeast and honey . These appetizers were known as "secunda mesae", and they used to mark a short interval between each course. Over time, these terms and customs have evolved to become the art of confectionery.
Let's leave Western Europe and move to the Caribbean Antilles, to a vibrant and flavorful nation: the Dominican Republic. Located on the island of Hispaniola, this country is famous for the beauty of its beaches, the warmth of its people, and the unique flavor of its food.At YourDominicanGuide we want to sweeten your life a little and excite your palate. With this in mind, in this article we will tell you everything you need to know about Dominican desserts . But first we must warn you: reading this will most likely whet your appetite.
The cultural richness of Dominican gastronomy
The menu of typical Dominican Republic dishes is incredibly extensive and varied. The recipes of this country, in addition to being a festival of flavors, are testimonies of its history and identity. In Dominican gastronomy it is possible to identify elements of European, African and Taíno cuisine.However, when trying a bite of mangú or a portion of sweet cashew things change. It is at that moment that we realize that the culinary tradition of the Dominican Republic is much more than the sum of its parts. The Dominican taste and seasoning are unmistakable. These dishes leave the taste of the Caribbean at its best in your mouth.
3 Dominican desserts that will make your mouth water
What do you think if we stop beating around the bush and immerse ourselves fully in the subject? Dominican gastronomy in general is extremely wide, and sweet dishes are not scarce. Even so, we will do our best to introduce you to the most representative desserts of the Dominican Republic . We also include detailed explanations of the recipes and interesting facts about each dish.
Please keep in mind that this is not a ranking. The order in which each dessert is presented does not seek to assign it a lower or higher gastronomic value than the others.
Dessert Number 1: Beans with Dulce
Sweet beans are a dish that screams flavor and Dominican tradition. A recipe that may seem exotic to foreigners, but for us Dominicans it is as common as the air we breathe.
It is a cream made from beans, milk and sugar, which is usually accompanied with crunchy cookies or cassava. Of course, depending on the area or the tastes of each individual, some aspects of the recipe may vary . From the ingredients to the preparation, each Dominican adds their personal signature.
In the northern region and the capital of the Dominican Republic, for example, red beans are preferred. On the other hand, in the South they usually choose sweet beans or candolias, a variant of this same legume.
Raisins, whole cow's milk, coconut milk, and sweet potato are present in almost all variants of this dish. Likewise, spices such as cinnamon and cloves are often invited to the party.Are you interested in knowing more about it? Below we list the most commonly used ingredients. In the same way, we expose the standard preparation method and tell you a little about the origin of this dish.
Ingredients
1 pound (453.592 grams) of red kidney beans. White beans can also be used, but red beans are more common in much of the country.
½ kilo of sweet potato
600 milliliters of evaporated milk
1 cup coconut milk without added sugar
1 can of condensed milk of 403 grams
½ cup of refined sugar
½ teaspoon salt
½ cup raisins
1 large tablespoon (approximately 40 or 45 grams) of butter
1 large tablespoon of vanilla extract
1 cinnamon stick
8 units of sweet cloves
½ teaspoon nutmeg
Preparation
The night before preparation, put the beans to soften in a container with water. The water should completely cover the beans. You can add a teaspoon of baking soda to facilitate the softening process . The next morning, strain the beans and bring them to a boil in a pot filled with drinking water. Let them cook for about an hour and a half until they soften. If you have a pressure cooker, 20 minutes should be enough.
We also recommend that you peel the sweet potato, dice it and bring it to a boil with a little salt. When it is soft, drain it and let it cool.
Once the beans are ready, blend them with their own broth, strain them and add the evaporated milk and coconut milk. Next, pour this mixture into a heavy-bottomed pot, put it on a low flame and add the sugar and condensed milk. Also add the cinnamon, cloves, nutmeg and a pinch of salt. Let cook for 15 minutes.Finally, add the sweet potato, raisins, butter and vanilla to the mixture. Continue cooking for another 15 minutes, using a wooden ladle to stir the candy constantly. When the preparation reaches the desired consistency, turn off the flame and serve hot or cold.
Origin
In an interview for Diario Libre, chef Inés Páez Nin, better known by her nickname, Chef Tita, shares the origin of this recipe. Supported by the testimony of the soldier Dorvo Soulastre, a French citizen who arrived in the Dominican Republic in 1798, Tita tells us the following: beans with sweets are a Creole dish, which was born from the cultural exchange between France and Santo Domingo during the 18th century. .
Chef Tita assures that the three main ingredients of this famous dish come from there: beans, sugar and dairy products. Today, sweet beans have become synonymous with Holy Week throughout the Dominican Republic. For more information, take a look at the interview with Chef Tita on the official website of Diario Libre.
You might also be interested in the CociNow video tutorial , a YouTube channel that teaches you how to make sweet beans. Click on the link and delight your loved ones with this delicious recipe!
Dessert Number 2: Dominican Cake
Making a Dominican dessert guide and not including the Dominican cake would be a true crime. Although the word cake is used to designate an endless number of appetizers throughout the world , the Dominican cake recipe is unmistakable . It is a chiffon-type cake, soft, airy and fluffy. The most important attribute of the Dominican sponge cake is its light and moist consistency, like a sweet cloud that melts in your mouth.
In general, it is usually filled with an exquisite pineapple jam and covered with meringue. There are variations, such as the cake filled with pastry cream, guava sandwich or dulce de leche. However, pineapple is by far the favorite Dominican side for this cake. Below we share some details about the ingredients and the typical preparation of this recipe.
Ingredientes
For the cake
½ pound (equivalent to 226.796 grams) of all-purpose white wheat flour
½ pound granulated white sugar
One and a half tablespoons of baking powder
½ pound salted butter
6 egg yolks
½ pound egg white
½ cup of fresh orange juice
A teaspoon of lemon zest
2 teaspoons vanilla extract
For the pineapple jam
1 pineapple
½ cup of sugar
4 cups of water
1 teaspoon vanilla extract
For the sigh or meringue
One and a half cups of white granulated sugar
4 tablespoons icing sugar (powdered or icing sugar)
½ cup egg whites
¼ teaspoon lemon juice
½ teaspoon vanilla extract
Preparation
First stage: the jam
Before starting with the sponge cake itself, we recommend that you prepare the pineapple jam. The process is not complicated, however, since the pineapple is quite fibrous, it requires a more or less long cooking .
The first thing you should do is peel the pineapple, discard the core, and cut the rest into cubes. Then, puree the fruit in a food processor or regular blender until smooth. Next, pour the juice into a thick-bottomed cauldron, add the water, sugar and vanilla.Cook the jam over medium heat until it boils. Once it reaches the boiling point, cover the saucepan and reduce the intensity of the flame to a minimum. Let it cook until the water on the bottom evaporates, for about 90 minutes. Of course, keep an eye on the jam constantly to prevent it from burning. When ready, remove it from the heat and let it cool.
Second stage: the sigh
Merengue, popularly known as "suspiro" in the Dominican Republic, is very easy to make. First of all, mix one and a half cups of granulated sugar with ¼ cup of water and ¼ teaspoon of lemon juice. Boil over medium heat until it reaches the consistency of syrup, with a still transparent appearance. If you have a candy thermometer, boil until it reaches 112ºC.
Using a balloon whisk or mixer with wire attachment, beat egg whites for 30 seconds on low speed. Then increase the speed and beat until the whites form a fine white foam. This should take about 3 minutes.
At this point, slowly add the caramel while beating at full speed. Also add vanilla and powdered sugar. Keep beating until all the ingredients form a homogeneous mixture, with firm peaks. This meringue can remain in the fridge for a few hours without any problem, but we recommend that you prepare it shortly before baking the cake.
Third stage: the cake
Now yes, we are going to make the cake: two hours before, measure all the ingredients and leave them out of the fridge so that they are at room temperature. As a second step, preheat the oven to 175 degrees Celsius. If you use a convection oven, set the temperature to 163ºC. Next, mix the flour and baking powder and sift together. Divide this into thirds and save it for later.
Grease two baking pans with butter and dust them with a light dusting of flour. Next, use a mixer to cream together the butter and sugar , preferably with the paddle attachment. Add the butter first and then slowly add the sugar. Beat both at medium speed for approximately 4 minutes, until the butter acquires a smooth texture and a lighter color.
At this point, drop the eggs into the mixer 1-third at a time. Make sure each third is well incorporated before adding the next, beating for about 2 minutes. Once this step is complete, with the mixer still on medium speed, add the vanilla and lemon zest.
Now the time has come to add the flour and orange juice . Follow the same procedure that you carried out with the eggs, interspersing a third of the juice with a third of the flour. As you add the last third of both ingredients and beat for 2 minutes, turn off the mixer and examine your mixture. The result should be a smooth, fluffy dough.
Using a silicone paddle, you can scrape down the sides of the mixer and turn it on for another minute to incorporate any flour stuck to the edges. Finally, pour the mixture into your molds and take them to the oven for 30 minutes.
Final stage: decoration
Your biscuits are ready, all you have to do is remove the crust and match them. Finally, cover the edges of the cake with the meringue and fill its interior with the pineapple jam. Place one on top of the other and let your creativity flow with what is left of the meringue. To eat!Do you still have doubts? On Youtube we have found two videos that could help you prepare the perfect Dominican cake. The first is from a channel called Arroz Con Mango , belonging to a Dominican chef: watch it here . Another channel that we recommend is Belkis Cakes . Belkis is a pastry chef from the same origin who will explain everything you need to know about the Dominican cake. Here is a link to his video.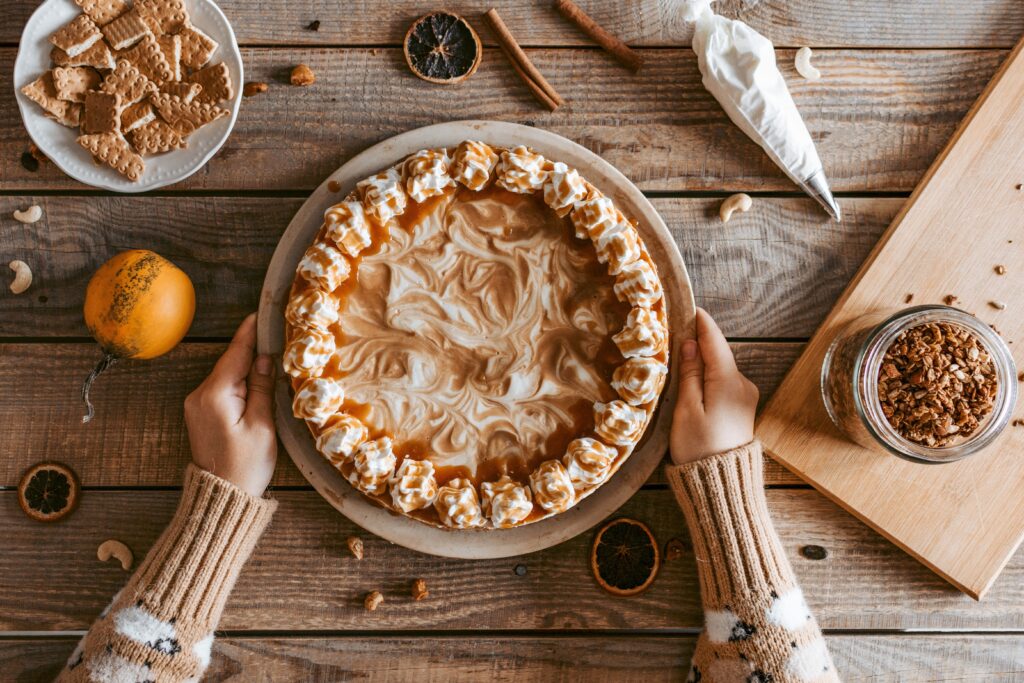 Origin
The recipe that we know today as "Dominican Cake" shares similarities with the so-called "Pound Cake", of British origin. "Pound Cake" means "Pound Cake", and this cake was called that because it had 1 pound of each ingredient. Around the 18th century, this recipe was brought to the United States from Britain by Amelia Simmons. Later, this exquisite dessert was appropriated by the local community and underwent several changes.Most likely, the Pound Cake reached the Dominican Republic in a similar way. However, it is thanks to the time and creativity of Dominican pastry chefs that today we can enjoy such a wonderful recipe. While the Dominican pound cake may have its roots in the British pound cake , its culinary quirks are unmatched.
Dessert Number 3: Dominican Arepa
In a variety of Latin American countries such as Venezuela and Colombia it is easy to hear the word "arepa". However, the arepa of these nations is very different from the Dominican arepa. In both Venezuela and Colombia, the term arepa is used to refer to a kind of flat bread made from cornmeal. The dough for this preparation is usually salty and is roasted on a griddle or budare.
The Dominican arepa is sweet, and is more similar to a cake or cake than a bread. It is a cake made with cornmeal, milk and coconut, seasoned with a variety of spices. Dark and blond raisins are also often added to give it an extra touch. As you can see, the Dominican arepa fits better in the dessert category than in the breakfast category.
In the Cibao and Northeastern regions of the Dominican Republic, this dish is known as torta. These variations can be confusing, but the taste and quality is the same. The arepa enjoys enormous popularity among Dominicans, in part because of how easy it is to prepare it and how cheap its ingredients are.
According to tradition, the arepa should be prepared over two heats. The mixture is poured into a cauldron and covered. Said cauldron is then placed on a bed of charcoal and covered with more burning charcoal. From there is born a famous Dominican expression: "like the arepa, fire above and fire below" .
Ingredients
2 cups of cornmeal
3 ½ cups of whole milk
1 ½ cup brown sugar
2 ½ cups coconut milk
120 grams of butter
½ cup raisins
4 cinnamon sticks
½ teaspoon salt
Preparation
As a preliminary step, butter a ¾-gallon casserole or baking pan. Then, in another container, mix the butter, sugar, cornmeal, cow's and coconut milk, raisins and cinnamon . Don't forget to add a pinch of salt to balance the flavors . Stir until you get a homogeneous mixture and pour into a pot or cauldron.
Although the original recipe is cooked on charcoal, you can prepare this delicious cake from the comfort of your kitchen. Cook the mixture over medium heat until it reaches the boiling point. When it boils, lower the temperature and continue stirring until it thickens. Don't you know how much you should let it thicken? Fill the ladle with the mixture and turn it over, if it does not fall, it is ready. Don't forget to get the cinnamon sticks out of it!
Finally, pass the mixture to the mold that you greased previously and bake at 175 degrees for 40 minutes. After this time, take the arepa out of the oven and let it cool before unmolding. To enjoy!
Do you learn better by watching? Take a look at this tutorial uploaded to YouTube by El Sazón de Mika .
Origin
Both the salty arepa (which in the Dominican Republic is called yaniqueque) and the sweet are aboriginal heritage. These dishes in all their variations were already prepared throughout the Caribbean in pre-Columbian times, being an invaluable gastronomic heritage. For Dominicans, the arepa is a comforting appetizer that is within everyone's reach. The exquisite simplicity of this recipe has sweetened the snacks of the Dominican people for generations .
Honorable mentions
The truth is that you could fill entire books dedicated to the traditional sweet recipes of the Dominican Republic. Unfortunately, it would be impossible to mention them all in a single article. With that being said, we'd like to make a few honorable mentions. If any of the dishes that we will list below catch your attention, do not hesitate to let us know. We at YourDomicanGuide appreciate your opinion.
Cashew sweet
The cashew is the fruit of the cashew or cashew, a species of tree native to Brazil. In Spain it is also known as cashew. Meanwhile, in Uruguay, Argentina and Chile it is called "cashnut". Finally, in Venezuela it is called "merey", in Puerto Rico "pajuil" and in Central America "marañón".
There are many names, but its flavor is unique and incomparable. In the Dominican Republic we can find an ambrosia made from this exotic ingredient. Cashew candy is a kind of syrup made with cashews , sugar and cinnamon. It may seem simple to you, but once you try it you will want to spread it on everything you eat.
Jalao
The jalao is a most comforting appetizer, which brings reminiscences of childhood to every Dominican citizen. It is a fairly simple dish, but it has nothing to envy to more elaborate recipes. The jalao is made with coconut, honey and ginger, a mixture that is cooked over low heat and shaped into a sphere. The result is a caramelized delight capable of pleasing the most demanding palates.
Coconut Popsicles
It's impossible to talk about Caribbean desserts without mentioning something cold and refreshing, and the gastronomic delights of the Dominican Republic are no exception. While coconut ice cream is not a uniquely Dominican dessert , there is something about these popsicles that tastes like the West Indies.
Coconut popsicles are very popular throughout the Dominican Republic, so much so that they even compete with sweet beans. It is an ice cream delicacy made from milk, vanilla and grated coconut. This is a perfect dessert to beat the heat and kill the craving, a recipe that transcends ages and borders. If one day you visit the Dominican Republic, be sure to enjoy one of these paletas.
Conclusion
The Dominican dessert menu is extensive and full of gastronomic treasures. Those who visit the Dominican Republic leave with a pleasant sweetness in their mouths and a desire to return. At YourDominicanGuide we wanted to give you a brief glimpse into the world of Dominican confectionery. More than covering the entire list of Dominican desserts, our intention was to make the flavors and traditions of this beautiful country available to you .
Did you like the article? Don't hesitate to share it! Similarly, if you wanted to learn more about Dominican gastronomy, we invite you to take a look at our Food and Drinks section . Thanks for reading us!