Want to visit or enjoy an incredible vacation in one of the largest and most diverse countries in the Caribbean? The Dominican Republic is the destination waiting for you. But, with so many options and places to visit, what are the best places to visit in Dominican Republic? On this occasion we will tell you about the tourist spots that cannot be missing in your itinerary. 
The first thing you should know is that it is one of the most visited Caribbean countries by travelers from all over the world, thanks to its exuberant beaches, many recreational and exciting activities, entertainment and unique and unforgettable experiences.
In addition, the Dominican Republic has cheerful inhabitants who infect tourists with their love and happiness. Likewise, its music, gastronomy and ambiance for all tastes are unparalleled; it is, in short, a bewitching country full of light!
With great history, diverse museums, and cultural experiences, it is an ideal combination to spend your vacations in this year full of changes and propitious to acquire new experiences of another level!
What are the best places to visit in Dominican Republic? List of must-see places
This Caribbean country offers tourists diverse places that will enchant you, especially if beaches, high mountains, tropical forests, and other natural scenery are your passion.
To let you know the best places and things to do in this enchanting Caribbean paradise, we leave you a list of the places to visit in Dominican Republic when organizing your trip. Let's get to it.
1. Punta Cana
We begin our list of the best places to visit in the Dominican Republic with Punta Cana. It is one of the country's jewels, and one of the most popular. In fact, Punta Cana has been and continues to be the tourist entry point for most visitors.
It has more than 70 resorts, each of which offers unique experiences, where you will have an incredible time and want to come back. In addition, it has the best beaches, which show a turquoise blue with white sand and totally safe.
It also has environments designed for tranquility, enjoyment and entertainment for everyone, such as: Bavaro Beach, Hard Rock Casino Punta Cana, Jesús Maestro Parish, Ojos Indígenas Ecological Park, La Vacama Beach, Coco Bongo (theater), Imagine Punta Cana Discotheque, ScubaDoo.
You can also enjoy a family evening, romantic dates, amusement park, movie theaters, concerts, live music performances. The fun and relaxation never stops in this incredible place in the Caribbean country.
Other activities to do in Punta Cana include horseback riding, surfing, snorkeling, yachting and boating along the coast. You can also rent a rustic car and visit the famous golf courses where the most influential celebrities and personalities are usually found.
As a curious fact, we can add that along the Coral Highway, on Highway 3, there are very beautiful sites. Here you can also find the stone church "Altos de Chavón", where the marriage of Michael Jackson and Lisa Presley, Frank Sinatra, Dayana Mendoza, Jennifer López, among others, was celebrated.
Would you like to live a memorable vacation in this beautiful place? Book your ticket and lodging now, and enjoy the best of Punta Cana.
2. La Cueva de la Virgen and Balneario la Plaza
This is a beautiful cavern and a tourist spot you can't miss. To get there you will have to take a 30 minute hike in the incredible province of Barahona. This walk will take you to several crystalline blue pools that are surrounded by limestone rocks.
This is an ideal tour for those who like adventures, since it is not an easy trip, since you have to improvise the way (over rocks, jumping, sliding, crawling, climbing) it is like an obstacle course, but at the end you will enjoy a natural paradise.
The Cueva de la Virgen and the Balneario la Plaza is a great opportunity to get to know and enjoy this impressive Eco-tourist area, in addition, you will live a unique sensory experience.
3. Santo Domingo
This is a favorite place for many visitors, since there are many tourist attractions in one city. In fact, Santo Domingo is known as "The First European Settlement" in the New World.
Here, travelers can visit sensational historical monuments, such as palaces, churches, convents, mansions, museums, buildings, and much more, which remain intact over the years.
Santo Domingo is ideal for tourists who want to sunbathe and enjoy the sea. We find a lot of famous beaches such as: Caribe*, Boca Chica and Playa Güibia, considered a natural show for their incomparable beauty.
It is important to note that in Santo Domingo you can do many water activities such as surfing, scuba diving, snorkeling, swimming, or simply enjoy crystal clear waters with your family.
There are also several options if you like to go out dancing at night or have a few drinks! Santo Domingo usually receives many visitors who stay here thanks to its great nightlife from Tuesday to Sunday.
So, if you are one of those people who like to visit bars or clubs, and other tourist attractions in the area, we recommend you to dedicate one or two nights to visit and enjoy the capital of the Dominican Republic.
4. Bayahíbe
Bayahibe is an ancient village of the Caribbean country. As such, it is a perfect place to stay, since it invites you to rest and relax, thanks to the peace transmitted by its crystalline and quiet beaches.
It also has the most amazing seabed in the Caribbean, very visited in the world thanks to its diversity of marine life. It is worth mentioning that it is a place where tourists can snorkel or scuba dive in the depths of the sea, and enjoy a unique experience.
Undoubtedly, you will love to travel to Bayahibe, to see the dolphins on its coasts, typical turtles of Dominican Republic, the rainbow of tropical fish, and the coral bottom. You can even practice sailing or sailing sports.
If you want to know other destinations of this ancient town, you can visit the wooden church that was built in honor of the Virgin of the Divine Shepherdess.
And you can also appreciate the national flower of Dominican Republic, in "El Rosal de Bayahibe" where there is abundance of Pereskia Quisqueyana, a spiny cactus unique in the world, with a pink flower in danger of extinction.
5. La Romana
La Romana is an extraordinary place, which has been the preferred place for many celebrities and influential people in the world, thanks to its good offers of lodging services.
It has a high level tourist structure, and is considered the second most important economy in the Dominican Republic, as it has beautiful hotels and resort chains.
As a curious fact, in La Romana, we have the famous Casa de Campo complex. This is a residential complex where celebrities such as: Beyonce, Bill and Hillary Clinton, Marc Anthony, Rafael Nadal, Luis Miguel, Oscar de la Renta, among others, own a residential property.
Around this important residential area, there are different bars, docks, stores, restaurants, airports, among others. These qualities make the area one of the most attractive and complete.
In La Romana, you can also opt for La Cueva de las Maravillas, a wonderful place for those looking for lodging and to get to know these amazing places in the surroundings.
Likewise, enjoy sunny days and beautiful beaches. Some of the recommended and well known beaches are: Popy*, Bonita*, El Portillo*, El limón, Coson, Morón and Las Ballenas beaches. In all of them it is possible to practice water sports for more fun.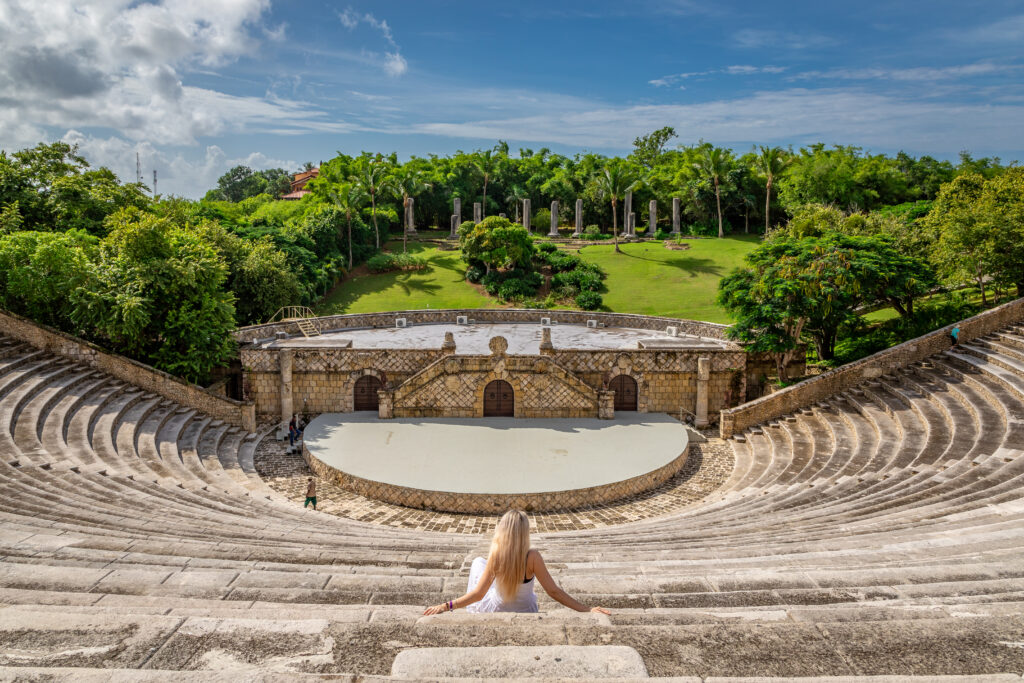 6. Las Terrenas
Another place to visit in the Dominican Republic is Las Terrenas. It stands out for being a quiet place, with a unique charm and personalized service.
As in the Dominican Republic, it has spectacular beaches. However, Las Terrenas is a place with few people, which is why it is visited by travelers looking for a serene place to relax during their vacations.
On the other hand, the homonymous beach is the most acclaimed of the place, because in its waters you can enjoy different shades of blue, although it is not the only place you can enjoy. Las Terrenas has bars, discos and restaurants on the beach to go out at night.
Likewise, there is a great variety of inns for all types of public and budgets that will allow you to have a magnificent trip within your budget.
In Las Terrenas you can enjoy different incredible landscapes, such as: "El limón" waterfall (which is a 40 meters high waterfall) and The National park "Los Haitises" (an area that combines tropical forest land with mangroves).
You can also enjoy the sighting of humpback whales, which, in the last month of the year until the first quarter of the following year, take refuge in the warm waters of Samaná Bay, close to Las Terrenas.
7. Juan Dolio
Very popular with visitors, Juan Dolio is a town that offers excellent options for families who want to stay in the Dominican Republic. It has water parks, fishing trips, agricultural tourism, diving centers, restaurants, and much more. In addition, it is located one hour from Santo Domingo.
On the other hand, if you are a lover of strong drinks such as rum, we recommend a visit to the Barceló Center and taste the first quality rums made in Juan Dolio.
Here you will also be able to find economical lodgings that fit the budget you have in mind. In fact, there is a wide range of all-inclusive resorts and small hotels.
8. San Felipe de Puerto Plata
In the city of San Felipe de Puerto Plata, we find a great variety of quiet lodgings to enjoy the best countries in the area. Take a ride on its cable car, and get to know the replica of Christ the Redeemer (famous sculpture of Rio de Janeiro, Brazil) at the highest point.
In addition, it has a very pleasant climate throughout the year, and has very famous mountains and beaches. The most important and well known are Long Beach (the main beach of the city), Playa Dorada and Cofresí beach.
On the other hand, the city of San Felipe de Puerto Plata is the preferred place for backpackers, since there are small or shared apartments, and very accessible at the time of lodging.
This place has a very special and unique charm that will leave unforgettable memories to all those who wish to visit it, so be sure to include it in your travel plan and stay in San Felipe de Puerto Plata.
9. 27 waterfalls of Damajagua
Finally, you must visit the 27 waterfalls of Damajagua, also known as the 27 Charcos de Damajagua, located one hour from Puerto Plata. However, it is important to note that the tour can be exhausting for those who do not have moderate physical endurance.
If you manage to complete this 27 puddles challenge, you will be ready to embark on a new adventure in the Dominican Republic or another country full of adventure!
Upon arrival, local guides will provide you with a life jacket, helmet and water bottle for the uphill hike, which lasts approximately one hour and ten minutes. You will see an impressive rainforest during the excursion, and finally arrive at the heart of the real fun: the waterfalls.
Here, you can glide through the water and jump into puddles to swim through waterfalls, canyons and beautiful turquoise pools of water. In case you don't prefer to jump because of the depth, don't worry, you can descend in other ways.
The excursion to the waterfalls also includes delicious food in the best Dominican style, as at the camp you can enjoy a rich and varied menu with dishes such as chicken and pork barbecue, stews, pasta, salads, and more, along with traditional drinks such as rum, soft drinks, juices and more.
More than 10 Things to do in Dominican Republic
As we have seen, the Dominican Republic is a beautiful country, full of unique landscapes and experiences that will remain in your memories forever. Here are more than 10 things to do in this dreamy Caribbean country:
1. Visiting the Samana Peninsula
The Samana Peninsula is a tourist spot known for whale watching, and is also one of the wildest and most authentic areas of the Dominican Republic.
During your stay, you can visit places such as:
The beach of the arrows: This was the place where Christopher Columbus arrived for the first time.
Playa Rincón: It is considered and recognized as one of the most beautiful beaches in the world, it is truly a paradise.
Los Haitises National Park: it is a beautiful place that will make you feel as if you were inside a dinosaur movie.
2. Experience dining in heaven
Those who say you can't reach the sky are no longer right. One of the most exciting activities you can do in Punta Cana, is to climb aboard the 45 meters high crane, to take a delicious gourmet food menu, with delicious drinks, and in front of an incredible view!
This experience is called Dinner in the sky, and 22 people are lifted by this magnificent crane. If you decide to spend an adrenaline-filled vacation in Punta Cana and eat in style, there is no doubt that this is an activity you can't miss.
If you are concerned about the safety of this attraction, don't worry. This activity is designed according to DIN 4112 standards. Moreover, it is a project created in Belgium in 2005 by the most qualified experts and authorized organizations.
Thus, the Dominican Republic has the luxury of being part of the 65 countries that currently have this culinary attraction, being the first in the Caribbean to offer this experience to its visitors.
3. Try Mamajuana
This is one of the most popular drinks in the Dominican Republic: it is a mixture of rum, red wine and honey. Its flavor is unique, making it an intense, aphrodisiac drink, and ideal to drink after a good cup of coffee.
4. Take the Cayo Arena Paradise Island Tour
Another of the best activities to do in the Dominican Republic is the tour of Cayo Arena: Paradise Island. It is one of the most beautiful islands of the north coast in front of Punta Rucia, with abundant marine life, and numerous incredible aquatic activities.
Here, we find perfect activities for everyone, from swimming or snorkeling in crystal clear turquoise waters, or taking a speedboat ride. In fact, this is the means of transportation used to reach the island, so when you arrive, you can feel the soft white sand, getting ready for a new adventure.
Also, if adding an attractive tan to your skin during your vacation is one of your goals, you will certainly get your wish on this island. On the other hand, if you take the option of diving into the water snorkeling, you will discover a great variety of colorful marine species and coral gardens.
Within the tour, you will also enjoy a carefully selected selection of delicious and refreshing tropical fruit drinks, as well as other travelers' favorite beverages.
Finally, we recommend a speedboat ride through the mangrove forest of Monte Cristi National Park. If you are passionate about fauna and flora, or simply want to get up close and personal with new species, then you can't miss the abundant wildlife in its canals and lagoons.
5. Enjoying the sunset while drinking Dominican Rum
Dominican rum is part of this culture, so if you want to live the full experience you must enjoy a good rum and a fabulous sunset. Tasting its unique drinks and flavors will allow you to enjoy your trip in the Dominican Republic much more.
6. Excursion to Cayo Levantado
Bacardi Island or Cayo Levado Island is a place you can visit, even if you are not staying there. It has beautiful beaches and restaurants where they serve fresh fish and seafood. Without a doubt, this excursion will be worth it, as it is one of the most beautiful places you can visit in the Dominican Republic.
7. Visit the beach "El Macao".
This is one of the virgin beaches of the Dominican Republic, with golden sand and crystal clear water. It is perfect for swimming and surfing because of its winds.
Currently, there are no hotels in this place due to the low influx of people, however, it has customer service, water activities, spa, and tours. This makes it a spectacular place to visit with the family.
8. Walking in the Ojos Indígenas Ecological Reserve
This is one of the best places to visit in Punta Cana. Within the reserve there are more than 500 species of plants, 36% of which are native to the Caribbean country.
This park is located in the Punta Cana Resort complex, and hotel guests can enter free of charge. If you are not staying here, but want to enjoy the experience, you must pay a fee of US$50 to gain access.
9. Enjoy the nightlife of Punta Cana
One of the things you can't miss if you are of age, and you are in Punta Cana, is to enjoy the nightlife. Did you know that the most acclaimed nightclub in the world is Coco Bongo? (There is also a venue in Cancun).
10. A jungle buggy tour
This is one of the most adrenaline-filled activities you can do in the Dominican Republic. Feel free to take a buggy tour through the jungle and then go for a swim at the beach of your choice.
11. Take a Helicopter ride
If you want to experience your trip from another perspective, a helicopter ride is an excellent option. Through this means you will get to know the Dominican Republic from another level and a different but amazing angle.
Seeing its paradisiacal islands, beautiful beaches, and mountains will enchant you, so you can hire a 10 to 40 minute flight, where the pilot will give you a tour from the heights.
12. Aquatic activities
If you have traveled to the Dominican Republic, you can't miss any water activity that catches your attention, be it underwater scooter, scuba diving, driving a boat, surfing, catamaran rides, among other options offered by this country of great diversity.
13. Take an excursion or walk through the streets of Santo Domingo.
Santo Domingo, as mentioned before, is a World Heritage Site, there you will find many cultural and historical sites, such as: Alcazar de Colon, the Ozama Fortress, the Primada de América Cathedral or the Casa del Cordón.
14. Blue Hole
Finally, if you visit Punta Cana, you can't miss the chance to swim in the Hoyo Azul, which is 14 meters deep and surrounded by vegetation.
To get to this place, you can go by private vehicle, until you reach the trails of Scape Park. Then, you will have to hike 1 km to cross the suspension bridge, walk through the rainforest and cross the stairs to reach the desired site (the entrance fee is $150).
Final words
After discovering the natural wonders and fun-filled activities that await you in the Dominican Republic, you may want to pack your bags right now. We're with you in the excitement, and we hope we've been helpful in organizing your trip!
Be sure to embark on an amazing adventure through the Dominican Republic to live new memorable experiences with your family and loved ones.