Whenever tourists visit a country, they typically look up things such as historical places, nightlife, caves, enjoying BBQ, and indulging in lots of other adventures.
But let's take a pause here and go through your list again. Does it include a town or say a village which is as close to nature as your two fingers are next to each other, and yet offers so much more than the village has to offer – where you can find the culture of country life, its fine cuisine, a natural serenity that you are not going to find in any city? This is what Constanza is all about.
Constanza is one of the most beautiful villages in the Dominican Republic, although it is a small one, it has lots of colorful and lively streets which you'll find in only this part of the world. With that said, let's take a look at the best places to visit and things to do in Constanza.
Why Constanza
One is tempted to ask when there are so many villages and small towns in Dominican Republic, then why someone should visit Constanza particularly? There are reasons actually which makes a sound case for best things to do in Constanza.
Constanza thrives in tourism as it is an eco-tourist friendly village where you can find the fresh and handpicked vegetables and fruits, natural waterfalls and of course fine local cuisine options to try on. And with a myriad of opportunities to commune in nature–hiking, horseback riding or biking around criollo pines, and near mist-covered peaks. Tucked deep amid this scenery is an eco-lodge, the only one located within the limits of Valle Nuevo National Park.
If you are not interested yet, then how about Constanza is often called as the Switzerland of the Caribbeans as it offers a same scenic mountain view, and the temperature remains cool throughout the year and even drops to lows from March to December. Constanza must of on your places to visit in the Dominican Republic.
Places to visit in Constanza
When one is traveling particularly as a tourist from a foreign country, one has to solve a puzzle where one can explore the best places in a short span of time. If you are someone who loves nature and wants to explore biodiversity, then Constanza in the Dominican Republic must of on your list of places to visit in the Dominican Republic.
Valle Nuevo scientific reserve
Valle Nuevo or New Valley serves as a model for natural reserves over the world. Nature flourishes here in its purest form without giving anything to artificial creation. Constanza is home to a large variety of wild, local species and it offers bird-watching experiences and mountain trekking expeditions.
Constanza is home to scores of diversity of local, wild vegetal and animal species, and for this very reason, besides being visited by nature lovers, Constanza is also frequented by laboratories for nature investigation and biodiversity students.
Valle Nuevo's biodiversity in terms of how far it reaches is marvelous as it stretches to kilometers and the park encompasses cloud forest, highland plains, and vast savannas of grass complimented by mountains.
Constanza is home to over 500 species of plants, and interestingly a whopping 138 are only found in Valle Nuevo. Constanza may look like a remote village but once you reach here, you will be greeted by lush mountainous landscape.
Ébano Verde Scientific Reserve
Ébano Verde is another naturally preserved scientific reserve that ranges over a wide altitude and is home to almost 600 species of flora and fauna, including over 100 bird species.
These species of flowers and birds only thrive here as it is their natural humid habitat. Even Ébano Verde takes its name from the very tree of the same name, which is only found here, and that tree is famous for its quality wood. Ébano Verde is famous among tourists for such reasons and you should be the one who must visit this park.
Fernando Dominguez visitor center
Fernando Dominguez visitor center which is run by the Ébano Verde foundation serves as a museum whereas as a tourist you can get information about all the different types of wildlife species that inhibit Ébano Verde before you get to see them in real, so you are well familiar with them.
Sendero De La Cañada
Sendero De La Cañada is a hike that goes deep into Valle Nuevo National Park, and from there continues towards the end of Sendero de Los Helechos. When you are on a trail, you will come across a small canyon, and further down the trail, you come across a savannah of pajón which is a spiky bush sitting near the foot of pine trees and is only synonymous with this trail. As you hike and enjoy the trail, you can spot many bird species on your walk, of which the Hispaniola Parrot to the Hispaniolan Emerald hummingbird is widely known.
Las Pirámides
Las Pirámides is a pyramid-shaped monument area which is inside the area La Nevera. To reach the monument you have to do trekking as Las Pirámides is at an altitude of around 7,500 feet.
Las Pirámides' history dates back from hundreds of years ago. Back then Spanish artisans from the surrounding Constanza and San José de Ocoa carved the two cone-shaped structures as a symbol of their gratitude for the completion of the San José de Ocoa-Constanza road.
If you want to know more about the history of this monument and more about the surrounding area, do visit a single-story museum that houses interesting facts about Valle Nuevo National Park.
Catedral De La Inmaculada Concepción
Catedral De La Inmaculada Concepción is a modern Roman Catholic Church with gray exterior walls and a gray stone design. The cathedral is one of the few in the world where the statue of Christ is portrayed as already having resurrected and not dying on the cross, which makes it a unique place to visit for local and international tourists alike.
Things to do in Constanza
Once you've seen which places to visit in Constanza, let's take a look at what are the things to do in Constanza.
As Constanza is a natural habitat which simply implies that, places like this are in abundance with fresh fruit and vegetables and fresh things mean that you are going to enjoy the best taste in food. Besides this, there are many other things to do in Constanza, whenever you are planning to visit the Dominican Republic.
Strawberries in Constanza
Constanza's beautiful fields of strawberries are famous, and it would be a surprising sight if you spot strawberry vendors when you reach Constanza when you visit strawberry fields in Constanza, it's a serene experience unto itself. Vegetables that are freshly plucked from the fields and trees of Constanza are unique, and after having them you treated them as edible souvenirs, it would be no surprise. Locally made sweets by the inhabitants of Constanza are also tasty and fresh in taste. Besides, you can pick up some strawberry or guava liqueurs.
Constanza Spring Festival
Constanza Spring Festival happens during the time when the temperature is cold in Constanza. This spring festival is celebrated every year, where you can see many of the leading farming and tourism businesses of Constanza for a weekend of presentations, and as they present freshly plucked fruit and vegetables in beautifully decorated stalls and local cuisine can be tried in one place. The spring festival happens at the Club Japonés every year.
Mountain Biking
When you are in Valle Nuevo, don't forget to visit Madre de las Aguas which simply translates to Mother of the waters, as the fable has it that all rivers are born at this very point. Interestingly it may be a fable but there is a reality to that as Valle Nuevo encompasses five separate river basins and over 700 rivers start in the park. If you are an enthusiast in mounting biking, you can have a thrilling ride experience here.
Hiking in Valle Nuevo
A morning that starts with hiking when you are on an adventurous trip is a special experience, and when hiking is along the lust green valley and purple mountain tops with the chirping of plenty of birds, it is even more special. Don't forget to have some eggs and locally made-organic sausages before setting out on a day hike. Professional mountain rangers can be asked to guide you through pine and cloud forests and along the hiking journey, they tell you about the region's history before reaching the final destination which is the magnificent Aguas Blancas Waterfall.
Paragliding in Constanza
What a beautiful experience it would be if you could just see the beautiful valley of Constanza by flying over it and it gives you a bird eye view of the whole valley. Paragliding here is unlike cities where you just see the building and houses flying over with just blue plain sky but in Constanza a web of clouds is what you seep through, making your paragliding experience an unforgettable one. Paragliding services are available, and experts are available for providing the training.
Ziplining
If you really want to get a crazy rush, then for crazy adventurers Ziplining is also available which takes its journey from the cloud forests! Nothing seems crazy more than a feeling of floating in the air. Ziplining experience is safe as its operating procedures are kept in check for standard protocol.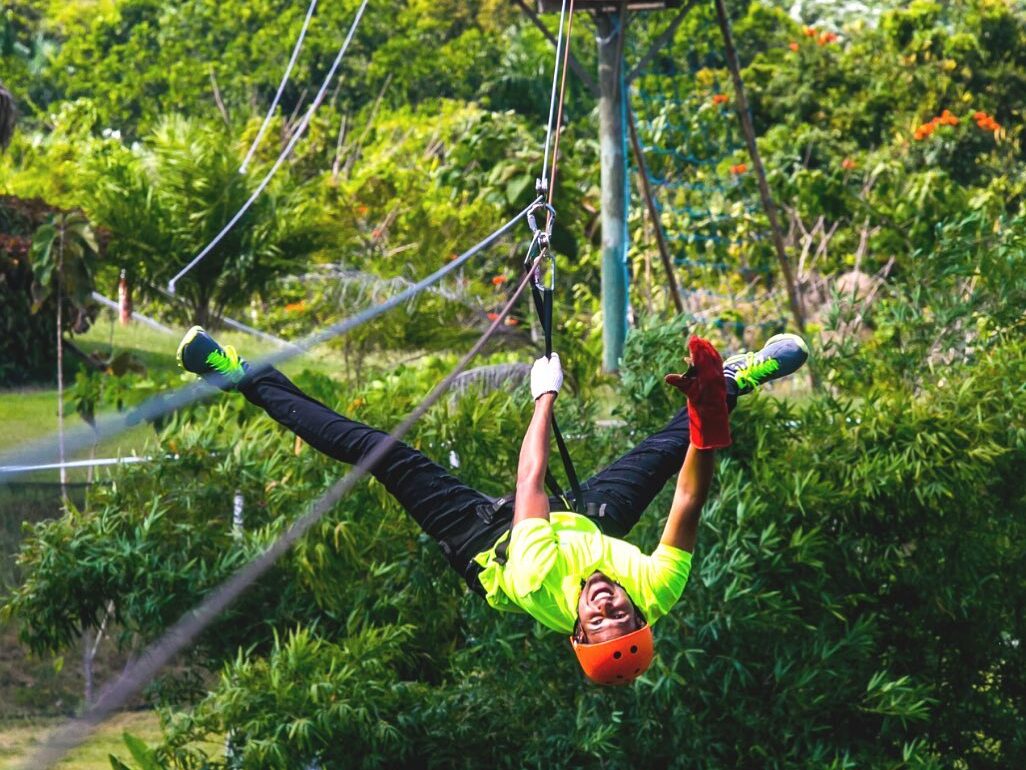 Places to stay
For foreign tourists, Constanza offers a choice of cozy places where you can be at home. Here are some of the places that you can book in advance or check-in whenever you happen to be in Constanza, after all your list of things to do in Constanza is not short! Afterall staying is as important as hiking and trailing so after a tiring day, you can take a hot shower to calm your muscles.
Villa Pajón Eco-lodge
Villa pajón Eco-lodge is a cozy place to spend the night while on a hiking expedition through Madre de Las Aguas, Valle Nuevo.
Altocerro Villas Hotel & Camping
Altocerro Villas Hotel & Camping provides a bird eye view of the Constanza valley, and it provides all the amenities. A great choice if you want to kick back in extra comfort while absorbing the nature all around you.
Rancho Constanza
Rancho Constanza is a famous hotel that is ecological and provides all the services that a foreign tourist could wish for. A sound sleep is always a great idea so you can be in the best of spirits for an early hike the next day.
A local saying has it that in Costanza, "the crops are so plentiful, no one here knows what hunger is", and this is what you are going to experience here.
The village is blessed with serene scenes, mountains, hiking and trails, fresh fruits and vegetables, and not to forget the adventurous experience you can have in a beautiful valley like Constanza.
If you ever visit the Dominican Republic, Constanza is a great choice to explore. After all, no traveling experience is complete without going out and embracing nature, and this is what Constanza is all about.